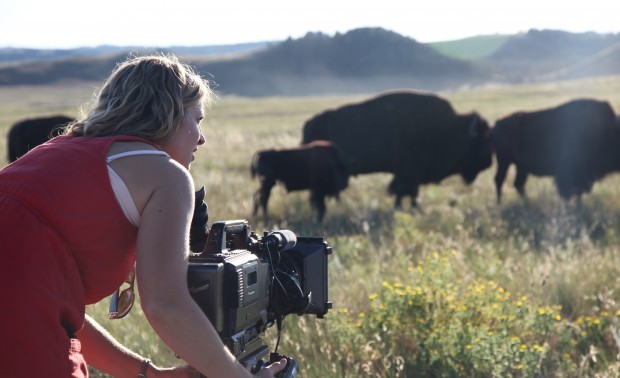 South Dakota native Kelly Sweet has a love for the Black Hills.
"A couple of times a year my parents visited the Black Hills," said Sweet, a Sioux Falls native. "At least twice a year we came out to Rapid City and visited Custer State Park. We came out in the winter snowmobiling and skiing and in the summer horseback riding and kind of enjoying the outdoorness of the area."
So when Sweet, a coordinating producer with the National Geographic Channel, began work on "Untamed Americas," a two-night, four-hour mini-series premiering tonight, her choice for the first film shoot came easily -- Custer State Park.
"It was an easy pick for me when we were looking for places to shoot," Sweet said. "After all, how can you do a film on the Great American grasslands without featuring the bison?"
Sweet, who worked at the Denver Zoo while attending college in Denver and later worked at an animal sanctuary in Africa and with dolphins in Australia, became an associate producer with the National Geographic Channel six years ago. During that time she has participated in the filming of a number of National Geographic Channel wildlife features, though she quickly emphasized that "Untamed Americas" dwarfs any of her previous collaborations.
"I am really proud to be a part of a project in which we had 600 days in the field, traveled over 600,000 miles, shot in 42 locations in 20 countries involving 2,000 hours of air travel," Sweet said. "Our people experienced everything from frostbite to heat exhaustion in shoots all the way from Alaska to Patagonia on the southern end of South America shared by Argentina and Chile. I was also incredibly lucky to be a part of team that worked about 2-1/2 years and did so with my mentor, Andy Mitchell, who is an Emmy-award winning film director."
The special spans the Americas, taking viewers to harsh desert climes, tropical forests, coastal vistas and vast prairie grasslands, while throughout presenting original footage, new perspectives, and scientific revelations on some of the planet's most exotic creatures.
"We wanted to create a work with stories that people would want to talk about at the water cooler the next day and gasp, or laugh, or cry," Sweet said. "It was one of the most difficult things I have ever done, but to watch the final work and realize that we had accomplished that was a great feeling. I think we all feel incredibly proud of completing a project that is capable of doing that."
The enormity of the project came to Sweet on a stretch of South Dakota highway as, reliving childhood memories, she returned to the Black Hills and Custer State Park for the filming of the first segment of "Untamed Americas."
"When I flew into Rapid City Airport and drove to Custer it was like being home," Sweet said. "I was on a road I knew and it wasn't in the Congo or Alaska or Indonesia. I was home in South Dakota and involved in this huge project with the best people in the business, and though I knew it would be exhausting, I also knew that it would be tremendously satisfying."