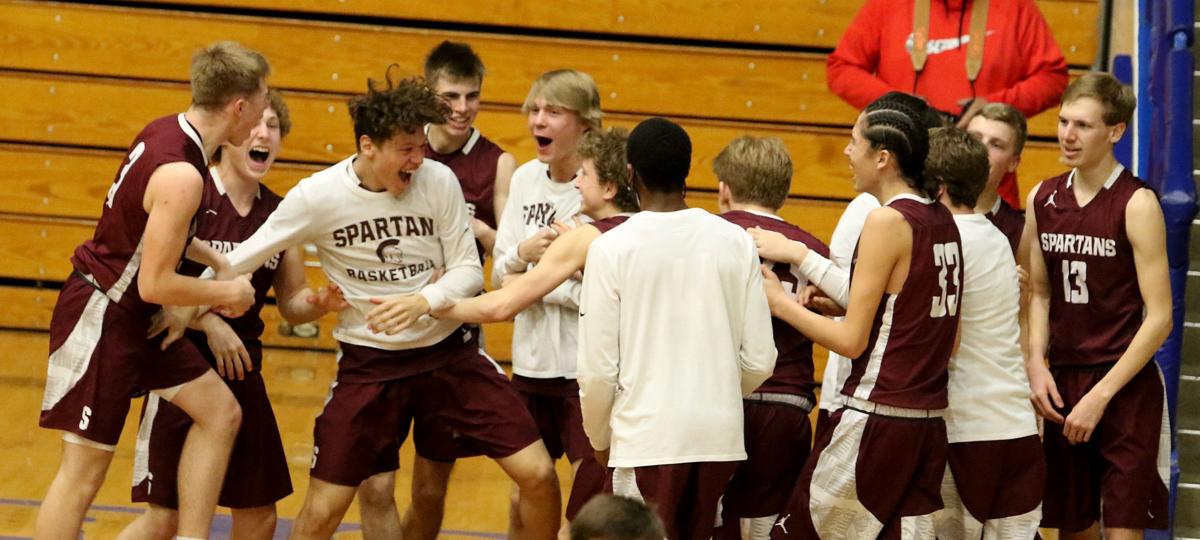 A Central-Stevens SoDak 16 matchup is no more.
Trailing by 17 points at halftime, the Spearfish boys' basketball team caught fire from long range in the second half, firing in 9 of 12 shots from beyond the arc to climb all the way back and surprise Rapid City Stevens with a 66-62 road victory Saturday afternoon to shake up the Class AA standings on the final day of the regular season.
"It wasn't many adjustments," Spartans head coach Erik Skoglund said. "We just reminded them that we always have to guard at 25 feet. We did get enough defensive stops. We were able to attack Mr. (Ben) Goldy, their big, who refused to come out to the perimeter, and our guys knocked down some open shots."
Entering the contest, Stevens (9-9) and Rapid City Central (11-8) stood at eighth and ninth in the standings, setting up a clash between the rival schools in next week's SoDak 16, and a win for the Raiders against the Spartans would've solidified the matchup. But Spearfish (10-10) had something to say about that, shooting 63% in the final two quarters and outscoring its opponent 44-23 to move them to the 11th spot and a road meeting with Brandon Valley (14-6). 
"They made shots. They had guys step up and make shots. That's the bottom line," Raiders head coach Chris Stoebner said. "I told the guys, I don't think we played terribly by any means. They stepped up and made shots."
Tyler Huber led the comeback effort with a trio of 3s and a game-high 17 points on 7 of 15 shooting for Spearfish, which is slated to play O'Gorman (14-6) in the SoDak 16. Trey Wood also knocked down three 3s and finished with 13 points as six different players recorded at least one 3-pointer. The Spartans shot 47% for the game and ended 11 of 23 from deep after going 2-for-11 in the first half.
"They were easy points, to be honest," said junior Peyton Millis, who tallied just seven points but dished out four assists. "Instead of the first half, where we were forcing up shots, once we got wide open 3s it's just like practice."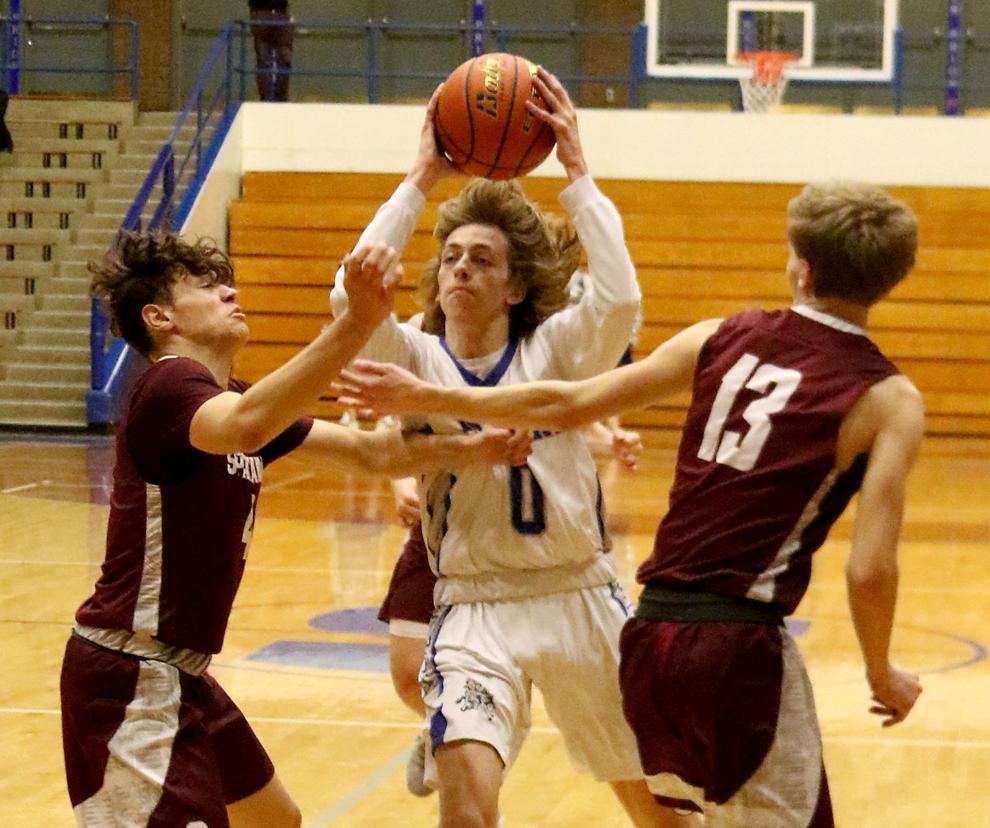 Kaden Lemer and Jaden Haefs notched 16 points apiece to lead Stevens, while Lemer picked up five assists and and Haefs went 3 of 5 from the perimeter. Charles Christensen and Jordan Eberlain added 12 points each, as the Raiders shot 51% from the floor and went 8-for-16 on 3-pointers. After averaging less than 50 points per game through their first 14 contests, they've dropped over 60 in each of their last four.
"I told them, that loss is on me. We want to get No. 1 and No. 33 stopped. We did a pretty good job of that today. Their other guys stepped up and made shots. That's basketball sometimes," Stoebner said. "In my mind it's not an upset, but people probably thought we should've won today. If you had told me we scored 62 points today, I'd say we would've won the game."
Christensen earned five points on an 11-0 run to open the contest for Stevens. A one-handed jam by Goldy and a 3-pointer from Haefs made it 19-9 at the end of the first quarter.
Haefs drilled a pair of 3s from several feet beyond the line as his squad converted 7 of  9 attempts from deep in the first half and seemed prime to run away with a victory up 37-22 before halftime. Lemer's euro step layup in the waning seconds gave the Raiders their largest lead of the afternoon, 39-22, at intermission.
"When we go into the locker room, our boys write down three things we need to improve on and three things that we did well, and it is always spot on with what the coaching staff sees and has to talk about," Skoglund said. "Our guys are locked in, and that's the biggest compliment I can give them."
That list of improvements proved effective as Spearfish dropped five 3s in the third quarter and outscored Stevens 23-10. Teysean Eaglestaff, Seth Hamilton and Wood connected from beyond the arc on three straight possessions to cut their deficit to single digits, 42-36, midway through the period. The Spartans also grabbed seven of the final nine points in the frame to make it 49-45 heading into the fourth.
"We were missing a lot of shots. We were getting to the paint but we weren't kicking it out to get our wide open shots. Our defense was lackadaisical, to be honest, in the first half, and we didn't have our hands up on shooters at all," Millis said. "We were just playing lazy helpside defense, so in the second half we changed all that, kind of drove in on Ben Goldy and just kept kicking it out."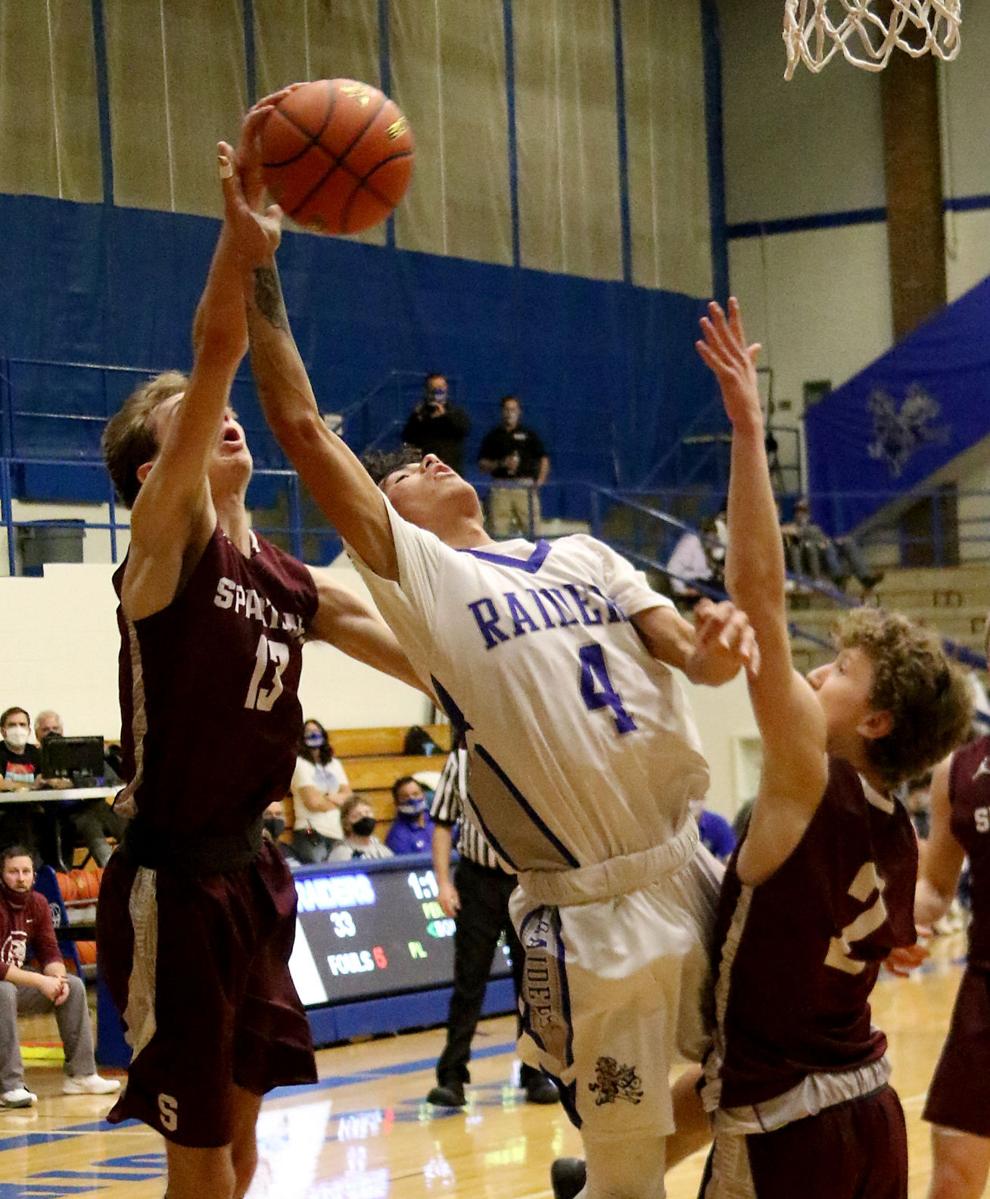 Huber gave Spearfish its first lead of the contest when he tallied a 3 with 5:05 remaining in regulation to make it 53-52. Stevens answered with eight straight points, thanks in part to a finger roll by Goldy and a baseline drive bucket by Lemer, to seize a seven-point advantage with 2:50 to play.
During the run, about midway through the quarter, Haefs toppled to the floor after rolling his ankle. The junior needed to be helped off the court, did not return and Stoebner said he is unsure of his status.
Despite the new deficit, the Spartans came right back with seven points in a row, courtesy of a 3 by Huber, and two layups from Millis and Huber off a pair of Raiders turnovers, to even the score with 1:51 left. Christensen put his team up by one with a free throw before Wood drained a corner 3 and Eaglestaff tallied a layup for a four-point advantage.
"Good teams, good players and shooters always have short memories," Skoglund said. "It's the next trip."
Lemer was then called for a charge with 27.1 seconds remaining, and Easton Ogle managed to steal an inbound pass for Stevens but failed to keep control as a jump ball was called, handing possession back to the Spartans.
Spearfish was able to keep Stevens off the board from there and ran out the clock for its 10th win of the season to finish at .500. The Spartans also avenged their 69-47 loss in their first meeting with the Raiders back on Jan. 5.
"We're going to enjoy this the whole ride home," Skoglund said. "We've got five days of practice to prepare for Saturday morning, to get up and drive to wherever we've got to go."
The Class AA SoDak 16 is scheduled for March 6.