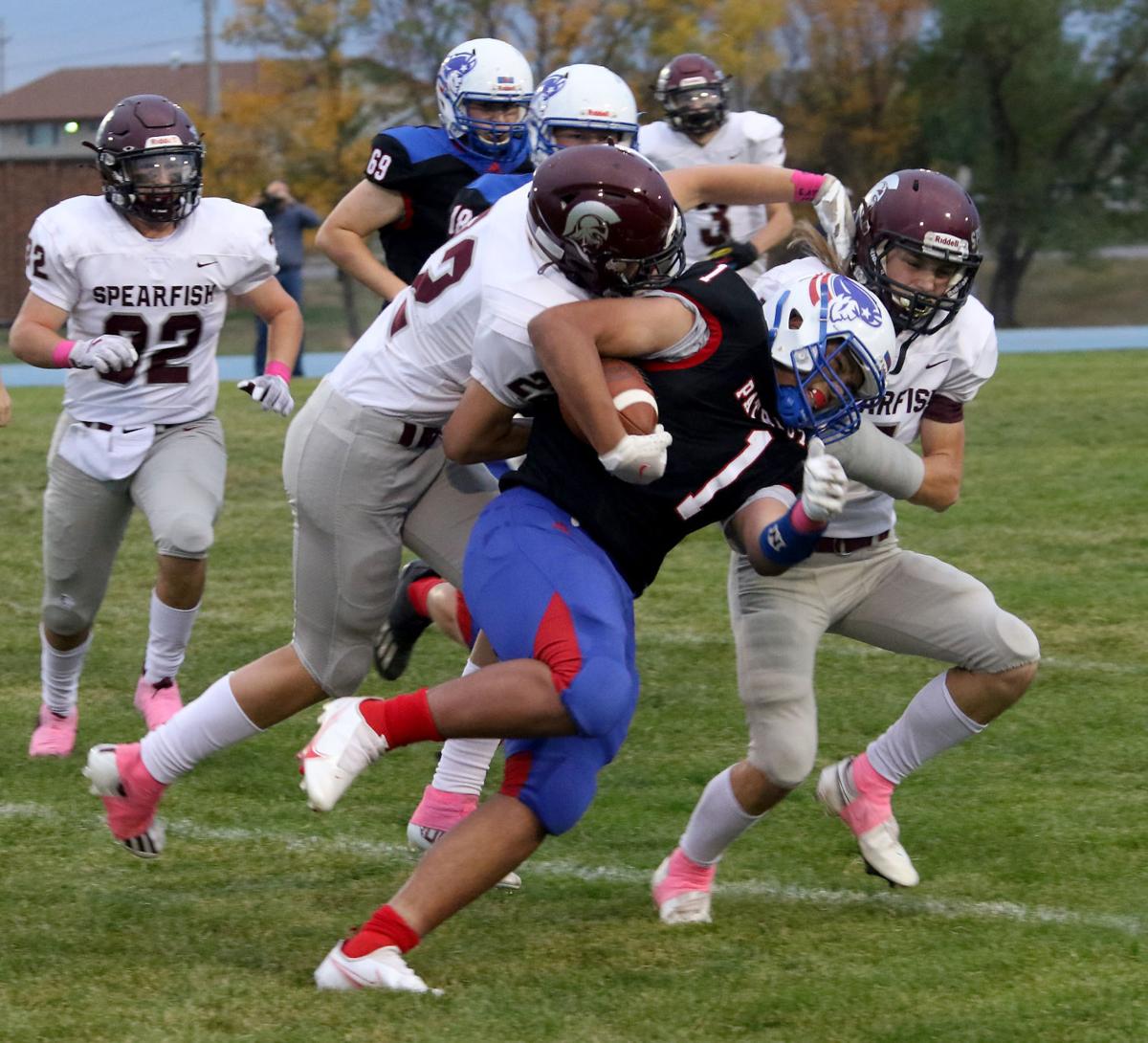 BOX ELDER — Payton DeWitt gave the Douglas football team its second touchdown of the season after running left off tackle, then bouncing back to the right and outrunning a would-be defender for a 2-yard score more than midway through the fourth quarter.
Anthony Moser followed it up with an interception on defense and return into enemy territory, and the Patriots suddenly swung momentum, down by 11.
But Spearfish returned the favor, as Brady Hartwig picked off a pass and quarterback Jaden Guthmiller capitalized on a touchdown throw to Peyton Millis to put the dagger in the Spartans' 24-6 victory at Dave Brodie Field.  
Spearfish head coach Dalton Wademan told his team afterward they shouldn't be satisfied.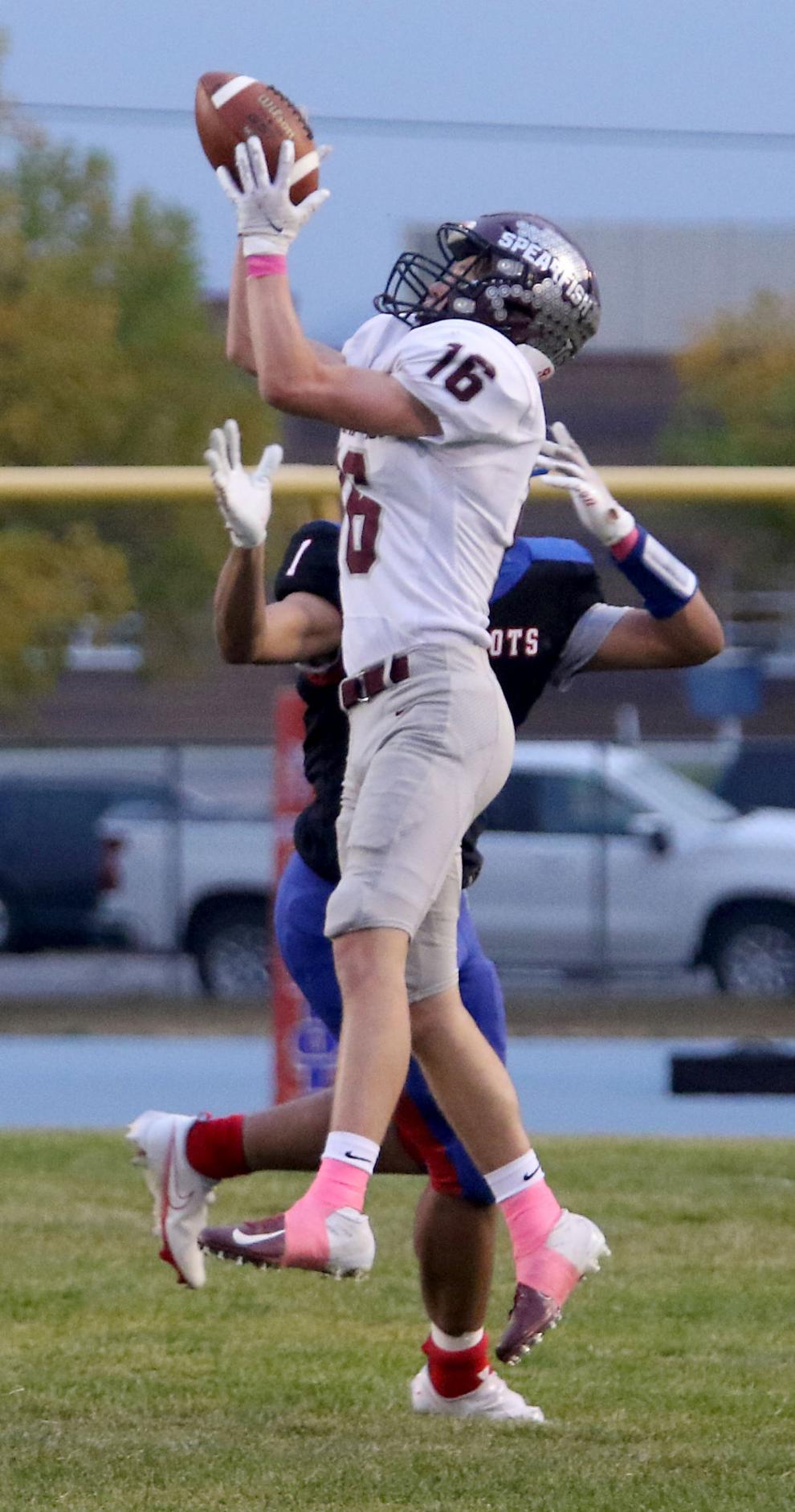 "We've got to be locked in, ready to go all week," Wademan said. "That's a good team (in Douglas), and we've got to come out ready to play right off the bat, and it starts at the beginning of the week and goes through the whole week."
Guthmiller completed 12 of 21 passes for the Spartans (3-4) for 154 yards, two touchdowns and two interceptions, and picked up a team-high 61 rushing yards on 11 carries. Millis hauled in five receptions for 52 yards and a touchdown.
DeWitt finished with 50 yards on the ground on 12 carries and caught three passes for 35 yards for the Patriots (0-7). Matthew Denekamp, who entered the game under center at the end of the first half, went 8 of 19 in the air for 142 yards. 
"We're beat up. We've got 10 guys out right now," Douglas head coach Dan Maciejczak said. "The positive of being banged up is guys are stepping up and playing, we've just still got to get some more leadership skills for some of the guys to make sure that they're not making those silly mistakes at crucial times."
Spearfish got on the board in the first quarter following a Caden Langenfeld interception. Just three plays laer, Guthmiller rolled out of the pocket and found Bridger Niehaus in the end zone for a 6-yard score.
Langenfeld then got in the end zone himself in the second quarter when he capped off a nine-play drive with a 3-yard touchdown run to make it 14-0.
The Spartans were driving again before halftime, but a Guthmiller pick by DeWitt with over two minutes to play helped keep it a two-possession game at the midway point.
"He did well. He led us and came up clutch when we needed him," Wademan said of Guthmiller. "We'll go back to work and watch some film and see where we need to read things a little differently. A couple of those we would've liked for him to tuck and go, and we'll talk about that and we'll be just fine."
The Patriots, opening the second half, failed to capitalize on a Spartans fumble, managing a 34-yard reception from Denekamp to Steven Koper down to the opposing 33-yard line, but netting minus-2 yards on their next four plays to turn the ball over on downs.
Laundry began to fly nonstop on Spearfish's next possession, as four holding calls, an ineligible receiver call and a facemask call, all on consecutive plays, aided in a first-and-52 situation for its offense. Still, Guthmiller chipped away at it with runs of 24 and 11 yards, and picked up a first down. The drive soon stalled, however, leading to a 26-yard field goal by Millis.
Dewitt's touchdown run, which came with 5:07 remaining in the contest, capped off a 10-play, 74-yard drive for Douglas, which included completed throws of 27 and 19 yards, a run of 22 yards by DeWitt and zero third downs faced. 
"I think that's a big deal, but there were plenty of times it should've happened before that," Maciejczak said. "I felt like we had some big plays, we did some good things, and then we just shot ourselves in the foot."
After the exchange of turnovers, Guthmiller grabbed his second touchdown pass of the night by hitting Millis on a 3-yard floater to stretch his squad's lead back to three possessions with 1:46 to play and put the game out of reach.
"When we pay attention and execute what is called, we can be a great football team on defense," said Maciejczak, whose team allowed a season-low points. "When we get sloppy and don't hear a call, or maybe our depth isn't as deep and we get tired and we miss something, it's shooting us in the foot. Hopefully this week we can add some players back and get a little more rotation and be a physical football team, and maybe get a win. Something crazy like that."
The Spartans have allowed just 28 points over their last three contests.
"They come out and carry us, to be honest with you," Wademan said of his defense. "They carry us and they play very well. Up front our defensive line does a great job, and we've got fast guys in the secondary who make plays."
Spearfish hosts No. 1 Tea Area (7-0) on Friday at Lyle Hare Stadium, while Douglas travels to Belle Fourche (2-5).