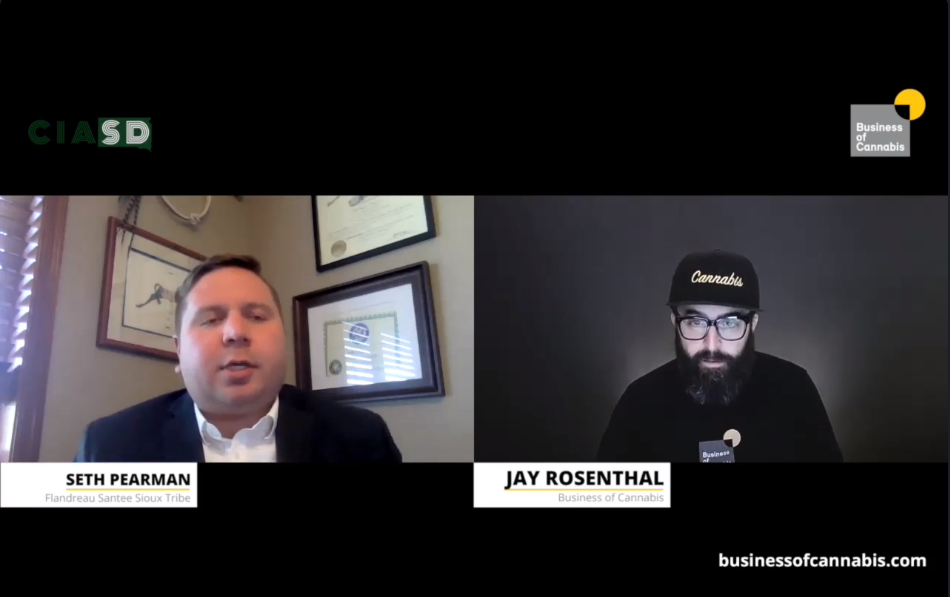 The Cannabis Industry Association of South Dakota, along with Toronto-based company Business of Cannabis, gathered a group of medical and recreational marijuana advocates from South Dakota and beyond to discuss the current state and future of cannabis.
The event was CIASD's first. The organization plans to continue hosting events both online and in person for its members and those who pay to participate. The association, founded after the successful campaigns for Amendment A (legalizing recreational marijuana, currently under litigation) and Initiated Measure 26 (legalizing medicinal marijuana), is dedicated to making sure South Dakota extends its business-friendly attitudes to the marijuana industry.
"Cannabis will create new jobs, new opportunities for existing businesses, and tax revenue for our state and schools," Ned Horsted, CIASD executive director, said. "One of the key takeaways from the 2020 election cycle is there was a green wave — every state that put forward a cannabis measure passed it. For one thing, we have a window of opportunity to do a lot of good, but if we drag our feet, national legalization isn't far away, and [South Dakotans] won't have the same level of opportunity that they have right now."
Kittrick Jeffries of Dakota Cannabis Consulting in Rapid City told listeners that foresight, or lack thereof, will shape how the state moves forward in the legalization process.
One of the ways cannabis advocates said the state is "dragging its feet" is through the Amendment A litigation. The amendment was challenged in court for being unconstitutional; its opponents say it violated the one-subject rule and that it is not an amendment, rather a revision to the state Constitution.
"We've got a situation where the governor and her cronies have filed a lawsuit against Amendment A. Now, we're just waiting for the decision, and it all depends on what happens," Jared Moffat of the Marijuana Policy Project said.
Ideally, he said the state Supreme Court will rule in the amendment's favor, legalizing adult use recreational marijuana will move forward, and the state would see sales by early 2022. If the court rules it unconstitutional, there won't be a recreational use law in the state, but there is a "real possibility" for a 2022 ballot initiative, Moffat said.
"We're not going to back down," he said.
"The voters want it; it's going to happen eventually. This is really a speed bump, not a roadblock, "Jay Rosenthal, co-founder and president of Business of Cannabis, said.
Executive Director of New Approach South Dakota Melissa Mentele, who helped draft IM 26, said that if Amendment A is legalized, the two programs could be implemented parallel to each other. No state has legalized both recreational and medicinal marijuana at the same time.
Over the years as she has advocated for medical cannabis, it has been "amazing" to see people in the state come around to the idea.
"We're changing the perception of cannabis. People think it's just a bunch of people hanging out in a basement smoking a bong, but it's true medicine," Mentele said.
An advantage of being one of the first states to legalize, but not the first, is that the state can learn from the mistakes of other states like Colorado or Washington, as well as see what other states in the process of legalization are taking into consideration when promulgating rules and regulations.
"It's an exciting time — we're seeing real world examples of laboratories of democracy," Moffat said. "We can see what works, what doesn't, and experiment."
In South Dakota currently, municipalities are in various stages of implementing rules for dispensary, processing and cultivation licenses, which at the earliest will not be available until the fall. In Pennington County, the Rapid City council and county commission put a moratorium on issuing licenses until the Department of Health promulgates rules. Any business submitting an application for licensing will be denied until that happens.
In Meade County, officials are already talking about limiting the amount of dispensaries allowed in the county, according to Liz Tiger with 605 Cannabis. Butte County is planning on implementing additional licensing fees higher than required by the state — a $25,000 initial fee and annual renewal of $15,000.
"Some counties haven't had any recommendations from the industry to help them create these ordinances," Tiger said. "A lot of these municipalities just need guidance from people who know what's going on [in the cannabis industry]. There's a lot of fear of the unknown."
Seth Pearman, attorney general for the Flandreau Santee Sioux tribe, said tribes are looking at marijuana revenue as a way to fill gaps in their budgets and create a better standard of living on reservations. Counties containing Native American reservations voted overwhelmingly in favor of both ballot measures, Pearman said. He posed some questions for the group to consider as legalization moves forward.
"How well are things structured and regulated? If you haven't answered all of those questions, exactly what you will do to prevent consequences, that is important," Pearman said.
He noted that, legal or not, marijuana is already present in the state.
"Around 80,000 people in South Dakota consume marijuana on a daily basis, and those are the people that were truthful about it. Don't be confused that there isn't marijuana in S.D. It is being diverted from places where it is legal. It's better to get into [the industry] now" rather than continue to let the black market control things, Pearman said.
Horsted said it was time for the state to stop dragging its feet.
"I'm tired of fighting with the state. I look forward to working with them to create a successful framework for businesses," he said.