The same day Rapid City Area Schools reported 141 active student and 25 active staff cases of COVID-19, nine soldiers with the South Dakota National Guard have been deployed to Rapid City to assist Monument Health with testing the community for COVID-19.
National Guard members were notified Friday by email that units are being deployed to help test through the end of September. Soldiers were also deployed to Belle Fourche, Custer, Spearfish and Sturgis, according to a press release from the Governor's Office.
At Monument's Urgent Care clinic on Jackson Boulevard in Rapid City, soldiers were set up Tuesday to help collect samples for testing.
Emily Leech, director pf Monument Health Laboratory Services, said in a news release that testing volume in August was 115% percent higher than in July. Within the last week, 2,856 COVID-19 tests were completed with 844 positive for a test positivity rate of 29.6%, according to the news release.
Monument has been experiencing exponential increases in COVID hospitalizations — the system had fewer than 10 hospitalized COVID patients in July but by Aug. 30 the number increased to 110. 
In an internal memo to Monument staff sent Tuesday that was posted to Twitter, the health care provider's administration told its staff it is seeing significant increases in COVID patients as well as health care workers out with COVID and asked staff to help manage hospital capacity.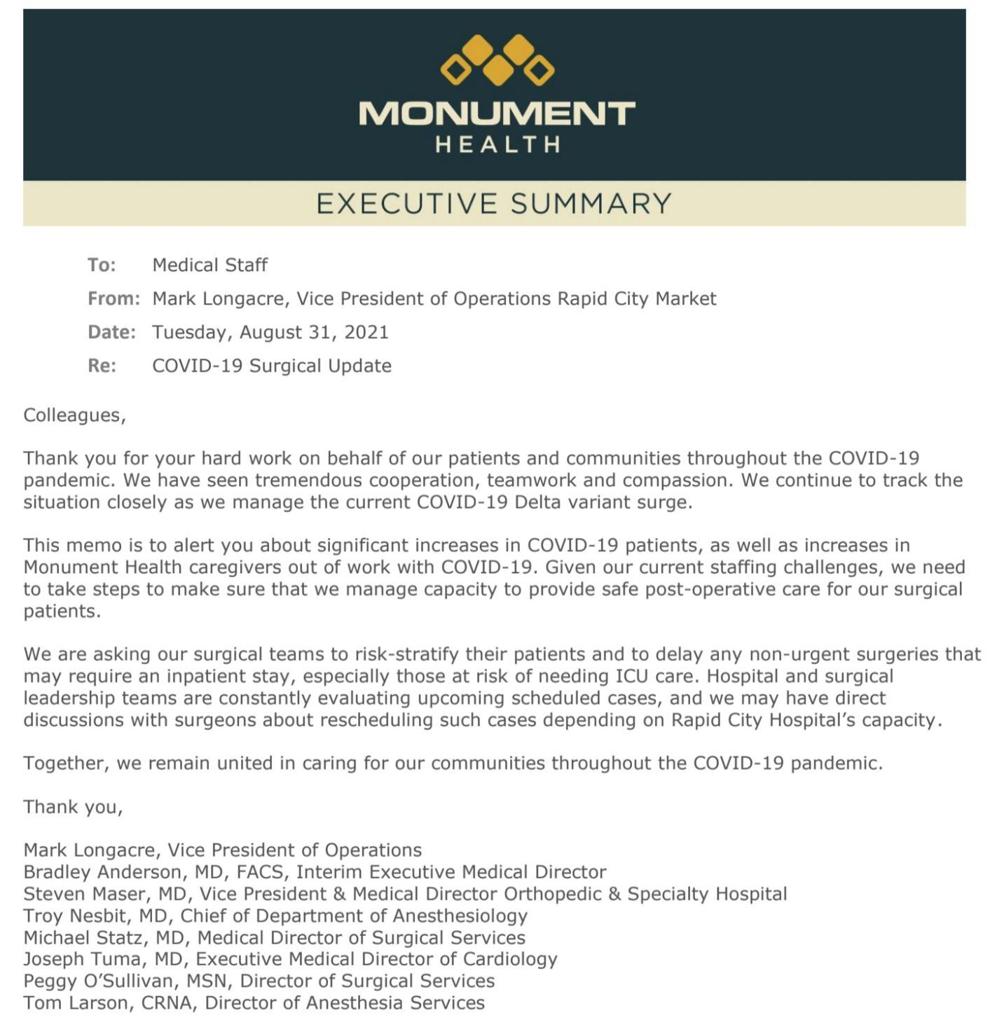 "We are asking our surgical teams to risk-stratify their patients and to delay any non-urgent surgeries that may require an inpatient stay, especially those at risk of needing ICU care," according to the memo sent by Vice President of Operations Mark Longacre. 
Monument spokesman Dan Daly told the Journal the health care system is "extremely busy" but is still able to find space and staff to treat patients. If conditions worsen, diverting patients "is not an option in most cases" because other regional hospitals are experiencing the same staffing and capacity issues.
Leech said the health system has the necessary equipment to perform testing, and the National Guard will help Monument test more patients.
While the entire state is experiencing a surge in COVID-19 infections, the Black Hills region has seen the biggest jump, representing nearly half of all new COVID cases in the state as of Tuesday, according to data from the state Department of Health. Of the 1,020 new cases reported Tuesday, 323 were in Pennington County, 97 in Meade County, 68 in Lawrence County, 50 in Butte County and 18 in Custer County.
Rapid City Area Schools is also seeing its cases skyrocket. On Friday, the fourth day of the school year, the District had 112 total cases among students and staff. By Tuesday, the District had 166.
"Since the start of the pandemic, the state of South Dakota has worked with our hospital systems to manage hospital capacity so that we can help those who need elevated levels of care. Testing efforts help us to identify and isolate cases to slow the spread of the virus," Gov. Kristi Noem said Tuesday afternoon in a news release. "This past week, I had conversations with all three South Dakota hospital systems and asked them what they needed as cases start to rise again. Monument asked for the National Guard to assist them in their testing efforts, and we are happy to help."
The Governor's Office and the state National Guard did not respond to requests for comment Tuesday.