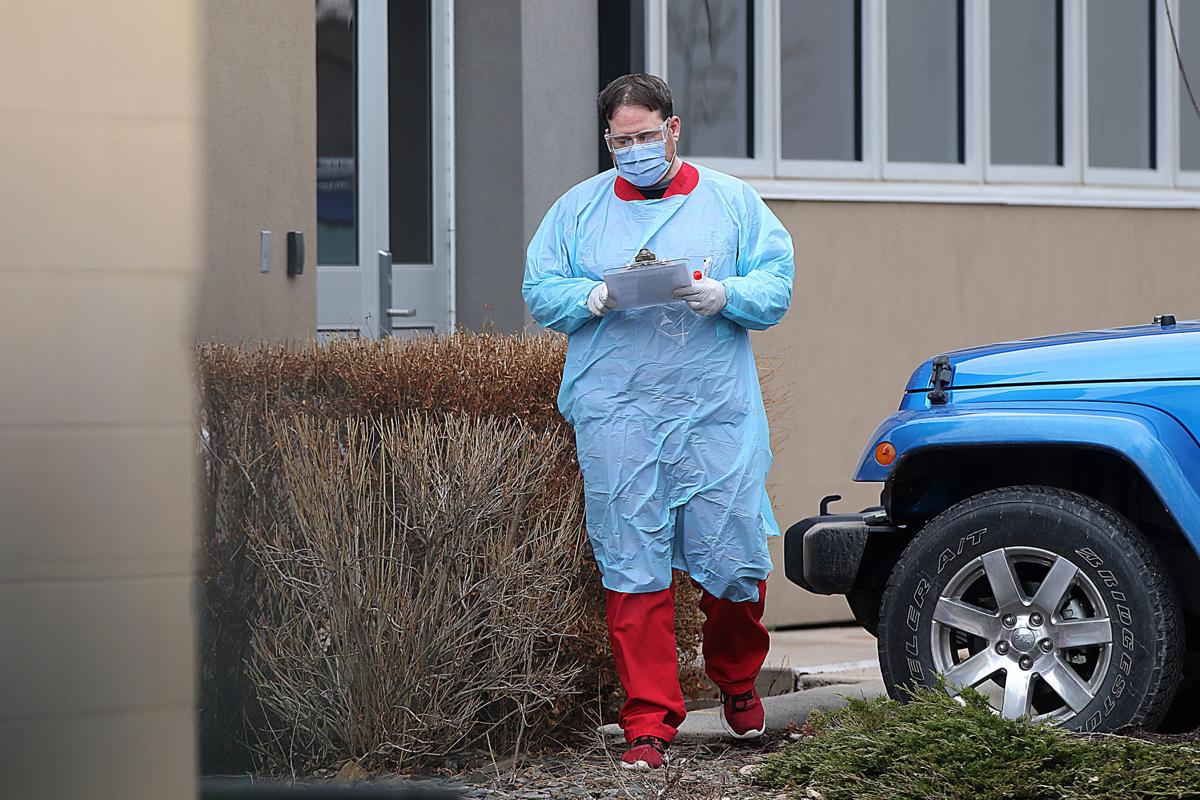 Gov. Kristi Noem announced Thursday there are five new cases of COVID-19 in the state.
The new cases are one in Beadle County, one in Lincoln County and three in Minnehaha County. There are 46 positive tests overall and 16 have recovered.
Recovered individuals are those without symptoms who have been "fever-free for at least 72 hours and have been home for the requisite amount of time to ensure that they're not infecting other people," Department of Health Secretary Kim Malsam-Rysdon said at the press conference.
She estimated there are two or three individuals hospitalized in the state with COVID-19 symptoms. One of the new test results came from the state health lab in Pierre; the other four were tested in private labs.
Malsam-Rysdon said the state is capable of running 780 tests a day. That's with the 600 combined that Sanford Health and Avera can run jointly, as well as the 180 she estimates that her office runs at the state health lab in Pierre every day.
"We can certainly surge higher than that if we need to, we just haven't had the need," she said of the 180 tests they can run in Pierre on a daily basis.
Malsam-Rysdon also said she feels good about the current capacity of hospital beds and space across the state needed to respond to the coronavirus outbreak.
For ventilators, which are in short supply at many hospitals in the U.S. and are necessary for patients who are in critical condition, she said the state has one-sixth of its current ventilator supply in use by other patients.
"We've got capacity there," she said. New technology is available to make those ventilators go even further when there is a need in the state, she said.
In regard to the patient at Monument Health who tested positive for COVID-19 on Tuesday and came into contact with 112 individuals while at work, Malsam-Rysdon said she's confident the Rapid City hospital is handling the situation well.
"We're fully confident that Monument Health is taking the appropriate action to limit any ill health effects," she said, noting that her office is working with Monument Health to identify any potential exposure.
While President Trump has said he expects the nation to revert back to normal by Easter, Noem said Thursday that the state won't be back to normal for many months.
"Those who might think that by Easter, things will be back to normal… I don't want to discourage them, but I want to be very clear and honest with them that we will be operating differently for many, many weeks to come," she said. "We can't stop this virus. We can slow it down."
In response to a question, Noem said she is not considering Medicaid expansion that is part of the Affordable Care Act. South Dakota is one of 14 states that has not expanded Medicaid, which provides federal funds for health care.
Concerned about COVID-19?
Sign up now to get the most recent coronavirus headlines and other important local and national news sent to your email inbox daily.