A 19-year-old hiker who went missing in Glacier National Park was found alive and rescued by Two Bear Air Rescue on Monday night. 
Matthew David Read, of Dexter, Michigan, was reported missing to park rangers on Sunday. Read had reportedly set out around noon Friday to hike the Huckleberry Lookout Trail. His vehicle was located at the trailhead north of Apgar Sunday. Rangers began a ground-based search Sunday night. Their efforts were augmented Monday with more rangers, North Valley and Flathead Search and Rescue, Flathead County Sheriff's deputies and U.S. Border Patrol agents. Whitefish-based Two Bear Air Rescue, a nonprofit that provides aerial support to search and rescue efforts, searched the area by helicopter Sunday and Monday.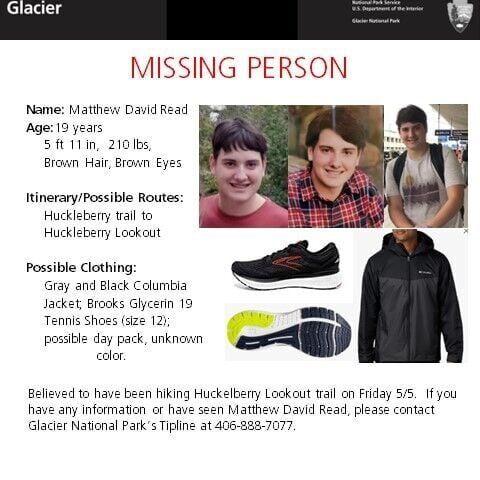 On Sunday, Two Bear Air Pilot Rob Cherot located tracks in the snow presumed to be Read's while flying a demo helicopter from a camera system company. He followed the tracks downhill until there was no longer snow on the ground, he said in a phone call Tuesday. After that, Two Bear Air's on-call crew Monday flew the area in a Two Bear Air helicopter. After three daylight flights, Cherot said, the crew ultimately located Read at night using an infrared camera system that shows heat, such as from a living human body. The crew lowered a rescuer who hoisted Read up to the hovering helicopter around 10:30 p.m., he said. 
"We had done a flight on Sunday as well and were not able to get into the area," because of weather, Cherot said. "It started with the track finding in a different helicopter that we were demo-ing, which worked out great. When we were searching I located a set of tracks that came off the mountain and went down the hill." 
In a statement Tuesday, Glacier National Park spokeswoman Gina Kerzman said that Read was only "somewhat responsive" by the time Two Bear Air reached him in dense timber. Two Bear Air transferred him to Evergreen Ambulance. Read was in stable condition, according to Kerzman. The Huckleberry Lookout Trail was closed for the search but reopened Tuesday morning. 
Cherot, who initially found Read's tracks, said it appeared that Read slid down a north-facing drainage that opens toward Camas Road. 
"He fell off the trail and slid down the snow in a steep area and actually lost his shoes and couldn't get back up. But that was Friday when that happened, so he spent till Monday night out. He had a backpack and a little windbreaker, but shorts and stuff. He's pretty lucky." 
The Huckleberry Lookout Trail is a 5.8-mile route to the top of Huckleberry Mountain at 6,593 feet elevation about 8 miles northwest of Apgar. The trail starts from the Camas Road at McGee Meadow, at 3,880 feet elevation and about 5 miles north of Apgar. The lower 4.2 miles of trail traverses generally south-facing terrain. The trail then crosses a saddle to north-facing terrain and the upper 1.6 miles to the summit is mostly on colder, shadier northerly terrain at higher elevation.
Two Bear Air found Read about 1.2 miles north-northeast — and about 1,740 feet lower in elevation — down the drainage from where the trail crosses the saddle above.
Kerzman said that Read "reached the first saddle where he encountered a snowfield covering the trail. He slipped into an unnamed drainage on the east side of Huckleberry Mountain. He descended into chest-deep snow, losing his phone, water bottle, and shoes. Upon determining that he could not make it back up to the trail, he started working his way down the drainage."