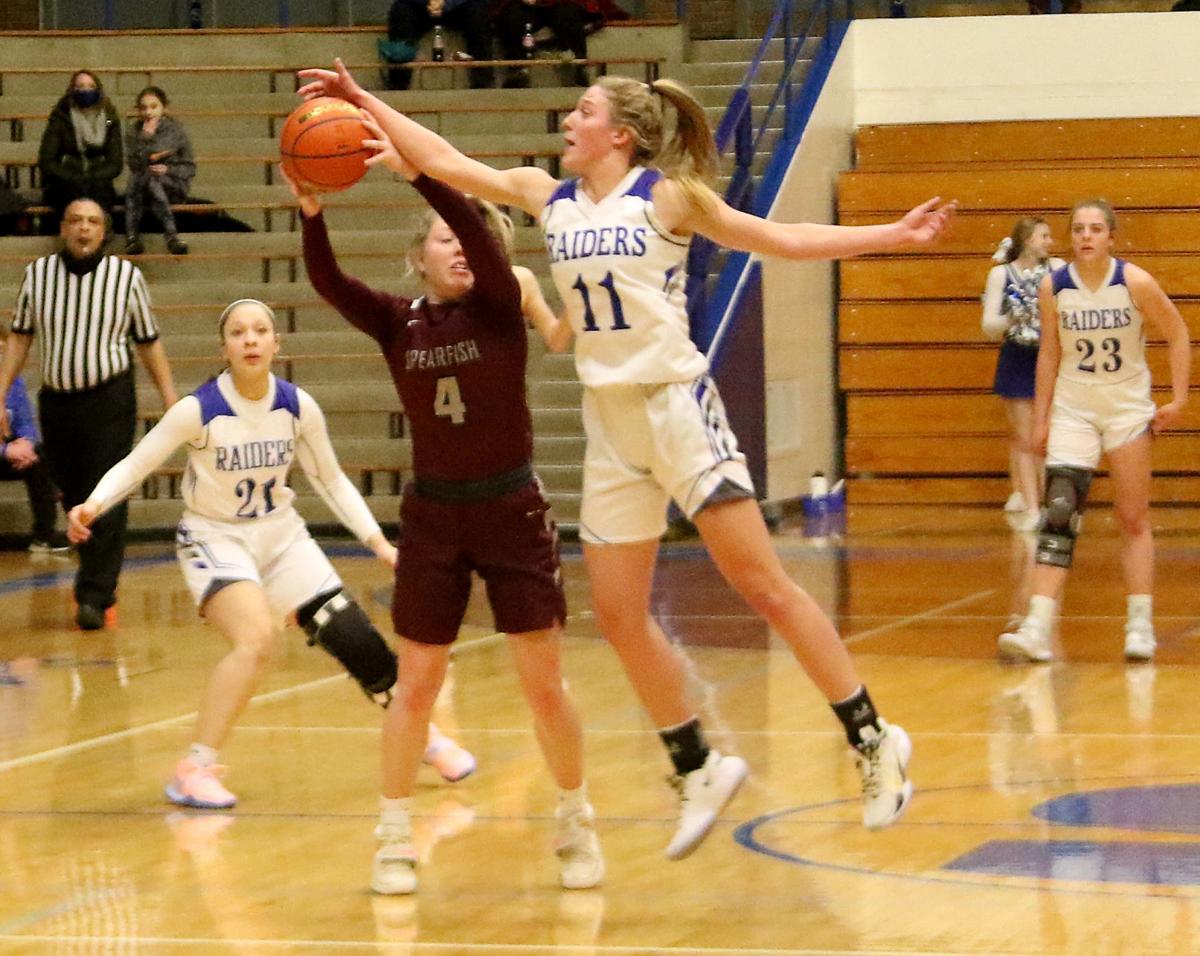 The Rapid City Stevens girls basketball team had a week off after falling to St. Thomas More in a tight game last Tuesday, and used that time to rest up and study up.
It proved to be more than a winning combination as four different Raiders reached double figures and 10 players tallied points as Stevens topped their season-high scoring total and ran away with an 85-45 home victory Tuesday over Spearfish to now take seven out of its last eight contests.
"It's been a week since we've played, getting our games canceled," Raiders head coach Michael Brooks said. "It was just kind of a weird week for us trying to get refocused after that STM loss, so I'm just glad that we responded that way, that we shared the ball and that so many people were able to contribute to the win."
Kenadi Rising led the way with a game-high 15 points off 7 off 13 shooting for Stevens (11-5), while Bailee Sobczak scored 14 points along with three steals and Jayda Mcnabb added 13 points. Jill Delzer came off the bench and earned 11 points, and Grace Ellis picked up eight points, seven assists and four steals. The Raiders finished with 16 steals on defense and shot 50% from the floor on offense.
Stella Marcus scored a team-high 14 points for Spearfish (6-11) on 5 of 15 shooting, while Anna Engen chipped in eight points, which all came in the third quarter. The Spartans shot 35% from the floor.
"We just wanted to get out and run," Rising said. "We've had this last week off, so we weren't really tired off any games, so we had our legs and were ready to run."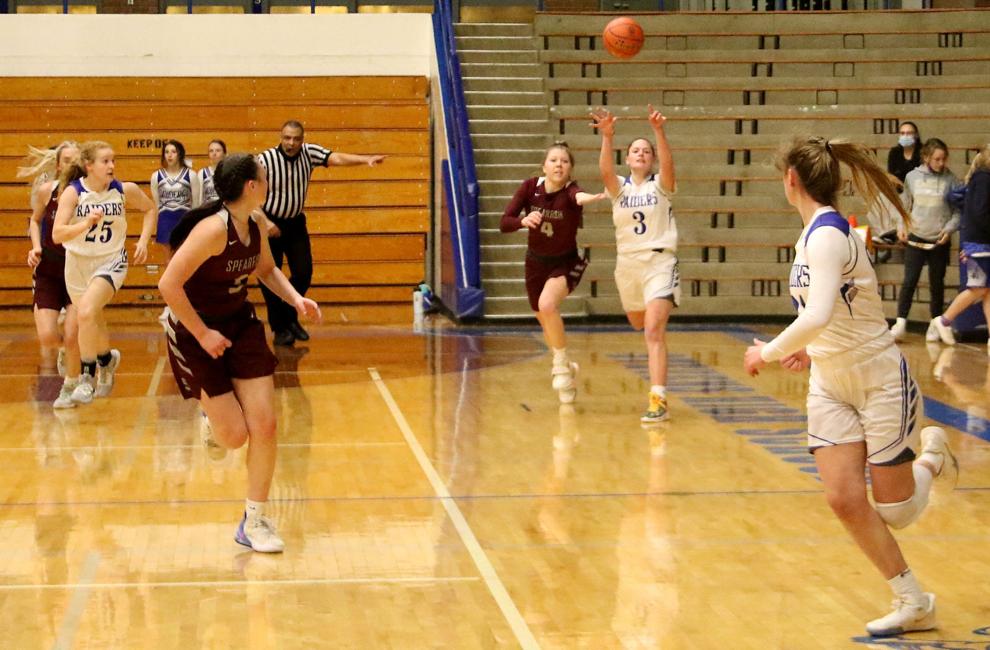 Stevens opened the contest with a dozen consecutive points, with all 12 coming from Sobzak and Mcnabb. Mcnabb scored back-to-back buckets off a steal and an offensive rebound, and Sobzak tallied a basket off a steal and fastbreak layup. Delzer drilled a corner 3-pointer later in the first quarter as the Raiders took a early commanding 24-8 advantage into the second frame.
Erin Rotert notched consecutive field goals for Spearfish in the second quarter, and the Spartans managed to string six straight points together to cut into their deficit, but the Raiders answered with another 12-0 run, courtesy of a corner 3 from Jaden Matkins, a spin-move floater by Ellis and a 3-point play from Delzer off a steal, to build a 24-point lead. Rising also hit a 3 in the period, and Delzer closed out the first half by going 2-for-3 at the free-throw ling after getting fouled on a 3-point attempt at the buzzer, to make it 50-21 at intermission.
Brooks said the loss to St. Thomas More, a gutting 41-38 result on Feb. 9, fueled his squad's desire to come out strong Tuesday. Mcnabb, Sobzak and Delzer all reached double-digit scoring by halftime.
"They were upset after watching film, and seeing all the possessions that we gave away," he said. "When you look at a one-possession game, there's so many things that you could change, and I think that refocused them for this week and allowed them to continue to strive to be better."
Engen hit a turnaround jump shot to begin the second half, and Spearfish grabbed eight of the first 10 points of the third quarter to get back under 25 points. Rising started to heat up as she notched eight points in the frame, including a stepback jumper, and Stevens wound up outscoring its opponent 16-13 in the period and extended its margin to 30 points to make it 66-34 heading into the fourth.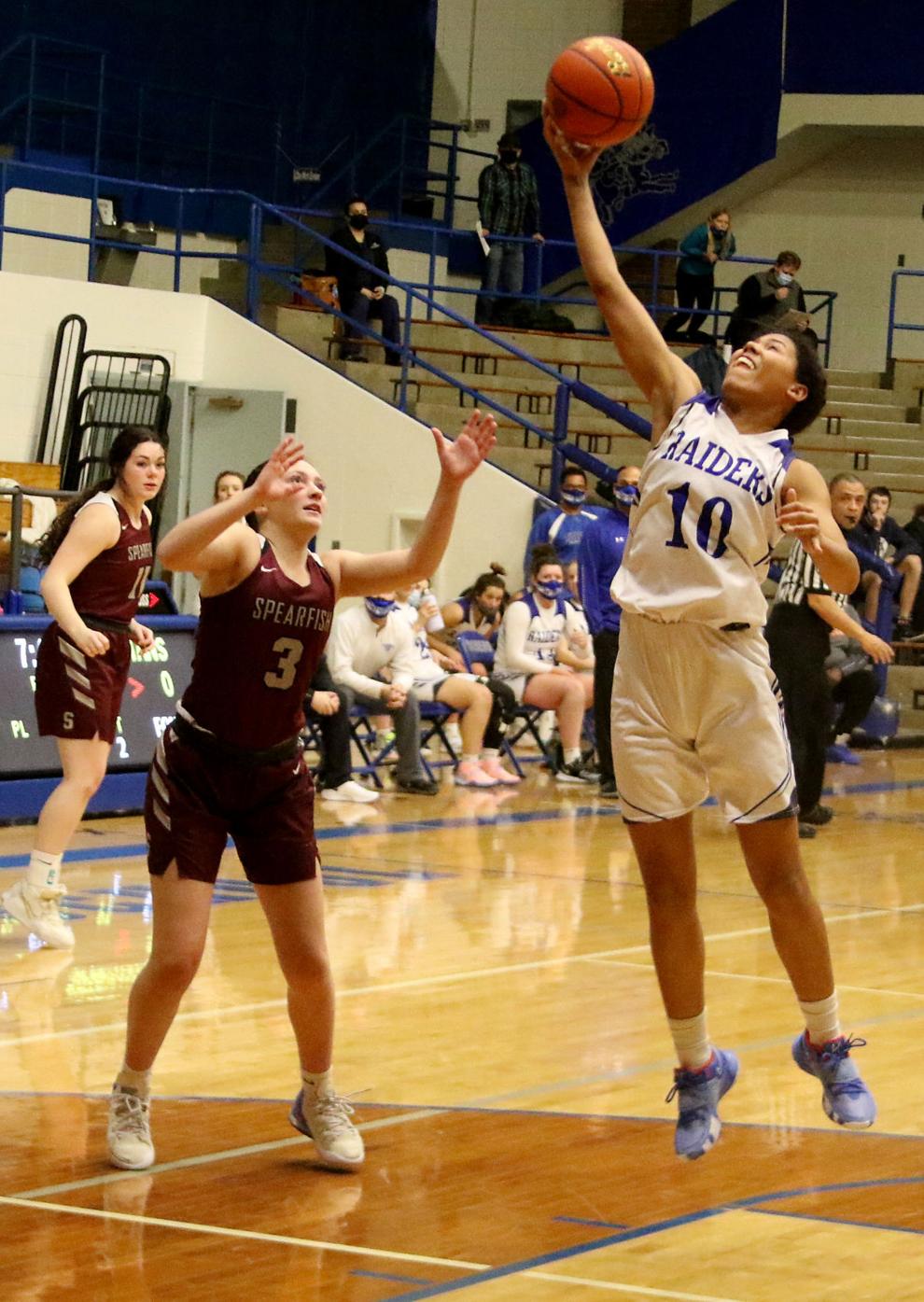 Marcus picked up the Spartans' first and only shot from beyond the arc in the fourth, but the final quarter served as time for the Raiders' non-starters to get some minutes on the court. Ella Peterson scored a bucket, Kenya Merrival tallied back-to-back 3s and Gabby Love hit a baseline jumper before draining a 3 of her own, which put Stevens up over a 40-point lead with 1:24 to play.
The Raiders surpassed their previous scoring high, a 79-28 win over Douglas on Feb. 2.
"We just felt like in our last game we didn't execute things we wanted to execute," Rising said. "So we came out tonight really trying to execute those things and fix all of our mistakes from our last game, and grow."
Stevens hosts Lakota Tech on Friday before taking on Rapid City Central on Saturday at Naasz Gym in a rematch of their Jan. 2 meeting when the Delzer hit a game-winning shot at the buzzer. Spearfish, meanwhile, hosts Douglas on Thursday.