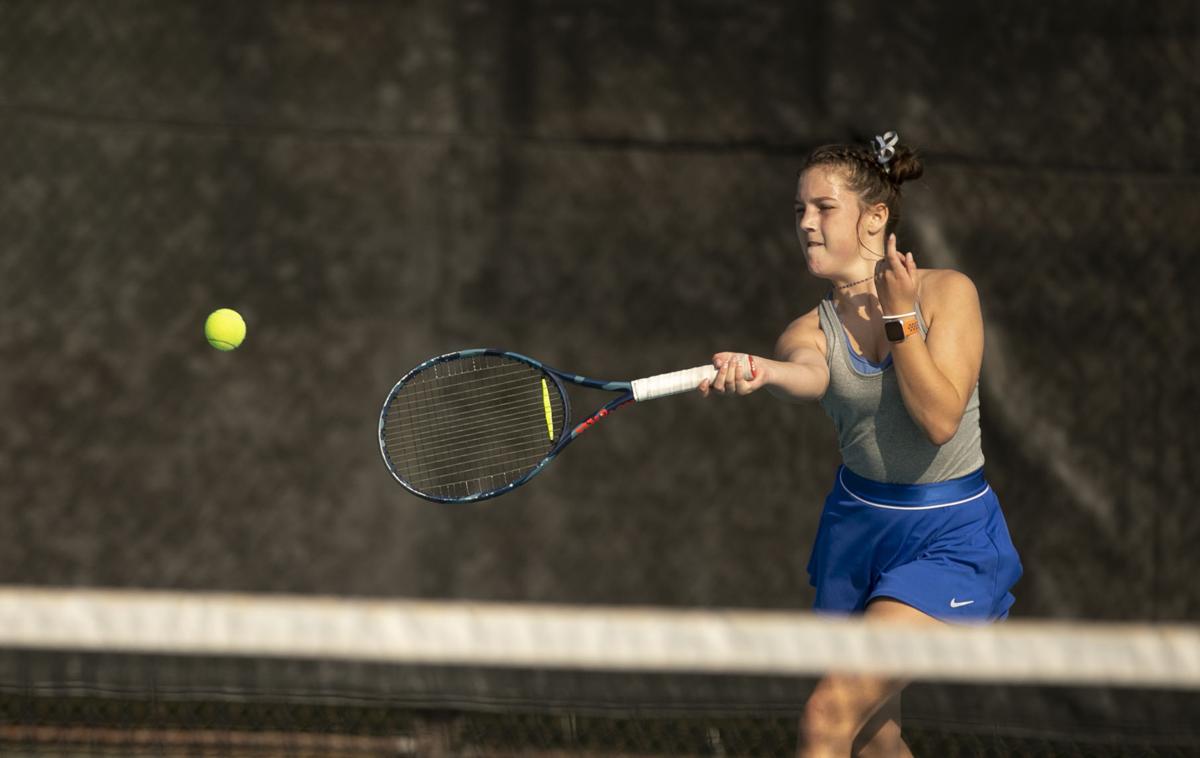 After taking the opening set of her quarterfinal match in smooth fashion Thursday morning, Rapid City Stevens' Anna Mueller let tiredness creep in, and found herself one game away from a third-set, 10-point tiebreaker.
But through discussions with head coach Jason Olson, the sophomore regrouped, minimized her errors and rattled off five straight games to take the match in straight sets, 6-3, 7-5, over Watertown's Sadie Moran and book a spot in the semifinals of the third singles flight at the Class AA Girls Tennis State Tournament at Sioux Park.
The No. 2 seed will face No. 3 Addy Jackson of Brandon Valley in the next round.   
"I just had to get my head back in it and talk to my coach a little bit about playing better. He was very direct with me, so I just had to get my head back in the match, have fun instead of freaking out," Mueller said. "I knew that if I kept the ball in play, then she would eventually mess up, so I just kept the ball in play, hit everything back and she ended up making more errors than me, and that's the way it went." 
Mueller was joined by five other teammates who all reached the semifinals of their respective draws and two doubles teams that advanced to the championship, putting the Raiders in second place and 20 points behind Sioux Falls Lincoln heading into the final day of the tournament.
Ali Scott, the No. 3 seed in the fourth flight, earned an early break against Harrisburg's Grace Starr and then traded service holds for a 5-4 lead. She quickly went down 0-30, but strung together three straight points and finished the set with an unreturned serve.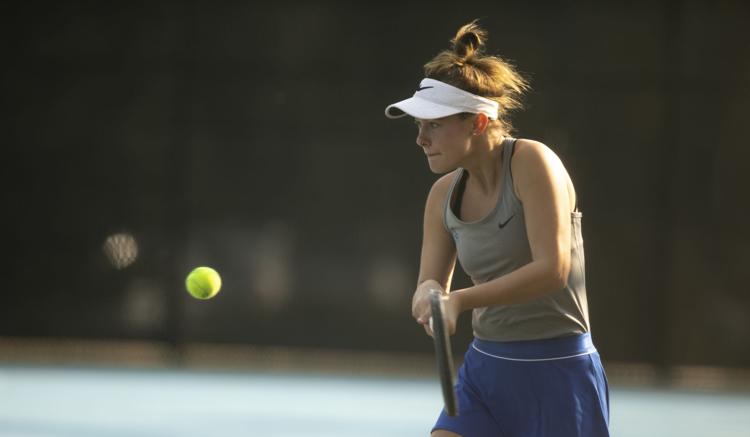 She then blanked her opponent 6-0 in the second to secure the victory, and will play No. 2 Sydney Breit of O'Gorman in the semifinals.
"I just told myself to restart, that I'm up 5-4, it's all good and just to get my serve in," Scott said of the first set. "I think I just really clicked in (after that). She started making more errors and I started making less, so I was able to bounce off of that."  
Competing in the top flight, No. 2 Vanessa Wittenberg was broken trying to serve out the first set up 5-2, but immediately responded by breaking Emma Rangel's serve at love and didn't drop another game en route to a 6-3, 6-0 win over the Harrisburg player.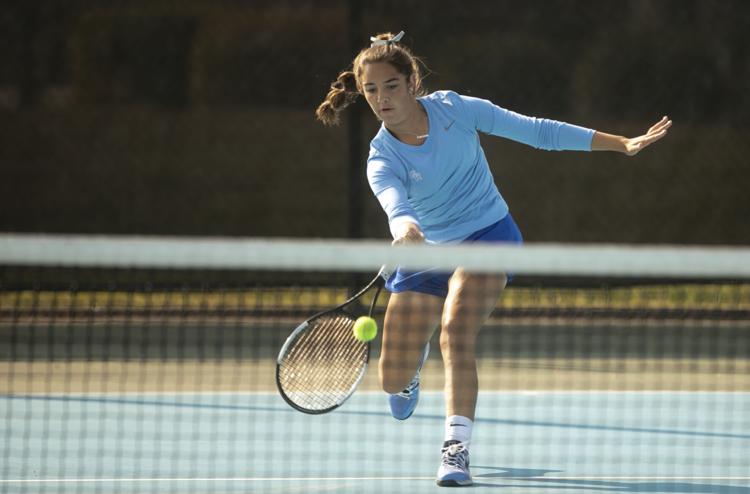 She'll meet No. 3 Avery Summers of Sioux Falls Roosevelt in the semis. 
"A lot of nerves were gotten out of the way, with it being my senior year, and it just helped get everything rolling," Wittenberg said of the victory. "I just made sure I took deep breaths, and I just tried to focus on each point itself instead of trying to look at the bigger picture." 
Abby Sherrill, the No. 2 seed in the fourth flight, beat Aberdeen Central Livia Douglas 6-2, 6-2 and will play No. 3 Avery Blackman of Sioux Falls Lincoln, and Peyton Ogle, the No. 4 seed in the sixth flight, defeated Jocelyn Orr of Aberdeen Central 7-5, 6-4 and will face top-seeded Charlotte Craford of Sioux Falls Lincoln.  
Flight No. 5's top seed, Julia Wiedmeier, breezed past St.Thomas More's Alysa Denholm 6-0, 6-2 to round out Stevens' singles performances. Wiedmeier's next opponent is O'Gorman's CeCe Bender.
In doubles, Wittenberg and Scott teamed up as the No. 2 seed in the first flight and edged Danica Hubers and Avery Summers of Sioux Falls Roosevelt 6-2, 4-6, 6-4 to clinch a championship match against top-seeded Johana Brower and Ava Leonard.
Weidemeier and Emma Thurness served as the No. 2 seed in the third flight and defeated the Watertown duo of Grace Ortmeier and Leyla Meester 6-0, 6-2 to set up a finals meeting with Bergen Quello and Charlotte Crawford. 
Sherill and Ogle, the No. 6 seeds in the second flight, upset No. 3 Carly Comstock and Emily Ringgenberg 3-6, 6-3, 10-5 in the opening round before falling in straight sets in the semifinals. They'll get a chance to add points for the Raiders in their third place match against Harrisburg's Grace Starr and Eloise Geraets. 
A trio of Cavaliers earned their squad a handful of points in singles play Thursday.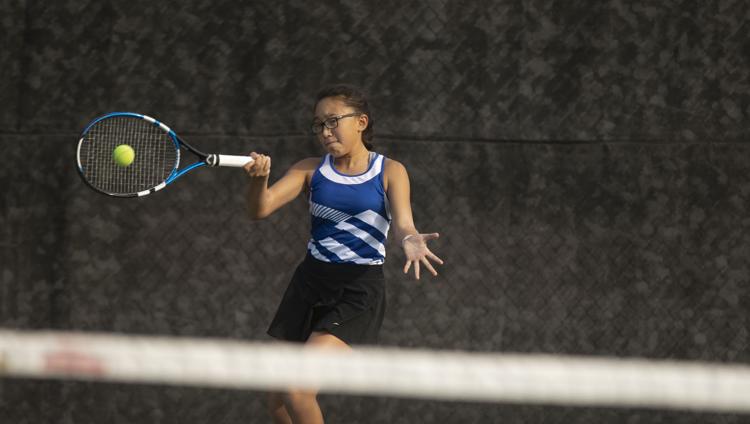 Kaitlyn Schmahl, the No. 8 seed in the fourth flight, beat Lauren Betsworth of Sioux Falls Roosevelt 7-5, 6-2 before falling in the quarterfinals, Alysa Denholm, the No. 9 seed in the fifth flight, got past Sioux Falls Roosevelt's Emily Riedmann 6-4, 1-6, 10-8 in Round 1 before losing in the quarters and the sixth flight's No. 8 seed, Sarah Barton, knocked out Allie Weber of Sioux Falls Roosevelt 6-3, 6-2 in the first round before losing in the next round. 
Denholm and Barton also scored a victory as the No. 8 seed in the third doubles flight, beating Sioux Falls Roosevelt 6-1, 7-5.
STM's 48.5 points from Day 1 put them in 10th place out of 12 schools.
Be the first to know
Get local news delivered to your inbox!