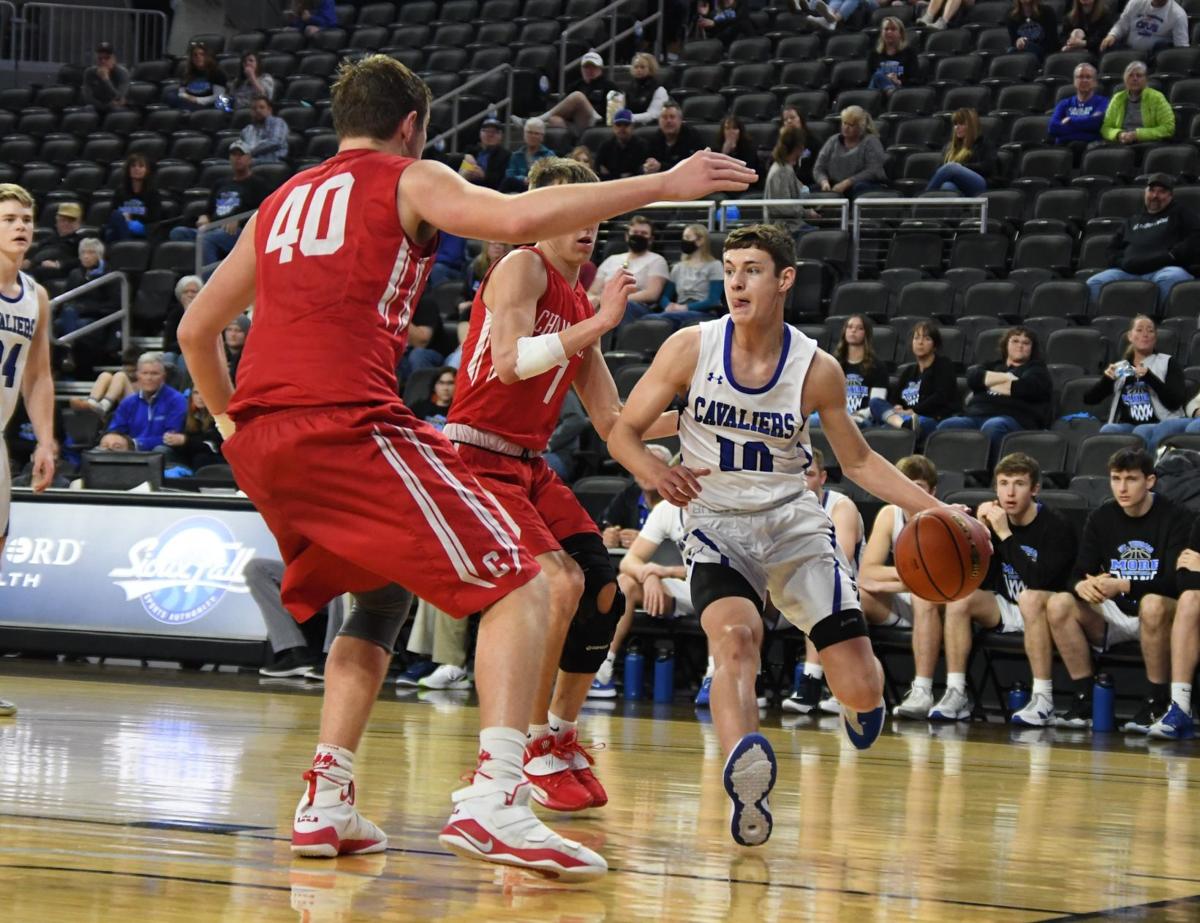 Despite a tough start to the Class A state tournament, the St. Thomas More boys' basketball team was able to get back on track to close out the season as it earned a 62-49 victory over Chamberlain in the consolation title game Saturday in Sioux Falls.
The Cavaliers jumped ahead early and took a 16-12 lead into the second, before the Cubs cut the deficit to 26-23 heading into the half.
Similar to Friday night's win over Vermillion, STM had another big third quarter as it outscored Chamberlain 30-12 to take a 56-35 advantage into the fourth.
Although the Cubs were able to make up some ground in the final quarter, it was too little, too late as the Cavs closed out the contest.
"We took some bad shots in the second quarter and I thought we could take better care of the ball, get better looks and be a little more patient," STM head coach Dave Hollenbeck said. "We got some really good looks in the third and had a great quarter. Holding them to 12 points and scoring 30 gave us a pretty good cushion going into the fourth."
Caleb Hollenbeck led the way for the Cavaliers with 17 points, Cade Kandolin added 16 points and Ryan Wojcik finished with 12.
Charlie Larson paced More on the boards with 11.
Drayton Priebe led the Cubs with 15 points, Sellyck McManus added 14 points and Hayden Evans tallied 11.
With the 2020-2021 season in the books, Dave Hollenbeck credited the resiliency of the team and the lack of selfishness they showed throughout the season.
"They are a resilient group and they fought hard this year," he said. "I am very proud of our seniors, and we were just led by a great group of guys. We asked them to leave the team better than the way they found it and I am proud of that. This was a special group of guys who really played well as a team. We didn't have any problems with the 'me disease' and it was a complete team effort at all times. I am just really proud of these guys."
He also attributed the work of his coaching staff.
"My coaching staff did an outstanding job this year," he said. "Ryan Messick is an outstanding coach on the defensive side and Tony Young did an outstanding job developing these kids. Our freshman coaches Scott Donnelly and Bill Whitney do a great job as well and those four guys are the reason our program is so successful."
The Cavaliers closed out the season at 21-4, while Chamberlain finished at 18-6.
SIOUX FALLS CHRISTIAN 84, SIOUX VALLEY 50: The Chargers ran past Sioux Valley on their way to winning the Class B state championship on Saturday.
Tyler Prins led Christian with 27 points, Xavier Van Beek added 17 points and Brooks Nelson finished with 13.
Oliver Vincent paced the Cossacks with 22 points.
DAKOTA VALLEY 69, DELL RAPIDS 60: Dakota Valley's Paul Bruns had a huge game as he led his team to a victory over Dell Rapids in the Class A third-place game.
Bruns finished with 37 points on 15-of-25 shooting, while pulling in 17 rebounds, and Isaac Bruns added 19 points.
Colin Rentz paced the Quarriers with 29 points.
VERMILLION 78, WINNER 49: The Tanagers had five players score in double figures as they cruised to a victory in the seventh-place game on Saturday.
Jakob Dobney led Vermillion with 20 points, Dillon Gestring added 18 points and Noah Gilbertson finished with 13.
Jake Jensen and Connor Saunders added 10 points apiece for the Tanagers.
Brady Fritz paced the Warriors with 18 points, while Blake Volmer had eight points and 12 boards.
DE SMET 59, ABERDEEN CHRISTIAN 43: The Bulldogs carried a 33-18 advantage into the half and didn't look back as it defeated Aberdeen Christian for the Class B state championship Saturday evening in Aberdeen.
Kalen Garry scored 23 points and grabbed eight rebounds to lead De Smet, while Tory Holland added 10 points.
Ethan Russell paced the Knights with 18 points and Jett Becker finished with 11.
WHITE RIVER 74, LOWER BRULE 72: Joe Sayler hit a pair of free throws in the final seconds of the game as the Tigers edged Lower Brule for the Class B consolation title on Saturday.
White River carried a 21-17 lead at the end of the first and extended it with a 47-29 with a big second.
In the third, the Sioux had a big quarter of their own as they outscored the Tigers 26-8.
The final minutes of the fourth were a battle with both teams exchanging leads, including a handful of layups from Dylan Marshall to keep White River in the game.
With less than 10 seconds remaining and the game tied at 72 apiece, the Tigers blocked a 3-point shot and Sayler was fouled on the layup attempt at the other end.
Sayler finished the game with 26 points and 10 rebounds, Marshall added 18 points and Colbe Scott tallied 12 points.
Gavin Thigh paced Lower Brule with 17 points, Shane Grey Owl added 15 points and Keshaume Thigh finished with 14 points and 13 boards.
Brian LaRoche Jr. chipped in the 11 points for the Sioux and Lane Gray had 10.
DELL RAPIDS ST. MARY 76, VIBORG/HURLEY 58: Connor Libis scored 29 points to lead the Cardinals to a third place finish in the Class B tournament.
Sam Palmer added 17 points for DRSM and Ashaun Roach-Valandra finished with 13.
For the Cougars, Eli Boomgarden scored 21 points and Gradee Sherman tallied 17 points and 12 boards.
CANISTOTA 59, LYMAN 44: Canistota outscored Lyman 20-6 in the fourth quarter as it picked up a win in the seventh-place game.
Tyce Ortman paced the Hawks with 19 points, Chase Merrill added 14 points and Cole Papendick scored nine points and grabbed 12 rebounds.
Toby Estes and Sam McClanahan led the Raiders with 13 points apiece.