SPEARFISH — Rylan Horning entered Tuesday's final round with the same mentality that put her in the top five and in contention for a title after her first round.
Competing in her first-ever state tournament, the St. Thomas More seventh grader added seven strokes to her front nine performance from Day 1 to put her in danger of falling out of the top five, but she made several clutch shots down the stretch on the final four holes to solidify a fourth-place finish in the 2021 Class A Girls State Golf Tournament at Spearfish Canyon Country Club.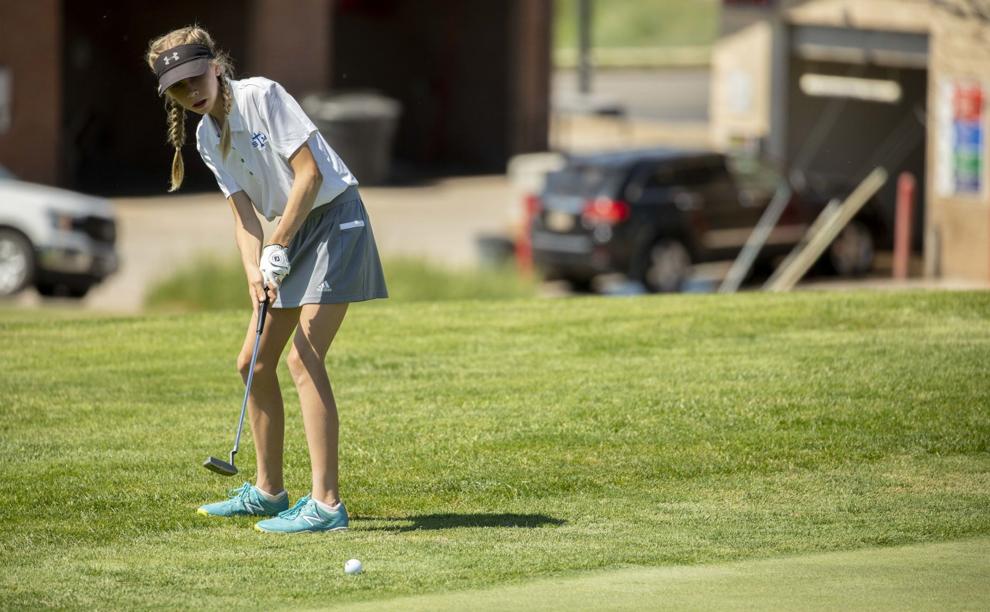 Horning said not worrying about her score and just having fun beats feeling pressure and getting nervous, since she's still got five more state tournaments in her future.
"It's better than feeling bad. I can improve throughout the years and do better," she said. "It feels good. I'm really proud of myself because it's my first time here."
After bogeying the first hole, one she birdied on Monday, on a windy front nine, Horning bogeyed or double-bogeyed her next six but came back with a par on the par-4 eighth before bogeying the ninth for a midway score of 47 versus a 40 in Round 1.
With much of the breeze out of the way, she parred the par-5 12th, a hole she previously bogeyed, double-bogeyed the 13th and 14th and bogeyed the 15th before parring the 16th for the second straight time and scoring a birdie on the par-3 17th.
She bogeyed the 18th to finish with a two-round score of 28-over 172 and ending 17 strokes behind state champion Maiya Muller of Beresford, who earned an 11-over 155.
The experience of playing at Spearfish once again helped Horning, she said.
"I knew where everything was and I could improve on the things I did wrong the first time I played it," she said. "I just have to keep practicing and keep doing what I'm doing."
Horning led the Cavaliers to a fifth place finish in the team standings, as teammate Emily Kandolin parred the second, seventh and 13th holes, and birdied the par-5 12th to score a 38-over 182 and end her high school career in a three-way tie for 12th. Amity Strand placed 58th with an 81-over 225, and Charli Stamper rounded out STM's scoring with an 87-over 231, good for 64th.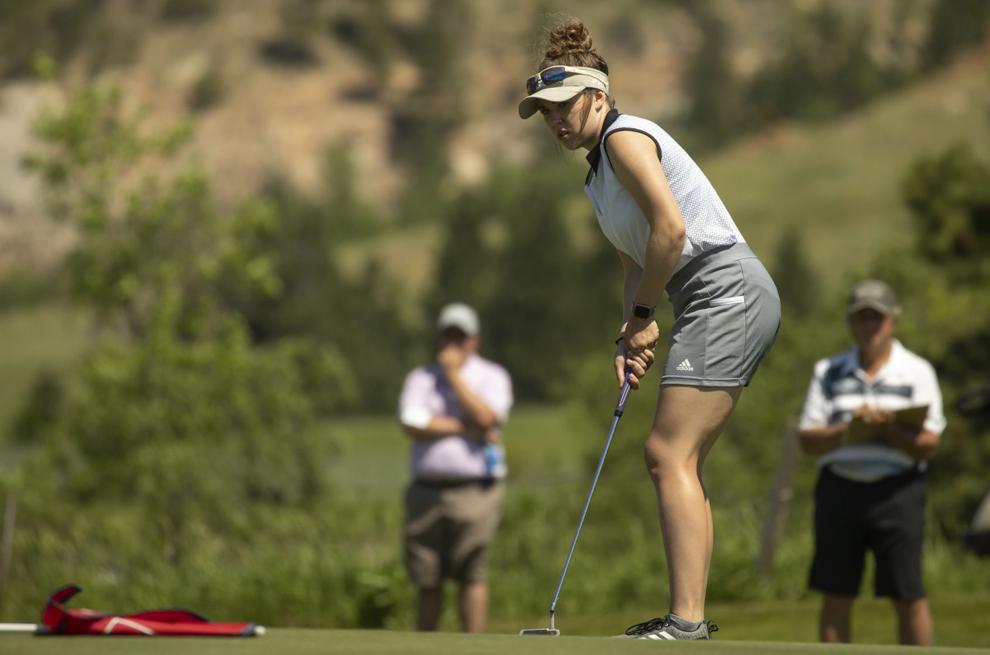 Young Winner team places third
Rylee Root said her squad wanted to bring some hardware back to Winner.
Sitting in a three-way tie for ninth heading into Tuesday, the Warriors sophomore took three strokes off her Round 1 performance and landed just outside the top 10 with an 11th place score of 33-over 177 to keep Winner in third place at the end of the final round.
"We have not gotten top six in forever, so it's really good. We really wanted to get a banner," Root said. "That was our goal; just get a banner, so it feels really good."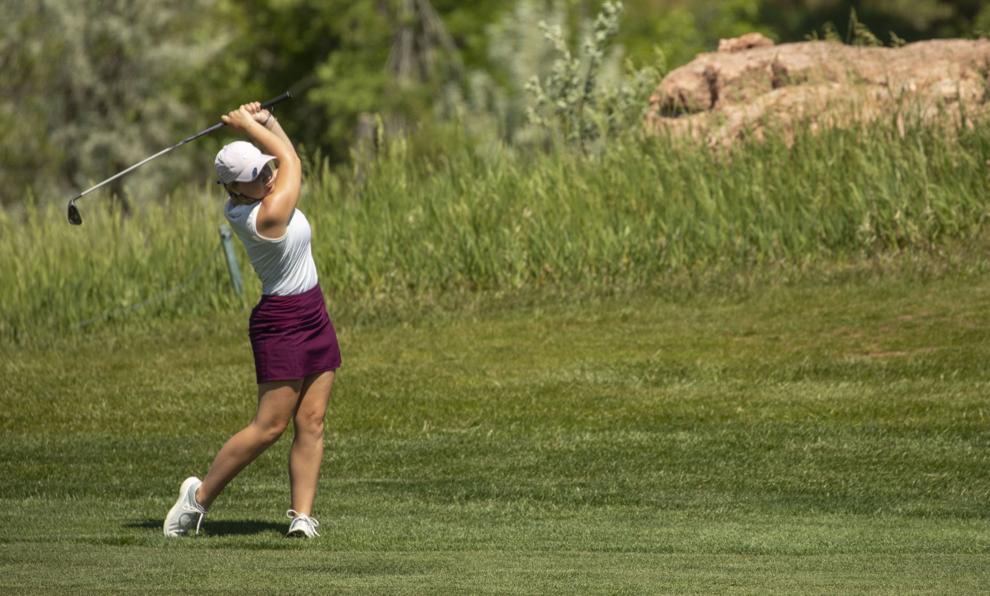 The Warriors ended with a final score of 764, holding off Vermillion by 24 strokes and trailing Class A team champion Sioux Falls Christian by 45 strokes.
"These girls have worked their butts off to get to this point, and I'm really quite impressed with the time that they were willing to spend to do what they've done today," Winner head coach Jim Halverson said. "This is a long golf course and this is a tough golf course, and it's a really tough golf course when you have to walk and push your golf clubs, and I was just impressed with my flatlander girls being able to finish 18 holes."
Root parred four holes on the front nine, including a stretch of three straight on the seventh through the ninth, before equaling her Round 1 total on the back nine. 
She said she felt like quitting before her final round got underway, but decided to finish the state tournament to try and come through for her team.
"I wasn't feeling good this morning, but I thought about my team and wanted the team to do well," she said. "Honestly, my putting was just way better. I got way luckier on my putts, my drives were going straight and it was just a way better day, way better attitude. It just seemed like it was going to be a better day from the start."
Root's teammate and seventh grade sister Gracie Root cracked the top 20 with a 47-over 191 to place 19th, scoring a birdie on the par-5 12th, while senior Brennan Bachman wasn't far behind with a 23rd place finish with a 50-over 194, and sophomore Kelbi Meiners contributed with a 58-over 202 to get into a two-way tie for 36th.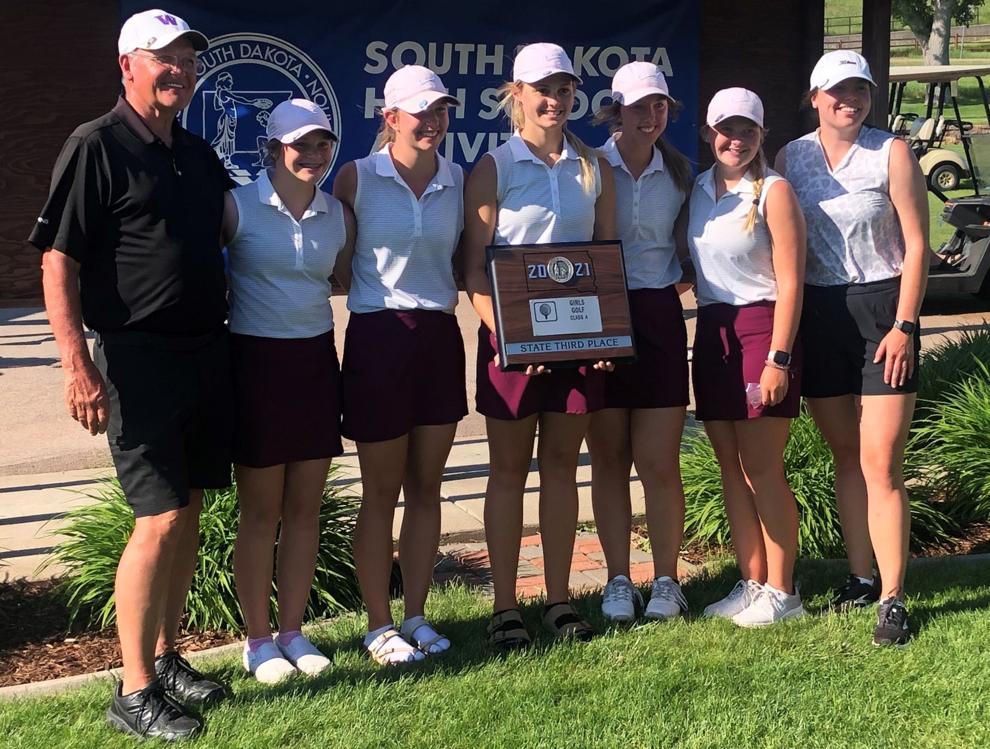 With the Warriors graduating just one golfer, Halverson said the future is bright for his program.
"Expectations are really high right now, especially for these girls," he said. "The sky's the limit."
Jessi Schroeder ties personal best on biggest stage
A 91 on Day 1 wasn't what Hot Springs' Jessi Schroeder had in mind for the state tournament, so for the final round of her senior season, she said she just wanted to stay under 90.
In accomplishing her goal she tied a personal best, earning an 85 to end the event with a 32-over 176 to slide into a 10th place finish.
"Tying my personal best is as good as I could ask for, really it is," she said. "It's pretty crazy. I was hoping to do a little bit better than my personal best, but I can't complain at all because they say your personal best is your personal best, and that's about as good as I could've played, so it was fun."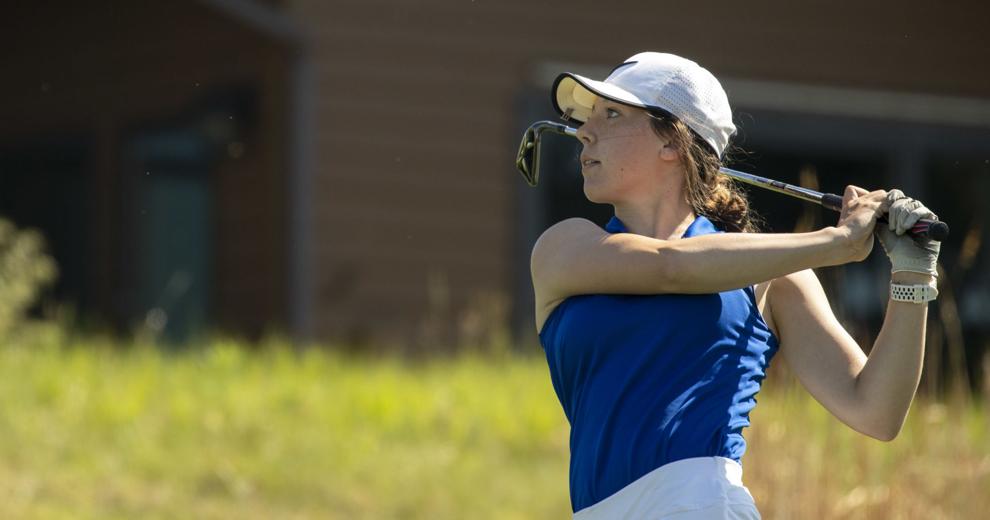 Schroeder parred the first three holes and the last two of the front nine for a 41. After struggling with bogeys to begin the back nine, she recovered by parring five of her final six holes to record the lowest West River score on Day 2.
"I really think it was my mental game," she said. "I struggled a bit the first day, I was really in my head, so I came into the second day knowing that I had to stay out of my head and just play the game that I did."
Schroeder led a Hot Springs squad that finished sixth in the team standings to medal in the tournament. Eighth grader Allyson Kattke eagled the 12th hole to place 20th with a 48-over 192, Sydney Olstad tied for 24th with a 51-over 195 and Ava Krush picked up a 105-over 249 for a tie for 75th.
"Playing (this course) as many times as we did coming in really helped," Schroeder said. "But it's also really similar to our home course, so having the wind and everything, we've experienced that, with all the hills, too. Having that experience helped us make the right decisions."
Among the individual medalists, Lead-Deadwood's lone representative Madi Rystrom tied for 21st with a 49-over 193.