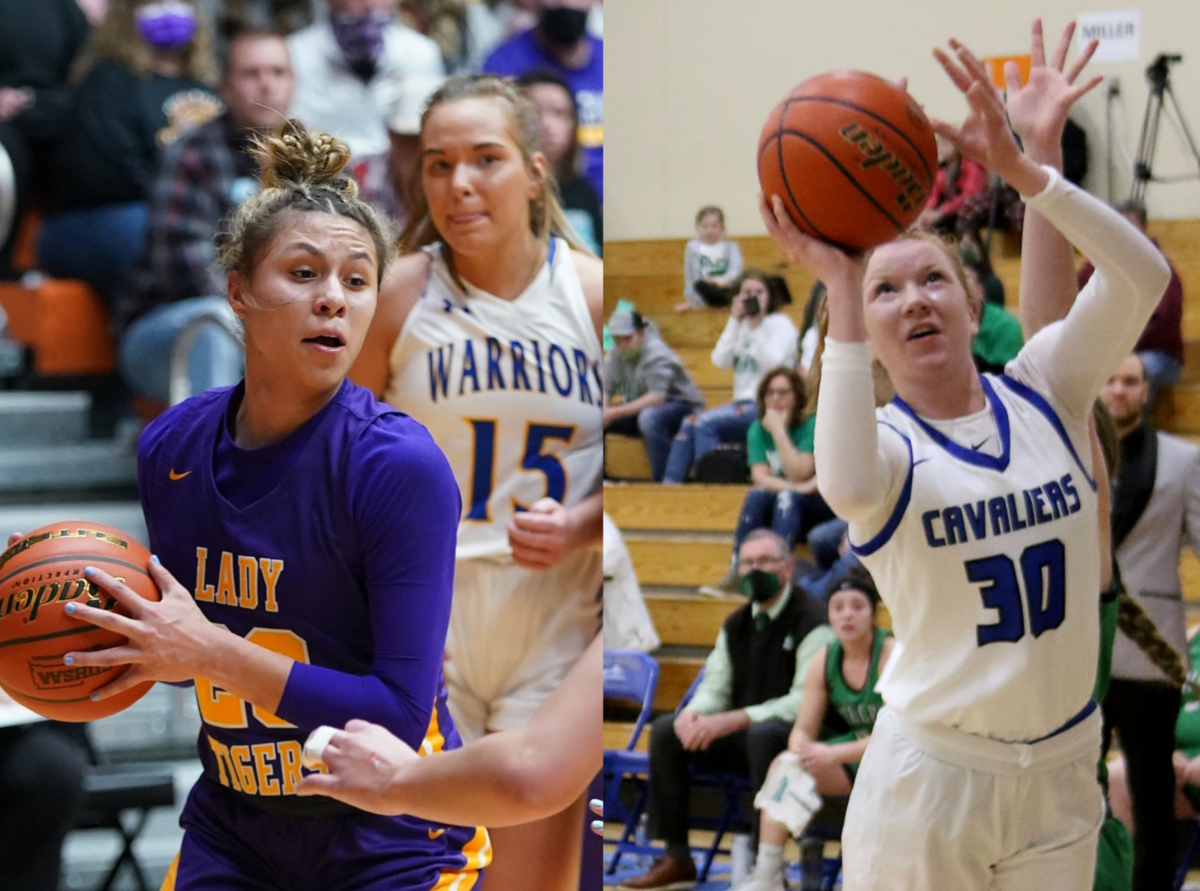 An ACL and MCL tear suffered during the 2019-20 basketball season sidelined White River's Caelyn Valandra-Prue for the remainder of her junior year, and the road to recovery was anything but easy.
But the 5-foot-10 guard came back with a vengeance, averaging 27.4 points and eight rebounds per game this winter to lead the Lady Tigers to an 18-1 regular season record and the first state championship in school history, knocking off top-seeded Castlewood to claim the Class B title.
For her efforts, Valandra-Prue has been named Class B Player of the Year.
"It's crazy. I've been working ever since I got my injury last year," she said. "I knew I could do it if I put in the work, and it just means a lot to me to win State and to get enough votes to be Class B Player of the Year."
Valandra-Prue, who shot 47% from the floor, 81% from the free-throw line and totaled 73 steals and 48 blocks, said the process of coming back from her knee injuries was challenging both physically and mentally, not only from the therapy but from the more than three-hour drives to and from therapy in Sioux Falls twice a week. 
Eventually, she realized that a return to her previous form, or even an improvement on her previous form, was attainable.
"I was about halfway through my physical therapy when I started getting into running and jumping again," she said. "That's when it started getting a little bit easier for me to really see where I was at and know that I can come back and be the player that I was, or an even better player."
Among the Class B All-State selections, of which Valandra-Prue headlines its First Team, White River teammate Maleighya Estes earned a Second Team bid. The junior guard averaged 20.6 points per game, shot 50% from the floor and famously hit a game-winning jump shot at the buzzer in that state semifinals to send the Lady Tigers to the title game.
"I'll just remember all the emotions; everything I went through with my injury, and just the mental part of it, the struggles and everything," said Valandra-Prue, who will run track at USD. "Coming back into the season and doing what me and my team did, and the accomplishments we've had together."
Jones County sophomore Jadyn Jensen, who averaged 19.4 points, 7.3 rebounds and 3.1 steals per game, made the Class B Third Team.
Having already committed to South Dakota State last April, Haleigh Timmer said she still wanted to go out with a bang.
"We definitely had a good team this year," Timmer said. "And I wanted to finish my high school career on a good note, and just have a successful year."
The senior guard powered St. Thomas More to a 19-1 regular season record and a season-long No. 1 ranking with 20.4 points, 7.3 rebounds and 3.8 assists per game, and tallied buckets at a 60.1% clip, including 53.3% from beyond the arc. 
While her main goal of a state championship with her Cavalier teammates eluded her — STM fell to Aberdeen Roncalli by one point in the Class A State Tournament semifinals — Timmer said she's still honored to be this season's Class A Player of the Year. 
"It's definitely not in place of that state championship we all wanted, but it's also a good feeling to be recognized for what you bring to the table," she said. "It's not quite the same as winning a state championship like I had hoped with my team — that would've been irreplaceable in my opinion — but it's definitely good to be recognized and I do appreciate everyone who puts those awards together."
Joining Timmer on the Class A First Team is Winner junior Bella Swedlund, who averaged 22.5 points, 8.2 rebounds and 3.9 assists per game, while totaling 62 steals and shooting 44% from the floor. Teammate Kalla Bertram earned a Second Team selection for a 19.3-points per game junior campaign that also included 96 total steals. 
Rapid City Christian sophomore Olivia Kieffer also received Second Team honors for averaging 22.6 points, 7.6 assists and 6.5 rebounds per contest while shooting 46%.
Rapid City Stevens junior Jayda Mcnabb and Rapid City Central senior Jordon Heckert earned Class AA Second Team selections.
Mcnabb put up 12.2 points, 6.2 rebounds and four assists per contest, shot 51% and was a key factor in the Raiders' upset of Harrisburg in the first round of the Class A State Tournament, as well as their run to the state title game for the first time since 2010.
Heckert, who in early January broke a school record by dropping 36 points in a game, finished her senior campaign with 17.1 points, 5.8 rebounds and 3.2 assists per contest. She also tallied 57 steals, converted 40% of her attempt and was an 81% free-throw shooter.