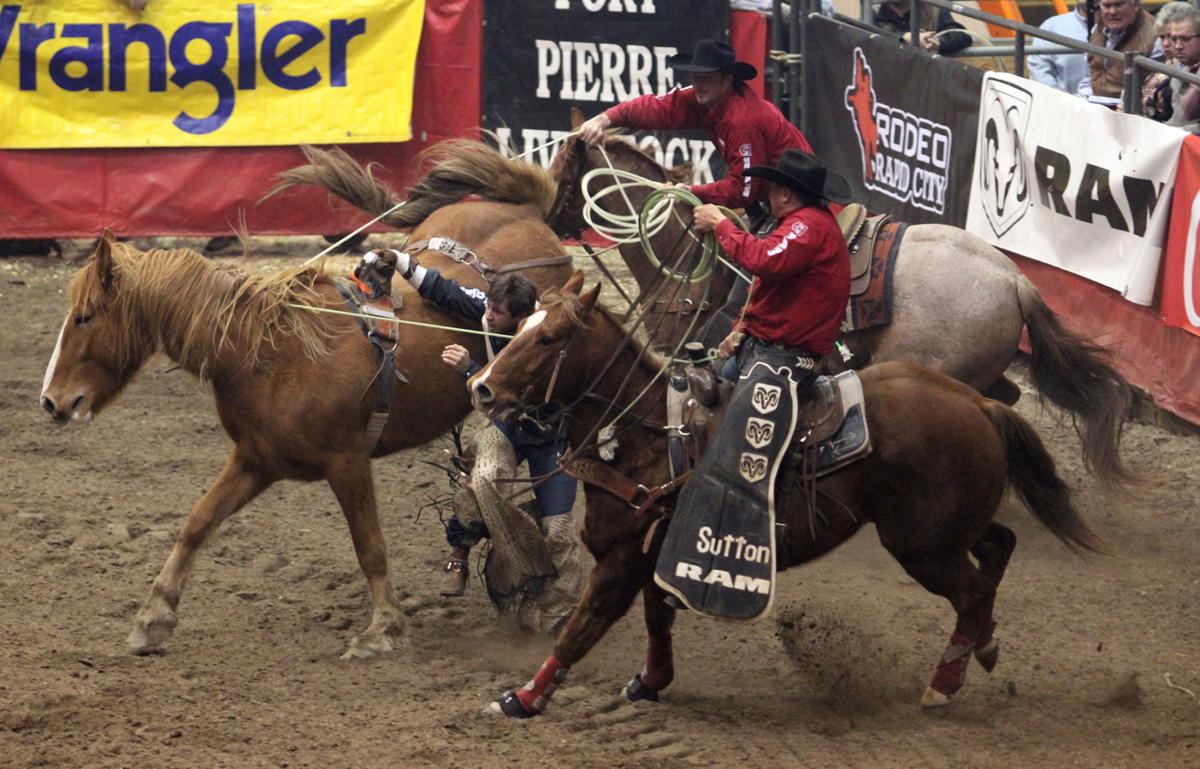 It seemed fitting on a perfect Western South Dakota-weather day, that the first performance of Rodeo Rapid City's PRCA event, an afternoon matinee, featured a double dose of saddle bronc riding, the state's sport.
Unfortunately, the seven South Dakota bronc riders out in the two sections weren't on their A game on Saturday, and left it to a Wyoming cowboy, Wyatt Hageman (Jay Em), to spur his way to the best ride of the day, a 83-point trip aboard Sutton Rodeo's Boogie Nights.
"Not many people knew too much about her, but I did hear she had some moves on her, and she was really nice today," Hageman said. "As soon as she blew up right there in front of the chutes, it just felt good, and I knew it was going to be a good ride."
In the evening second performance, a South Dakota cowboy, recalibrated state pride as Rapid City's Ty Manke, the 2018 Rodeo Rapid City saddle bronc winner, rewarded the hometown crowd while grabbing a share of the lead with an 83-point ride about Sutton Rodeo's Wes Texas.
"I actually had that horse this summer at Mitchell and she bucked me off. So I was a little nervous getting on the her," Manke said. "She was at the (NFR) finals this year, and if she's good enough to get there, that's the kind of horse a guy loves to get on. I found a rhythm in the middle of the ride, felt comfortable, and felt it would be a pretty good ride."
The bareback event made a first Rodeo Rapid City appearance in the evening performance, and a Badland's Circuit cowboy, Nate McFadden of Elsmere, Neb., rode Sutton's Sweet Emotion to a very pleasurable 84-point ride to grab the first-day lead.
"I had seen that horse in Deadwood (Days of 76) when it won Deadwood," McFadden said. "He is electric and kind of did what I thought he would, showed well and let me do my job. I haven't done any good so far this year, so it felt good to make a good ride her in Rapid City, which is kind of a hometown rodeo for me in the Badlands Circuit."
A couple of multi-appearance National Finals Rodeo qualifiers, Hunter Herrin and Tim Bingham, who are on the comeback trail after a couple of seasons lost to injury, turned in solid efforts in the matinee performance.
Herrin, a nine-time NFR qualifier (the last in 2016) stopped the clock in 9.2-seconds in his tie-down roping run, a trip that was timed perfectly out of the box and could have been a second or so better had the young calf been more cooperative.
And in bull riding, three-time NFR qualifier Tim Bingham bounced back from a no-score in Friday's Xtreme Bulls with an 84.5-point ride aboard Sutton's EvenFlow.
"He was a little weird timing," Bingham said. "He'd do a couple turns and spin and then he'd almost go straight up in the air so it made it a little trickier to figure out his timing. I'd seen him last night though in the Xtreme Bulls, and I was sure that I would match up with him pretty well."
Buffalo barrel racer Jessica Routier, fresh off her second National Finals Rodeo appearance and an eighth place in WPRA standings, moved to the top of the leaderboard with a 12.47-second run in the evening performance.
Rodeo Rapid City turns the Barnett Arena over to some of South Dakota's premier high school rodeo athletes displaying their rodeo talents in the annual 20X High School Showcase (1 p.m.).