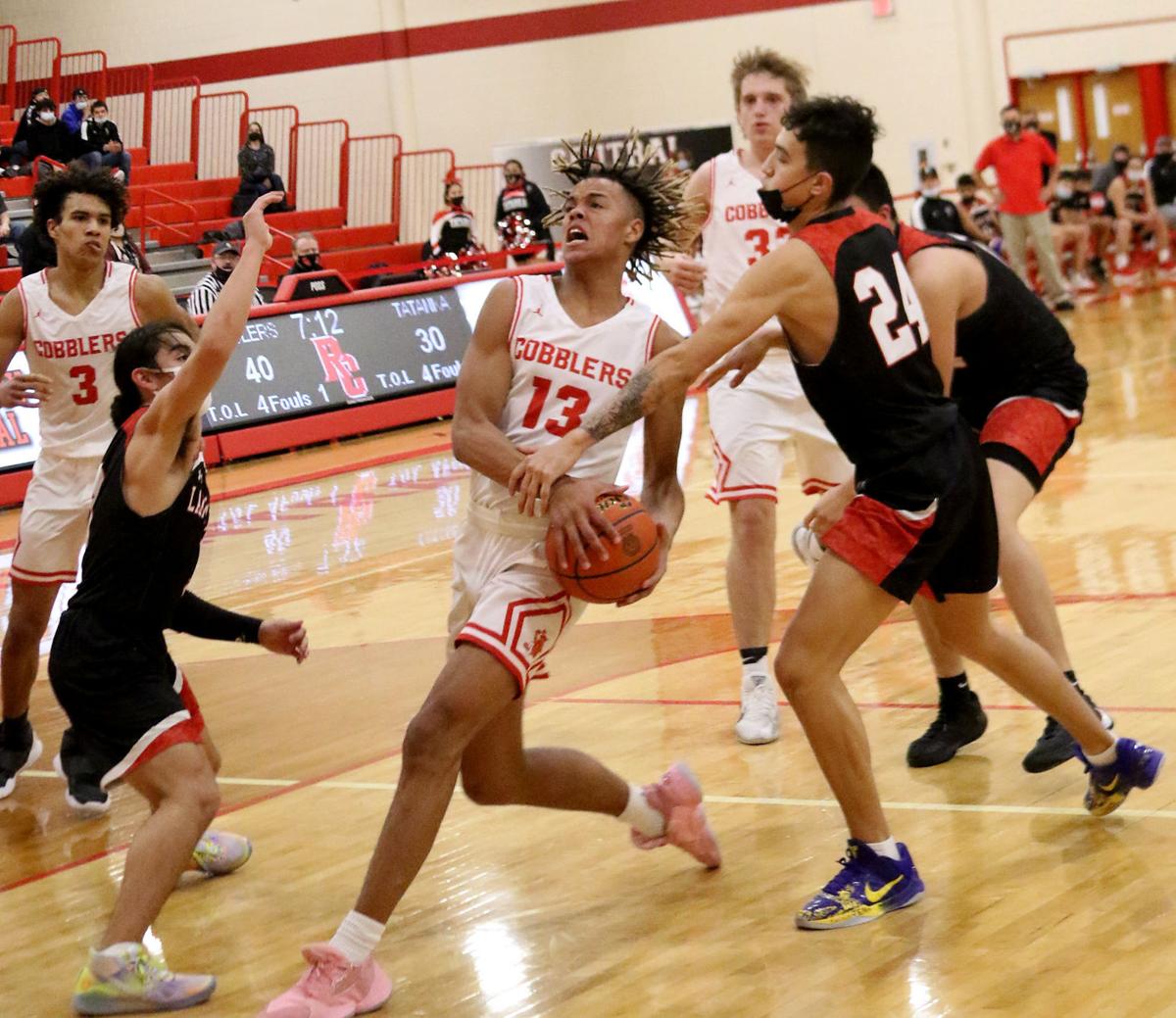 Trey Yellow Boy's putback and layup on back-to-back possessions cut Lakota Tech's 16-point deficit down to just six in the final minute of the first half in Saturday's clash with Rapid City Central.
That comeback bid didn't sit too well with the Cobblers, however, just two days removed from their upset loss to Rapid City Stevens. With brothers Micah and Julian Swallow leading the charge, the duo combined for 26 points in the second half as Central outscored Lakota Tech 45-12 in the final two quarters and ran away with an 83-42 rout of the Tatanka in an inter-class matchup at Naasz Gym.
"I think we bounced back really well," Cobblers head coach TJ Hay said. "We had a little slide there in that second quarter defensively, but they answered the call and played really well in the second half."
Micah Swallow finished with a game-high 30 points on 10 of 17 shooting, including four 3-pointers, and recorded a double-double by grabbing a dozen rebounds. Julian Swallow followed with 23 points on 10 of 15 shooting, and Kohl Meisman, who was held back by foul trouble, added 11 points on 4 of 6 shooting and went 3-for-3 from beyond the arc. Central (11-6), which has now won four of its last five contests, topped a season-high for points scored in a game, shooting 57% and converting on 8 of 13 from deep.
"It feels good because it keeps our motivation up after a big loss," Micah Swallow said. "But we're bouncing back and coming out strong."
Adriano Rama led Lakota Tech (8-7) with 17 points on 7 of 17 shooting and picked up four steals. Yellow Boy chipped in 11 points on 3 of 4 shooting and tallied seven rebounds. The Tatanka, now on a three-game losing streak, shot 25% from the floor and went 3 of 30 from the perimeter.
"First half we were there, we were competing. Second half we didn't compete," Lakota Tech head coach Lyle LeBeau Jr. said. "Coming down, throwing up 3-pointers, it went away from our game plan."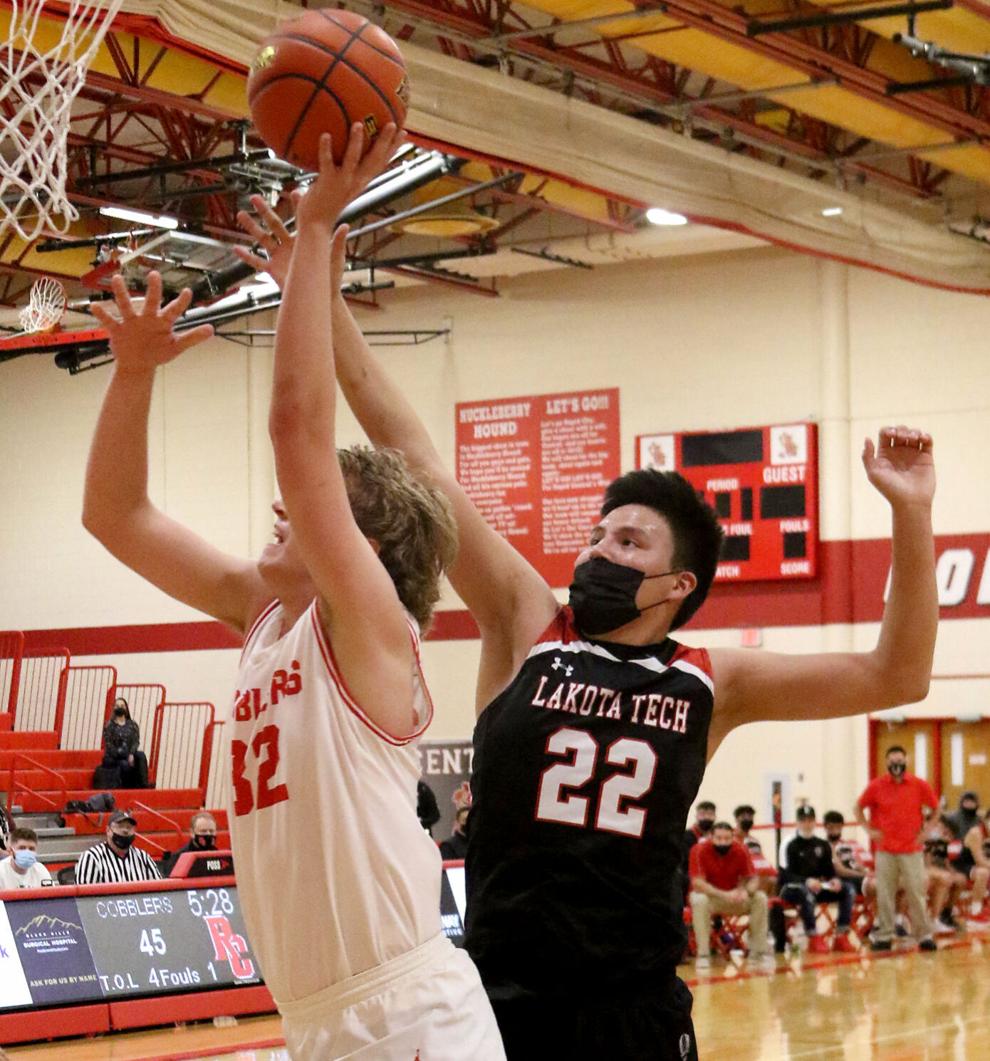 Similar to its battle with Stevens on Thursday, Central roared out to a big lead early thanks to a trio of 3s in the first quarter from Micah Swallow and Meisman. The Cobblers were ahead by its largest margin of the first half, up 17-1, before Lakota Tech scored its first field goal, which came on a layup from Rama with 1:35 to play in the opening frame.
After Rio Nutter notched three of his five points on a shot from beyond the arc early in the second quarter, the Tatanka put together eight straight points, courtesy of a fadeaway jumper by Rama and a steal and bucket from Jordan Whirl Wind Horse, to make it a single-digit contest with less than five and a half minutes left in the first half.
Rama also tallied a fastbreak layup on a steal and hit a deep 3-pointer before Yellow Boy laid in a basket to get Lakota Tech within six, 36-30, before intermission. 
The Tatanka nearly matched the Cobblers' 46.7% shooting percentage in the first 16 minutes by shooting 46.2% themselves and taking a 25-19 scoring advantage in the second period.  
"It was us pressuring, competing, not being scared," LeBeau Jr. said of his squad's first-half performance. "The intimidation was there, but once we got rid of that intimation and they opened up and played, we had a ballgame."
The second half was a different story, as Central came back onto the floor and lit up its home gym with an 18-0 run to build a 26-point margin. The Swallow brothers and Meisman combined for 16 points during the stretch, which was highlighted by a coast-to-coast layup by Mesiman, a corner 3 from Micah Swallow and a fastbreak bucket by Julian Swallow off a full-court pass from Meisman.
The Cobblers outscored the Tatanka 23-5 in the third quarter and led 61-35 entering the fourth.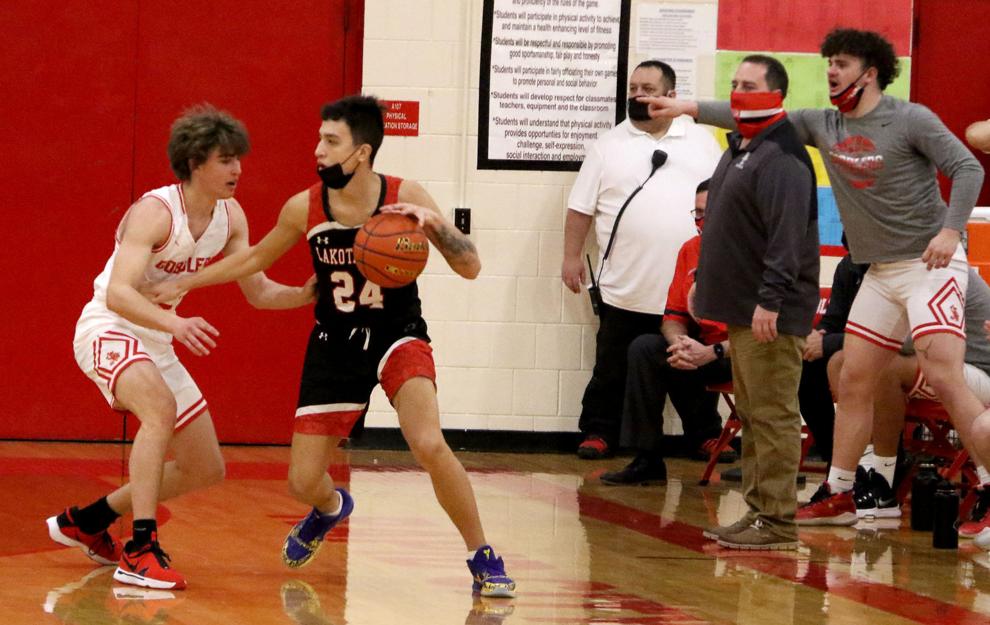 "Kohl is 6-foot-6, and basically he's the one who got us going out in transition right away from the start of the third quarter," Hay said. "Those guys got out and ran, and they needed to answer the call because they can play well defensively when they choose to do that."
Micah Swallow began the final frame with a dunk off a steal and pass from Julian Swallow, then returned the favor by dishing a pass to his brother, who tallied a layup to put Central ahead by 30. Micah Swallow also drilled a 3 and completed a 3-point play in the fourth to reach 30 points of his own, one off his career-high.
"Against a team like (Central), you can't come out slow," LeBeau Jr. said. "Those three boys, Kohl and the Swallow boys, that's a handful, and we came out slow and we never could get back to where we were." 
Subs played the majority of the fourth quarter, with the Cobblers' Jace Brown notching a basket with 2:21 remaining in regulation to make it a 40-point contest. 
"I think the biggest difference was we just got transition buckets in the second half and we got them back on their heels," Hay said. "I think (Lakota Tech) got a little tired because they shot the ball a little better than they did in the second half. When we can rebound, and get out and run, that's when we play the best offensively."
Central was also bolstered by a significant height advantage, as four members of its starting five were listed over 6-feet tall vs. two for Lakota Tech. The Cobblers outrebounded the Tatanka 50-24.
"It's really helpful because the taller you are the more rebounds you'll get," Micah Swallow said. "Short players really can't get much, so it's really a big help."
Central will finish its regular season slate with road games against Brandon Valley and Yankton on Thursday and Friday, respectively, while Lakota Tech concludes its regular season Monday at Lead-Deadwood