Dave Merrill knew the conditions would make for a difficult day on the links.
With rain expected to soak Prairie Ridge Golf Course in Box Elder, the Hot Springs head coach instructed his Lady Bison squad to brace themselves.
"We had a talk this morning and we told them it was going to be bad weather and to make sure they dress for it," Merrill said. "When you play in bad weather it's whoever's mentally prepared is usually who comes out on top, and the girls were up for it." 
Junior Sydney Olstad navigated the weather and took the top spot at the Douglas Wind Invitational on Tuesday, finishing the nine-hole event with a 44 to help lead Hot Springs to victory, as three of her teammates also placed in the top 10. 
The Lady Bison combined for 190 strokes to take the tournament, beating out Spearfish by 15 strokes, as well as nine other schools.
"They were pretty anxious to play because we haven't had much play at all this year, so they were ready to play whether it was raining or snowing or sunshine. They were ready to go," Merrill said. "We really didn't know what to expect when we started the season because of course we haven't played for two years. I was pleased to see that they played against competition that really kept their heads up."
Jessi Schroeder and Allyson Kattke both scored 47 in their performances to take sixth and seventh place, respectively, while Ciarra Stewart tied for 10th with a 52. 
"Jessi is a unique girl. She kind of thrives in bad weather. She was smiling and happy the whole round," Merrill said. "Allyson had a tough day up at Belle Fourche last week. She came back this time and played golf the way we thought she could play."
It's the second team victory for Hot Springs this season.
"It was a tough day but the girls played pretty well. I was proud of them," Merrill said. "We told them just to be patient — there were going to be a lot of bad shots today — not to get discouraged and they came through."
Kali Lantis anchored Spearfish with a 45, one stroke behind Olstad, to finish in second place, while Madi Kelly ended in ninth with a 50 and Kait Irvin's 52 tied Stewart for 10th. The Spartans scored a combined 205.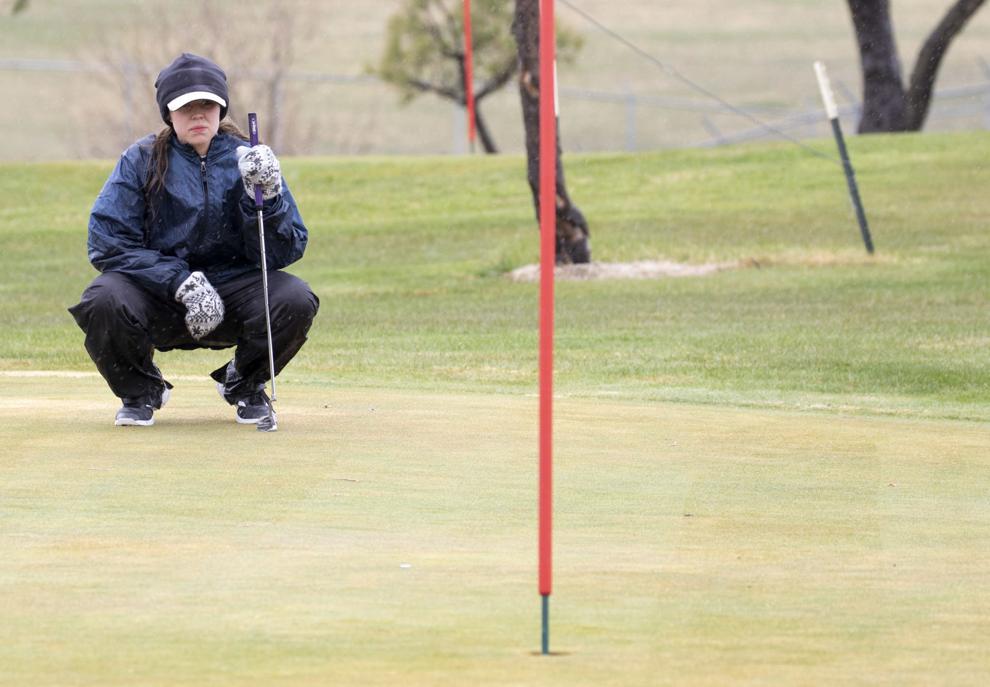 St. Thomas More's 221-stroke third-place performance was led by Emily Kandolin and Rylan Horning, who both shot a 46 to finish in third and fourth place, respectively.
Other noteworthy performances include a fifth-place finish from Custer's Maddie Meyer, who shot a 47, and Lead-Deadwood's Madi Rystrom, whose 50 was good for eighth place.