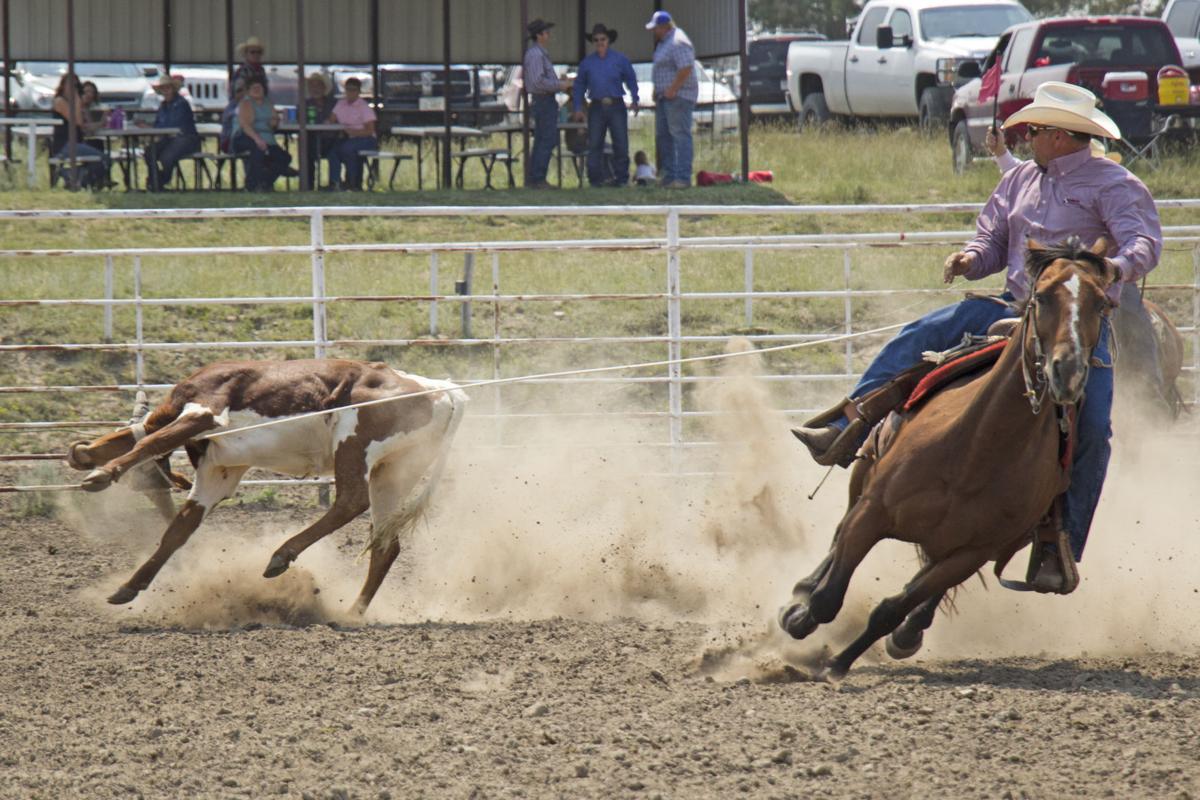 If patience and perseverance are indeed virtues, Ora Taton is a poster boy of sorts. Assuming, of course, that a 51-year-old rodeo cowboy can qualify for the spot.
The Rapid City man celebrated his birthday on Saturday, July 18 and followed up on Monday by winning the PRCA National Circuit Finals Steer Roping (NCFST) crown in Torrington, Wyoming, a victory that was not only Taton's first ever National Circuit gold buckle, but the very first won by a Badlands Circuit competitor.
"We've got some very good ropers up here, but it can be tough to compete with Texas and Oklahoma," Taton said. "Up here in the Badlands Circuit, there wasn't anything up here that you could get too easily. We didn't have the number of rodeos (with steer roping) that we have now with Deadwood and Belle Fourche and Kadoka this year. We are starting to get more now in our circuit, and it's a nice feather in the Badland's hat to win one."
A two-time PRCA NFR qualifier (2003-04) and runner-up to Rocky Patterson in last year's NCFST in Torrington, Taton exhibited the consistency and patience he prides himself on to capture this year's crown.
After failing to place in any of the six preliminary rounds while playing second fiddle to more illustrious competitors such as Trevor Brazile (winner of 25 PRCA world titles including seven in steer roping), Scott Snedecor (a three-time steer roping champion) and Tuf Cooper (a four-time tie-down roping gold buckle winner), Taton tipped his six steers in solid times to place among the top eight in average and earn a spot in the semifinals
"I've always considered myself an average roper," Taton said. "I rope for the average. Over the years you have to become faster to compete, but you still have to get them caught. As I tell young guys who want to get started in steer roping, you can go tie down every steer you run at, they are going to pay you, and probably pay you well."
A third-place 13.5-second run in the semis (top eight in average from the six rounds) assured a spot in the finals. And an even quicker 12.9-second in the finals (top four from semis) earned the championship trophy.
"I've always thought of myself as someone who is better when conditions aren't setup for a nice, easy run. The tougher the conditions, my ranching and rodeo background works to my advantage," Taton said. "Cheyenne was always that way with big cattle and a big arena and the Circuit Finals were that way, too. You had to rope six and be consistent and then speed up for the finals by bringing a different mindset into the box. And I've always thought that gives me a better chance."
Since joining the PRCA member in 1987 after growing up on a ranch in the Faith area, Taton's career has had its ups and downs.
"It's just life. I never have rodeoed hard per se. For me, it's always been a matter of, 'if I win something, I get to go, and if I don't win some money then I can't go,'" said Taton who works outdoor structure construction for Builders FirstSource in Rapid City. "The years 2003 and 2004 when I went to the national steer roping finals, I had won Cheyenne one year and was second the next year. Cheyenne is one of the biggest rodeos of the year, and doing well there allowed me to go to a few more rodeos and make the finals."
Though Cheyenne's Frontier Days rodeo went the cancellation route this year due to Covid-19 pandemic concerns, the win in Torrington has Taton harboring thoughts of a possible return trip the Clem McFadden National Steer Roping Finals (tentatively scheduled for Nov. 6-7 in Mulvane, Kansas) in what would be his first appearance since the halcyon days of 2003-04.
"I'd like to make a run, but I can't run to every rodeo. I still have a job and expenses to pay," Taton said. "I won quite a bit (at National Circuit Finals) but it takes quite a bit to run down the road. There are some that I will go to that I don't go to normally, but I'm not going to hit the road hard like everybody thinks I should. I'll hit the ones that I can and hopefully do good and if I don't get some money won, I won't go. My job career has been really good about letting me go so I've been lucky for sure."
Be the first to know
Get local news delivered to your inbox!