SPEARFISH — Haleigh Timmer has claimed track and field championships in the past, but never in the 100-meter dash.
In fact, the St. Thomas More senior never even ran the event at a state meet before Friday, but set out to claim another title at Lyle Hare Stadium on the campus of Black Hills State.
In a race that came down to the wire and was decided by the slimmest of margins, Timmer fell just short, finishing 0.006 seconds after Parker's Lexi Even to take home the runner-up medal.
"It would've been cool to win a 100 for the first time, as I ran it for the first time at State," Timmer said. "It feels good to compete at State and to be at the top, but it's too bad I couldn't just have that extra little thousandth of a second."
Timmer's time of 12.82.819 was an improvement on her Region 8A meet time when she also came in second, and her prelim mark of 12.83 was good for second best, trailing only Even. She was one of nine West River athletes at the Class A state championship meet to finish runner-up.
The only West River athlete to claim a state title was Red Cloud sophomore Jade Ecoffey, who won the 3200 with a time of 11:31.19. 
"It feels really good. I've been running this since I was in seventh grade and all I've ever wanted was a state championship. To get it in the 3200 makes me really proud," she said. "I wasn't happy with my cross-country season this year, and I knew I could do way better, so during basketball (season) I would go on runs after basketball practice and I would make sure I was fit. I put in a lot of time and effort, just working out after practice, and I'm just happy to see it all pay off."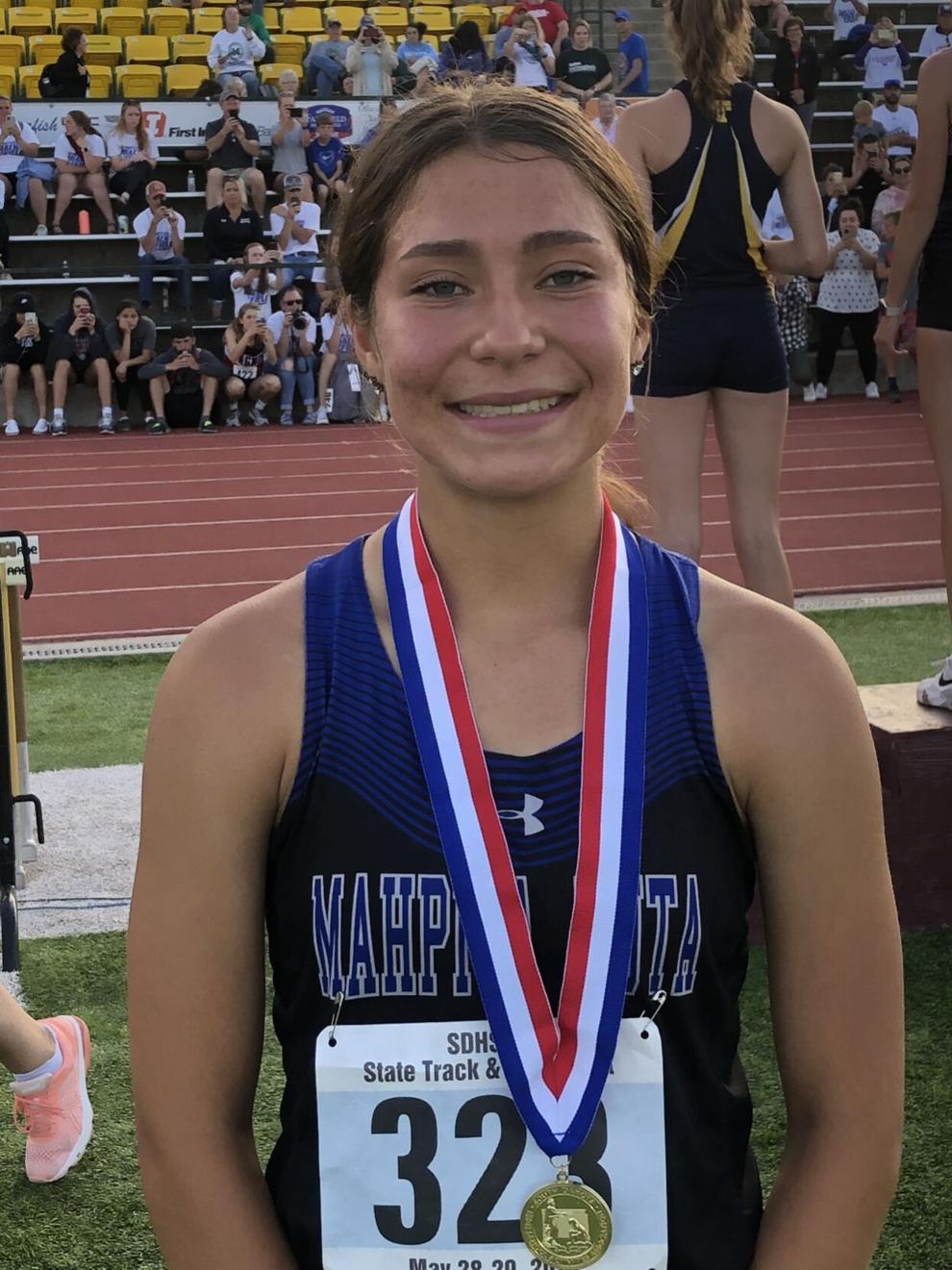 Ecoffey was not the immediate leader in the distance race and spent much of the event in the middle, but she kept her cool and stuck with her game plan, eventually breaking out in front of the other 23 participants.
"My strategy was, I know my splits, I know what pace I'm supposed to be going, if they go out fast don't panic," she said. "Even if you're in the middle of the pack, stay there, you know what pace you're supposed to be running, it's all going to pay and they're either going to die out or you're just going to go, and that's what I did."
Abby Cutler of Hill City finished 10.9 seconds after Ecoffey to place second, while Belle Fourche's Sawyer Clarkson, who broke the Region 8A meet record in the boys 3200 on the same track last week, led the state championship 3200 before running out of gas and coming in second with a time of 9:38.73.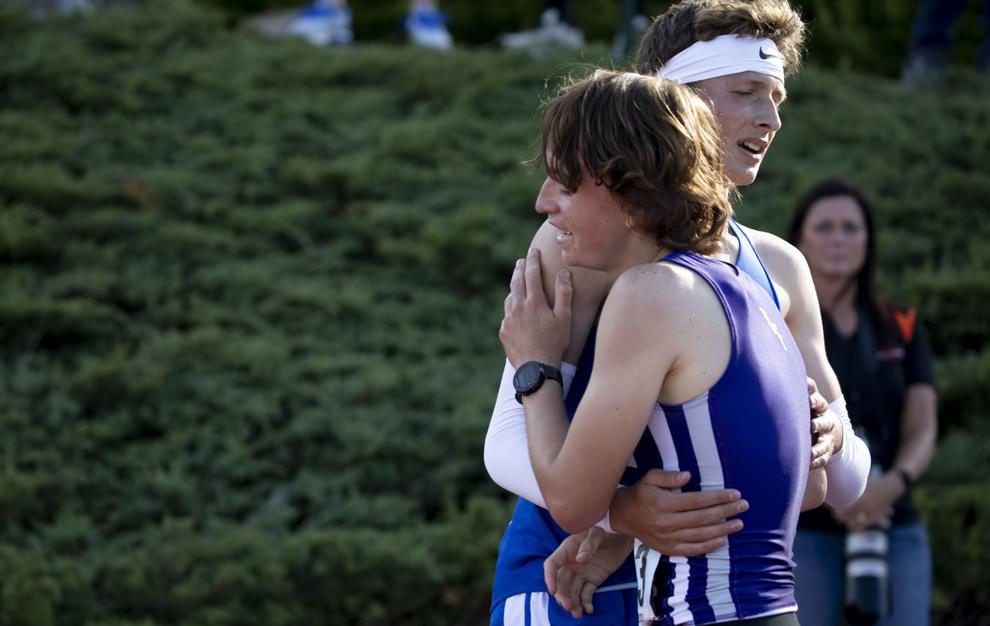 Custer's Mikael Grace claimed the runner-up medal after falling to Sioux Falls Christian's Mitchell Walker by 0.13 seconds in the boys 110 hurdles to earn a time of 15:38, while Aiden Griffin of Belle Fourche took second in the 100 dash with a time of 11.10. 
In relay events, Custer's 4x800 girls team of Eva Studt, Brit Wheeler, Kadense Dooley and Ramsey Karim ran to a second-place performance with a time of 9:41.87, falling to Mt. Vernon/Plankinton by 2.35 seconds.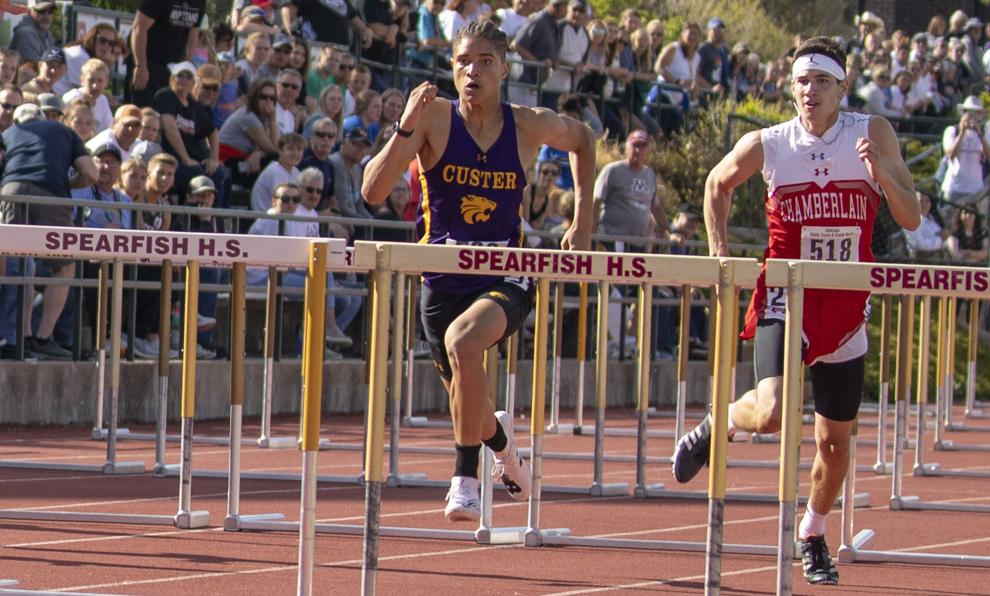 Hot Springs' Marcus Harkless threw a discus 149 feet, 9 inches to place second in the boys event as Elk Point-Jefferson's Drake Peed blew away the competition with a throw of nearly 18 feet longer, Custer's Kellyn Kortemeyer's toss of 135 feet, 5 inches was also good for second in the girls discus and Bella Jensen was just three inches shy of a title with her leap of 35 feet, 4.25 inches in the girls triple jump, falling to Aberdeen Roncalli's Morgan Fielder, who surprised the field by coming out of a seven-place seed to claim the championship.
"It didn't feel real. I would've been happy with eighth place," Fielder said. "I definitely did not expect it because I came in ranked seventh and I PR'd by almost two feet, which is crazy because I just didn't expect it."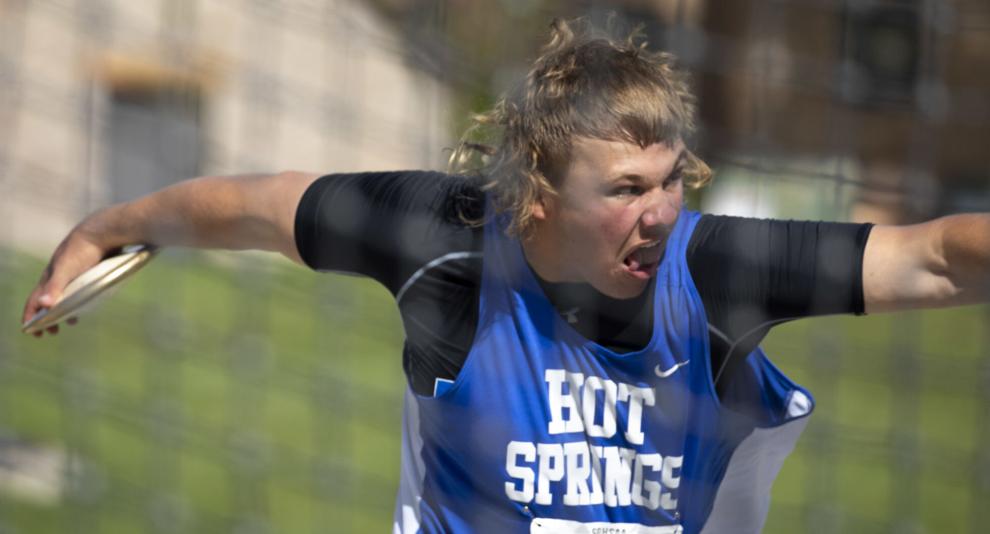 Among other notable performances from Day 1 of the Class A state meet, Averi Schmeichel of West Central broke the 100 hurdles meet record during prelims, then proceeded to win the event in the finals.
"I was coming in really hoping to just get it out of the way first in prelims, and be able to relax a bit for the final," Schmeichel said. "The past few years have been really rough with injuries and coming in second a lot, so it's definitely exciting."
Day 2 on Saturday will include finals for the following events for boys and girls: