Haleigh Timmer proved once again how tough she is to guard.
In the closing minutes of the first half Monday night, in a six-point game, the senior guard laid in two baskets and added another on a jumpshot to score six points as part of an 11-0 run for St. Thomas More to take a 34-17 lead over Belle Fourche into halftime.
She stayed hot as the second half opened up, tallying 13 of her team's 16 points in the third quarter and finished with a game-high 31 as the Class A top-ranked Cavaliers ran away with a 61-34 win in a matchup of unbeaten squads.
"It's always a test coming and playing here," STM head coach Brandon Kandolin said. "It's always going to be a battle when you show up here, and I think our girls were ready for it."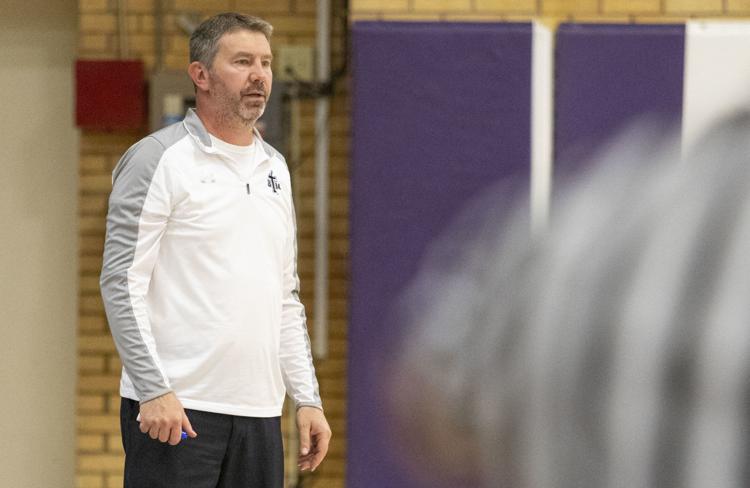 Timmer also recorded a double-double in the victory, amassing 15 rebounds for St. Thomas More (6-0). Mairin Duffy added nine points, nine rebounds and three assists.
Dylan Stedillie led Belle Fourche (5-1) with 10 points, while Grace Clooten collected eight points, five rebounds and three blocks.
"Just making the reads is super important and not letting the pressure get to you," Timmer said of her performance. "It's helpful to have a bunch of great teammates that can knock down those shots when I'm not open."
The Cavaliers never fell behind but played a contested first quarter with the Broncs, eventually building a short six-point advantage when Timmer drilled her first of three 3-pointers to make it 14-8 heading into the second.
Shortly after Reese Ross picked up her third foul with five minutes left until halftime, Timmer hit her second 3 and Duffy notched a bucket through a foul to make it 23-17 before Jenna Jacobson and Timmer traded baskets, including 3 by Jacobson, on an 11-0 run for STM to stretch their lead out to 17 at the break.
"I think a big thing was our composure," Timmer said. "Just gaining that composure to break down their pressure and utilize our available options, and just staying calm and making our shots, and concentrating on that."
The Cavaliers had all the momentum they needed as they turned their 11-0 run into a 21-0 run to open the third frame courtesy of Timmer's score off an offensive rebound and 3-pointer on back-to-back possessions. She later tallied six straight points off three field goals, picking up the third on a putback before Stedillie drilled a 3 to make it 50-24 heading into the fourth quarter.
Stedillie hit another one from beyond the arc and followed by converting two free-throw attempts as part of a brief 6-0 run for Belle Fourche in the final frame, but St. Thomas More answered with an offensive rebound and score by Timmer, and a corner 3-pointer from Duffy.
"Certainly she's a handful being able to score inside and out," Kandolin said. "Having Reese Ross get into foul trouble, it kind of makes our size get a little bit smaller, so I think Haleigh has that opportunity to take advantage of some things."
The Cavaliers will take their undefeated record on the road Friday as they travel to Sioux Falls Washington for a matchup with the Class AA Warriors. The Broncs host Nebraska's Chadron High School on Saturday.
"Belle Fourche, I thought, did a pretty good job in their zone, spacing us out. We made some bad passes, bad decisions there, and that's exactly what Sioux Falls Washington is going to do," Kandolin said. "They're going to have a zone, they have tremendous length and it doesn't get smaller necessarily when they bring people off the bench, so with their depth and their length, we need to make sure that we take care of the ball."