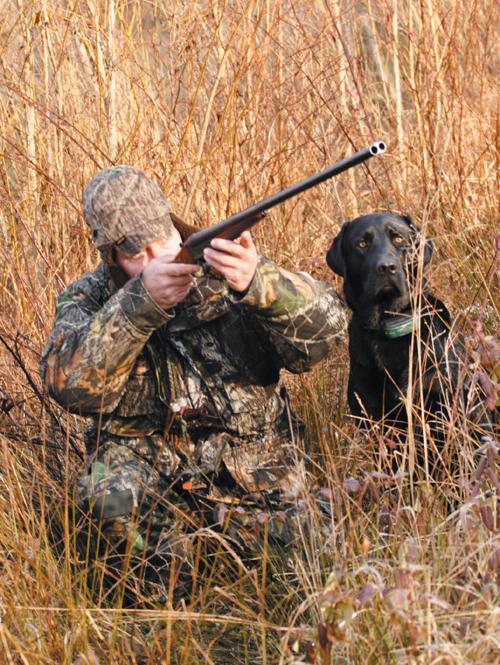 At their June meeting, the Game, Fish and Parks Commission received an update on a marketing plan that's been developed through a collaboration between the Departments of Game, Fish and Parks and Tourism.
The three-year plan is the result of a workgroup that was put together in February to examine trends of declining license sales and how to turn that tide. Workgroup members represented many agencies, including staff members from GFP and Tourism, GFP Commission members, representatives from the governor's office, the South Dakota Wildlife Federation, the Second Century Habitat Fund Board and the South Dakota Retailers Association.
The workgroup examined many aspects of pheasant hunting in South Dakota, including current messaging and information put out by GFP, as well as R3 issues, which is a nationwide effort to Recruit, Retain and Reactivate (R3) participants in hunting, angling and shooting sports.
Over the course of three meetings, discussion was held on a number of topics, including: current marketing and its effectiveness, competition from other states, a diversified user base, an overview of license sales (residents and nonresidents), hunter and visitor surveys, analysis of annual brood count surveys, late season hunting opportunities, creative approaches, and other marketing techniques.
In addition to the adoption of the marketing plan, GFP will discontinue the annual brood count survey conducted annually in August. A major concern is that, when pheasant brood numbers are down, those reported numbers deter both residents and nonresidents from pheasant hunting. In spite of lower numbers on any given year, South Dakota still remains the best destination for pheasant hunting in the country.
"Data from this survey is not used to manage the pheasant population or to set season structure and bag limits," said Kelly Hepler, Department Secretary for GFP. "The research and data presented in the marketing plan represent the better opportunity to increase participation in pheasant hunting, both for residents and nonresidents of all ages."
Commissioner Russell Olson agreed with the decision to move away from the brood count survey.
"If ever there was a year to conduct this survey, this is it," he said. "We've had great weather this spring, no major storms and things are looking excellent. This goes to show we have nothing to hide by discontinuing the survey at this time. We're operating a business here, and our decisions need to reflect that."
GFP offers free fishing and state park entrance on Father's Day
The South Dakota Game, Fish and Parks (GFP) Department is offering free fishing and state park entrance on Sunday in celebration of Father's Day.
"Spending time in our state parks, spending time fishing is a great way to show your dad how you feel about him," said GFP parks division director, Scott Simpson. "Summers can go by pretty quickly with activities, work and other commitments. This is just a small way for us to tell everyone to slow down, make some memories, and tell your dad thanks."
While entrance fees for Sunday are waived, visitors wanting to camp will still have to pay applicable camping fees.
GFP to conduct mobile watercraft inspections
The South Dakota Game, Fish and Parks Department will begin operating mobile watercraft inspection and decontamination stations across the state to help combat the spread of zebra mussels.
GFP staff has been trained to inspect boats for zebra mussels and other Aquatic Invasive Species (AIS). Inspection and decontamination stations will be placed at boat landings and on highways frequently used by boaters. Due to a new law passed during the 2020 Legislative Session, boaters are required to stop and have their boats inspected.
"This will be a pretty quick process for boaters who clean, drain, and dry their boat, trailer and equipment," said GFP fisheries chief, John Lott. "For most people it is just a quick look at the boat and a short series of questions."
If the boat is determined to be high-risk, trained staff will give the boat a more thorough inspection. A decontamination would only take place if the boat has plants or zebra mussels on it, has standing water in it, or if water cannot be completely drained from the boat or equipment. Boats that have been in infested waters continually for three or more days must be decontaminated.
The decontamination process can include use of a high pressure washer, using 140 degree water on the outside of the boat and trailer and low pressure, 120 degree water for the engine and internal compartments.
"We want this process to be a quick as possible," Lott said. "We also want to use the process as a learning tool for boaters. Our staff can show boaters how to look for AIS on their watercraft and answer questions. These mandatory inspections are new to all of us, but they are important in slowing the spread of AIS and protecting our waters."
GFP challenges nature watchers to join BioBlitz
With group activities limited during the COVID-19 pandemic, South Dakota Game, Fish and Parks (GFP) invites nature lovers to participate in a virtual BioBlitz through June 28.
"A BioBlitz is an event that focuses on finding and identifying as many birds, insects and animal species as possible in a specific area over a short period of time," said GFP education coordinator Taniya Bethke. "We are asking everyone to join the BioBlitz project and contribute to our knowledge of biodiversity across the state."
Anyone can observe and identify species statewide during the BioBlitz. Participants post their observations using the iNaturalist app under the project name #SDintheField.
iNaturalist helps identify plants and animals and connects over 400,000 scientists and naturalists to help users learn more about nature. Since user observations can be accessed by the greater scientific community, the app allows anyone to become a citizen scientist.
Participation in the BioBlitz is free to everyone, and prizes will be awarded to top observers. Learn more at gfp.sd.gov/bio-blitz.
Be the first to know
Get local news delivered to your inbox!