South Dakota Mines students Kathy Mathieu and Sam Ryckman are winners of the 2023 Ann and Dave Braun Student Inventor Award.
The award includes $5,000 in cash and a free patent application from McKee, Voorhees & Sease, PLC, or Goodhue, Coleman & Owens, P.C. The award was established to recognize a South Dakota Mines student who has made a significant discovery or invention while enrolled at the university.
Mathieu, a mechanical engineering major, and her senior design team won the undergraduate award for an invention that recycles plastic into 3D printable material. Ryckman, a graduate student in computer science and engineering, won the graduate award for a differential belt speed reducer that has many applications.
By mounting an electric motor inside a gearbox, Ryckman's invention solves several problems associated with more conventional gearboxes. His differential belt speed reducer invention can support a wide range of applications from robotics to multiple forms of automation.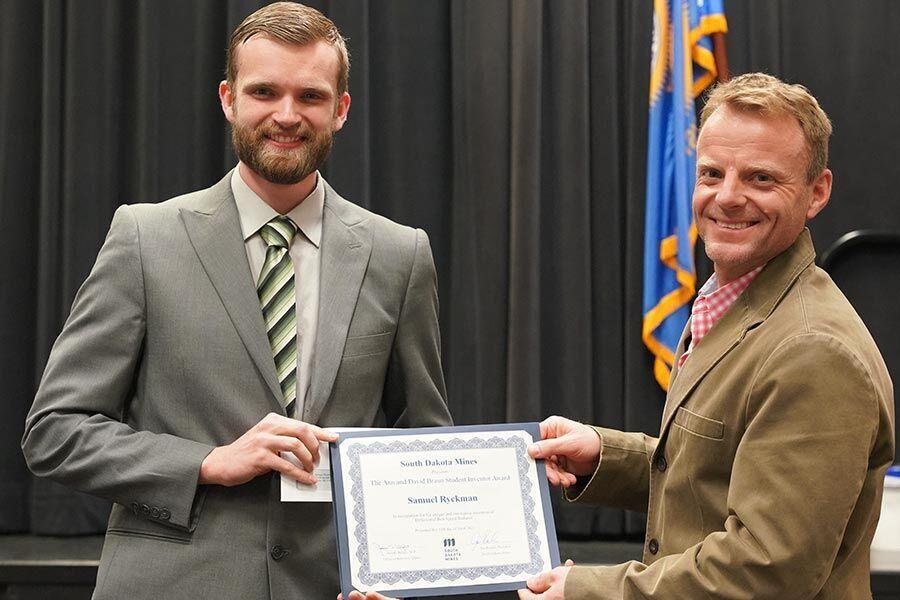 "When compared to cycloidal or harmonic gearboxes which are typically used in low-space, high-torque applications, this design provides a combination of high reduction and compactness that standard variations of these options do not provide," Ryckman said.
Mathieu and her team won the award for an invention that improves the recycling of plastic used in 3D printers. The system includes a grinder to shred plastic for melting in an extruder and a spooling system that allows extruded plastic thread to cool before being wound on a spool for later printing. Other students on the team include Andy Perez, Kelvin Su, Blake Hyla, Taylor Kirkvold and Macauley Haag.
The Braun Inventor Award judges panel made note of the exceptional quality of this year's submissions.
Many of the entries that did not make the top two places for the Braun Award were represented at the annual CEO Business Competition. Some will represent Mines at the upcoming South Dakota Governor's Giant Vision Awards later this month.