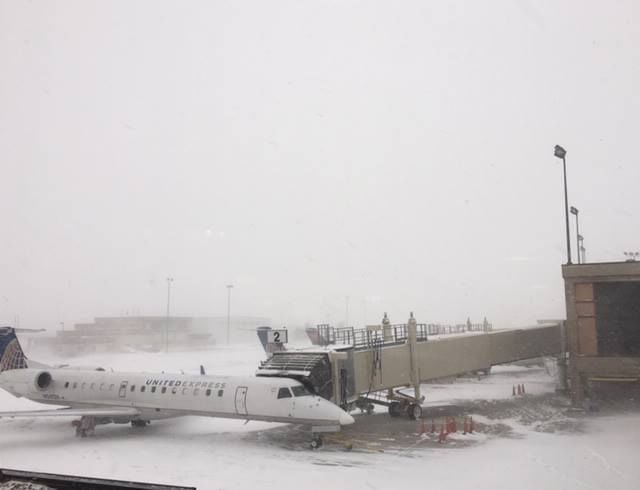 Darrell Shoemaker from the city of Rapid City said crews have been working all night to clear main line roads around the city.
"Street Department crews have been out working on the roads throughout the night and will continue to do so throughout the day and night," he said. "Street Superintendent Dale Pfeifle indicates crews have addressed all of the main lines and are working on finishing up collectors and hills. Crews are now addressing sub collectors and working their way into residential areas with the assistance of contractors."
He continued, "Be aware of drifting areas throughout the city and stuck vehicles scattered across the city. Please drive with caution during your daily commute."
The Rapid City Regional Airport is still closed this morning although they anticipate opining this morning.
"We anticipate opening the main commercial runway at 9:30 a.m. today," according to a post on the airport's Facebook page. "Snow removal operations will continue throughout the day. The terminal is open with limited services. Please use caution when traveling to the airport and check with your airline regarding your flight." 
I-90 is open from Wyoming to Rapid City. I-90 will remain closed from Rapid City to Chamberlain. The road will be snow covered and snow equipment will be working. 
You have free articles remaining.
Rushmore Mall has announced that they will open at 11 a.m. Sunday and the Rapid City Public Library will open at noon.
The Sunday edition of the Rapid City Journal will be delivered Monday.
Progress is also being made in other areas.
As of 8 a.m., only 526 Black Hills Energy customers are without power. That is down from 1,420 customers Saturday evening. As of 7 p.m. Saturday, West River Electric had most outages resolved other than one isolated area in Box Elder.
In Spearfish, the "no travel" warning was allowed to expire at 5 a.m., Sunday.
"There are currently no travel travel restrictions within the City of Spearfish," said Pat Rotert. "Snow removal operations will continue today.  As with any snow emergency, crews will focus on opening individual streets and will not clear driveway wind rows."