Officer trying to rescue kitten finds a bobcat instead, and more of this week's weirdest news
From fighting clowns to a neighborhood feud that ended with a bulldozer crash, here's a look at the stranger side of news from the past week.
Officer trying to rescue kitten finds a bobcat instead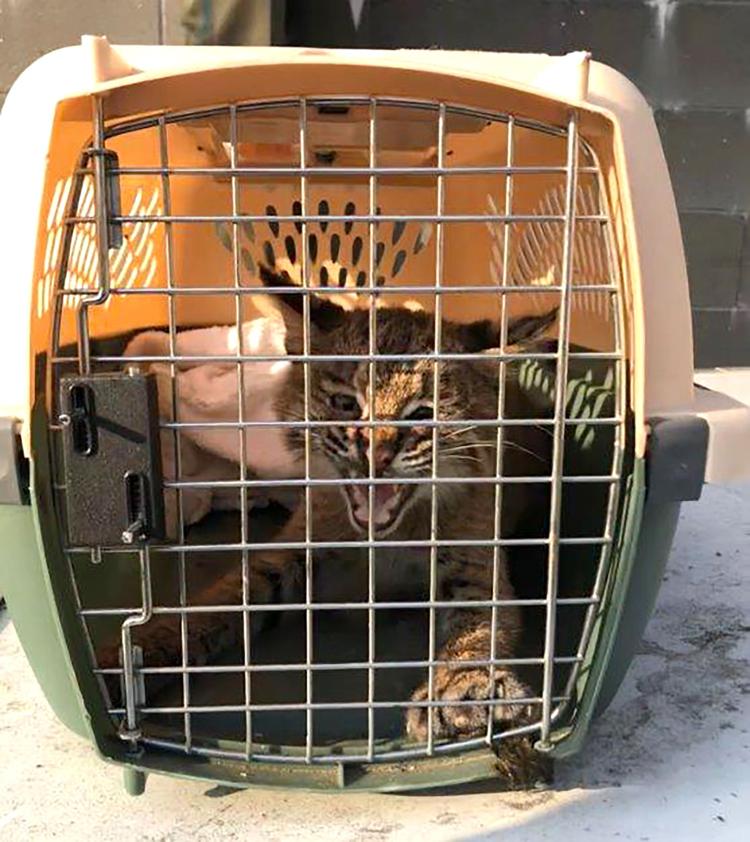 STRATHAM, N.H. (AP) — A New Hampshire police officer says the kitten he was trying to pick up in a parking lot turned out to be a bobcat, which then jumped onto the roof of a Burger King.
Stratham Officer Matt Callahan tells Seacoastonline.com he was on patrol Saturday and saw the "kitten" run under a car. It eventually climbed a tree near the restaurant.
Once Callahan realized he was dealing with a young bobcat, he called state Fish and Game officers.
He also stood in the drive-thru line to alert customers in case the bobcat decided to come down, but it climbed onto the roof and took a catnap.
Callahan says he and the conservation officer climbed up and put the bobcat in a crate. The bobcat was released at a wildlife refuge.
There's an emu on the loose in North Carolina, and nobody's been quick enough to catch it
The skittish bird looks like a creature out of prehistoric times, but it's popping up now in people's front yards in central North Carolina.
An emu that Orange County workers have dubbed Eno has been on the lam for at least five weeks, traveling back and forth between Orange and Chatham counties. But the feathery oddball is so quick that nobody's been able to catch it.
Orange County Animal Services first got calls about an emu on the loose at the end of June, but every time it sends out staff to find the bird — which can run up to 30 miles an hour — it's already fled the scene, spokeswoman Tenille Fox said.
Eno was last spotted Tuesday, meandering in a pasture near the town of Hillsborough. But by the time officials made it there, the emu had fled.
The evasive bird had been seen two days earlier, crossing a well-traveled road. A car stopped to watch him (or her; officials can't get a look long enough to determine the sex), and a spooked Eno jumped on the vehicle's roof before sprinting away again.
The car owner didn't report any damage, Fox said. According to the San Diego Zoo, emus typically weigh less than 120 pounds and stand between 5 and 6 feet tall, far smaller than their more menacing relatives, the ostrich and cassowary.
The department's been plotting Eno's path based on the handful of sightings, Fox said, and it appears that it's traveling north. If workers manage to track it down in an area with natural barriers or fencing, they can direct it to run toward a trailer and lock it in.
But it's unlikely it'll go that smoothly.
"Getting him is the hard part," she said.
The bird's easily spooked, but spotters should keep their distance
Eno's been too quick for officials to examine its condition, but it's clear that the bird is stressed after at least five weeks on the run, Fox said.
Emus aren't aggressive by nature, and this one has seemed especially fearful when spotted. But Fox warns that cornering or chasing the bird can trigger its defenses: sharp talons and a fierce jump.
"We're not particularly saying (it's) generally dangerous, but we do say to keep your distance," she said.
How did a bird indigenous to Australia wind up in North Carolina? Emu farms are sparsely scattered across the state, where farmers turn their herds into meal and oil products. But no one's come forward to claim the animal since its first sighting in June.
Fox said officials are hoping for a happy ending.
"This is not the first time we've had an animal evade us for a long period of time," she said. "It's just usually not an emu."
—By Scottie Andrew and Katherine Dillinger, CNN
The-CNN-Wire™ & © 2019 Cable News Network, Inc., a Time Warner Company. All rights reserved.
Reports: 'Clown' sparks brawl onboard UK-bound cruise ship
LONDON (AP) — British media reports say six people have been assaulted onboard a P&O cruise ship after a passenger dressed as a clown sparked a brawl.
Richard Gaisford, an ITV journalist who was onboard the cruise ship travelling from Bergen, Norway, to Southampton, England, said security staff rushed to the buffet restaurant onboard after the late-night melee.
He tweeted Saturday that the brawl apparently started when a "passenger dressed as a clown" upset a group of passengers.
One witness, part of a group involved in the trouble, explained to staff that things kicked off when another passenger appeared dressed as a clown. This upset one of their party because they'd specifically booked a cruise with no fancy dress. It led to a violent confrontation.

— Richard Gaisford (@richardgaisford) July 27, 2019
A P&O Cruises spokesman said all passengers have disembarked from the Britannia ship and police are investigating.
The BBC quoted Hampshire Police as saying that six people were assaulted in the incident, which took place in the early hours of Friday. Police said two people were arrested.
Caiman went: Swiss authorities call off hunt for reptile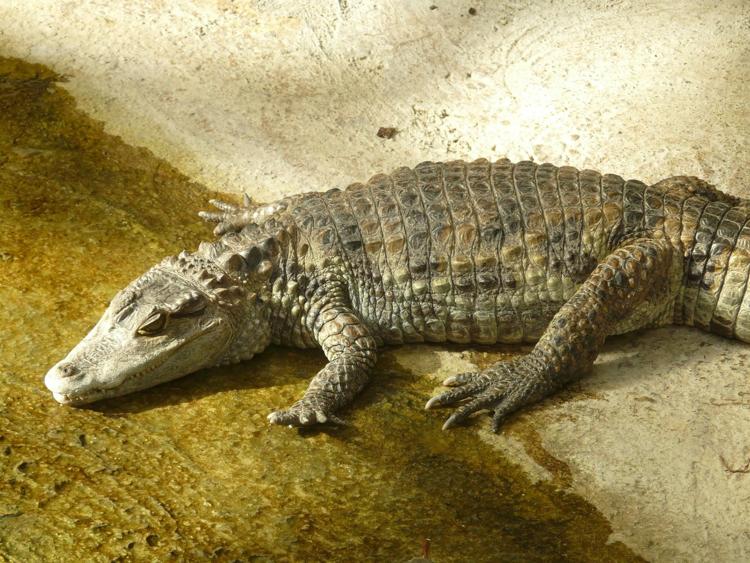 BERLIN (AP) — This caiman went: Swiss authorities say they're calling off the hunt for an alligator-like reptile spotted in an inland lake, declaring it "a phantom."
The meter-and-a-half (5-foot) long caiman was spotted by a fisherman in Lake Hallwil, about 50 kilometers west of Zurich, on July 14 when it briefly surfaced and scarfed down a duck.
Police considered the report credible, saying the caiman — indigenous to Central and South America — was likely an abandoned pet.
But spokesman Bernhard Graser told news site 20 Minuten Tuesday searches have been called off.
He says "he isn't doing any harm, it's like a kangaroo roaming around freely here — it doesn't belong, but it doesn't hurt either."
Graser says: "He'll probably remain a phantom, making it the summer story of the year."
Police: Man stole bulldozer, drove it into porch of house
AKRON, Ohio (AP) — Police say an Ohio man accused of stealing a bulldozer and driving it into the porch of a house after an argument with the home's resident has been arrested on charges including theft and criminal damaging.
Akron police say Randy Schiffbauer, of Akron, is accused of taking the bulldozer from a nearby construction site and driving to the house and into the enclosed porch. Authorities say a parked vehicle and a chain-link fence also were hit by the bulldozer.
Police said the bulldozer was gone when they arrived on the scene July 5. It was later found abandoned.
Schiffbauer was charged last week. A message seeking comment was left for the 22-year-old Akron man's attorney.
Unopened 1987 Nintendo video game could sell for $10,000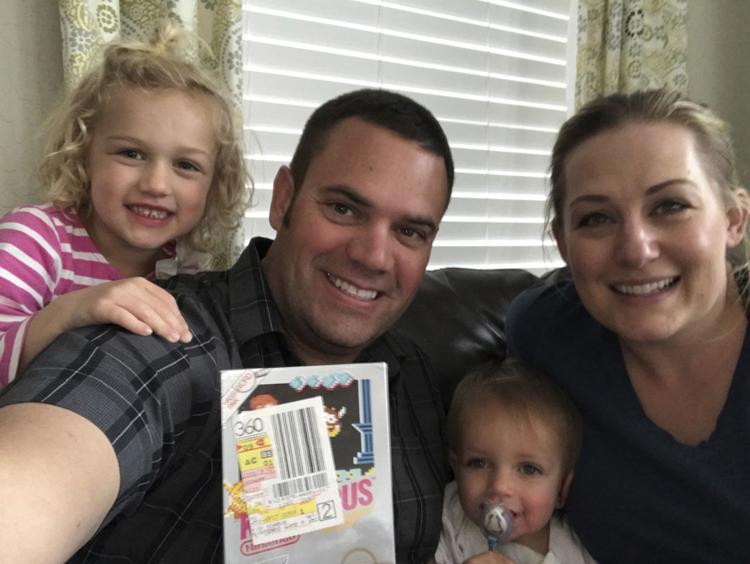 RENO, Nev. (AP) — An unopened copy of a 1987 cult-classic video game that a Nevada man found in the attic of his childhood home is expected to sell for up to $10,000 at an online auction.
The boxed game cartridge of Nintendo's "Kid Icarus" was still in the bag with the receipt for $38.45 from J.C. Penney's catalog department three decades earlier.
Scott Amos of Reno told the Reno Gazette Journal he initially thought it might be worth a couple hundred dollars.
But Valarie McLeckie, video game consignment director at Heritage Auctions, says it's one of the hardest Nintendo titles to find in sealed condition. She says there are fewer than 10 in the hands of vintage game collectors.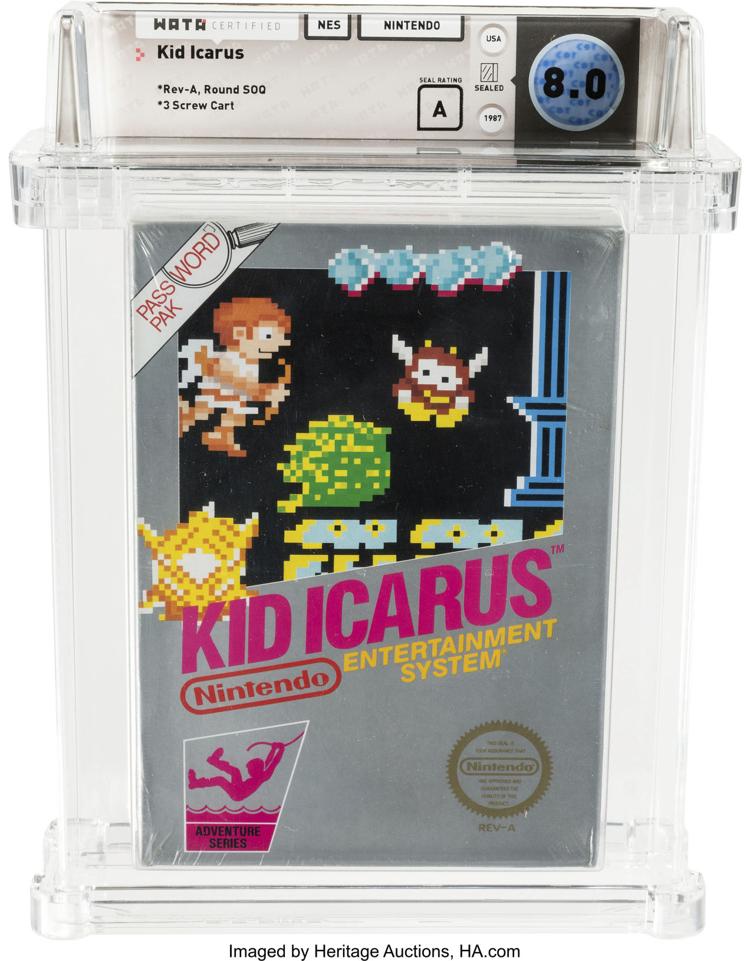 "To find a sealed copy 'in the wild,' so to speak, not to mention one in such a nice condition and one with such transparent provenance, is both an unusual and rather historic occurrence," she said. "We feel that the provenance will add a significant premium for serious collectors."
Wata Games, a video game grading service, gave Amos' copy a rating of 8.0 on a 10-point scale.
Amos said no one in the family has a recollection of purchasing the game, but the Dec. 8, 1988, purchase date hints it may have been intended as a Christmas present.
"I can remember the game. My neighbor down the street had it. I remember it being hard, and I was never that good of a gamer guy," he said. "All the family has been trying to come up with a hypothesis ... (My mom) thinks she put it there and never got it back out, and then it ended up in the attic."
The game, based loosely on Greek mythology, follows a cupid-like protagonist named Pit attempting to rescue Palutena, the goddess of light, who is imprisoned by the evil Medusa.
"Get ready for the action and adventure of Greek Mythology translated to the Video Age," the game's packaging says. "Will you survive to restore Palutena's light and return it to 'Angel Land'? Only you know."
The online auction closes Thursday.
If the sale goes as expected, it could net Amos and his family $10,000. They're planning to have some fun with it.
"I have an older sister, too. We're splitting (the proceeds) 50-50," Amos said. "We're going to do a Disney World vacation next month."
Woman suspects porch pirate stole package with 9 tarantulas
SPARTANBURG, S.C. (AP) — A South Carolina woman says a porch pirate may have stolen a package containing nine tarantulas from her front porch.
News outlets report the woman says she received a notification Friday morning that the FedEx shipment had been delivered. When she went to get the package, she says it wasn't there. The Spartanburg County sheriff's office spokesman Lt. Kevin Bobo says the package was still missing as of Tuesday.
A report from the sheriff's office says the spiders are valued at $1,000. The responding deputy listed the case as a "possible larceny of mail."
The report says there's no surveillance video from the home and there are no suspects at this time.
Texas fire department's new $350K truck destroyed by fire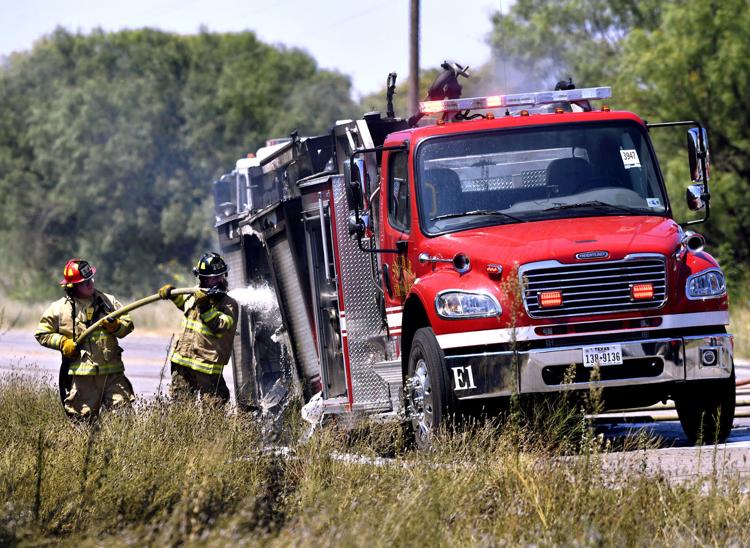 ABILENE, Texas (AP) — A nearly $350,000 fire truck delivered last month to a West Texas department has gone up in flames during a test drive to check the brakes.
Snyder fire Chief Perry Westmoreland said Friday that the new pumper truck was destroyed a day earlier in Abilene.
Westmoreland says the rig, put into service June 19, was driven Thursday to a Freightliner dealer for warranty work. He says a mechanic and a driver took the truck out to evaluate the brakes when they heard a boom, got out and saw a rear tire on fire. The flames then spread. Nobody was hurt.
Westmoreland says fire officials in Snyder, 80 miles (128 kilometers) southeast of Lubbock, are dealing with insurance issues as they work to rent a replacement truck. The department has more than 20 other firefighting vehicles.
Tee off at the cathedral: House of worship adds mini-golf
LONDON (AP) — Putts are joining prayers at Britain's Rochester Cathedral, where a mini-golf course has been installed inside the medieval house of worship.
The course runs along the central nave and features nine holes designed like bridges. It's intended to teach young people about engineering and also has spiritual overtones.
Rev. Rachel Phillips, the cathedral's Canon for Mission and Growth, said it's hoped "visitors will reflect on the bridges that need to be built in their own lives and in our world today."
The course is open throughout August, though not when services are held.
Not everyone is thrilled with the addition to the cathedral 30 miles (50 kilometers) southeast of London, parts of which are almost 1,000 years old.
In Tuesday's Daily Telegraph, religious commentator Tim Stanley called the golf course "an act of desecration" that was "making Christianity look ridiculous."
Anglican priest Giles Fraser tweeted that "what people want from the church is the sort of moral and spiritual seriousness they can't get elsewhere. Not this."
But the cathedral's Canon Matthew Rushton said the Archbishop of Canterbury Justin Welby, head of the Church of England, had told clergy that "if you don't know how to have fun in cathedrals then you're not doing your job properly."
Rochester is not the only British cathedral to experiment with unorthodox attractions. Norwich Cathedral in eastern England is setting up a helter-skelter fairground ride to help visitors "see themselves, the building and God differently."
Illegal trash dumper leaves witty nod to Arlo Guthrie song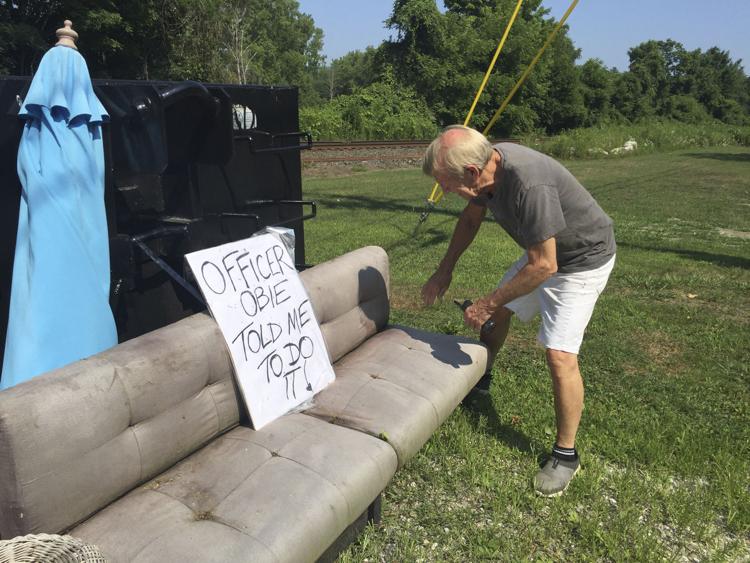 GREAT BARRINGTON, Mass. (AP) — Whoever dumped trash at the building made famous in Arlo Guthrie's 1967 Thanksgiving protest anthem "Alice's Restaurant Massacree" has a sense of humor.
The director of what's now the Guthrie Center in Great Barrington, Massachusetts, discovered on Tuesday that someone had filled the dumpster with garbage and left a grubby sofa nearby.
They also left a sign that said: "Officer Obie told me to do it."
The sign was a reference to former Stockbridge Police Chief William Obanhein, the Officer Obie of the song who arrested Guthrie for illegally dumping trash.
Guthrie, who was traveling Tuesday, said in a note to The Berkshire Eagle through a family member, "I hope they left an envelope with some money in it."
According to the song, an envelope with a name on it led to Guthrie's arrest.