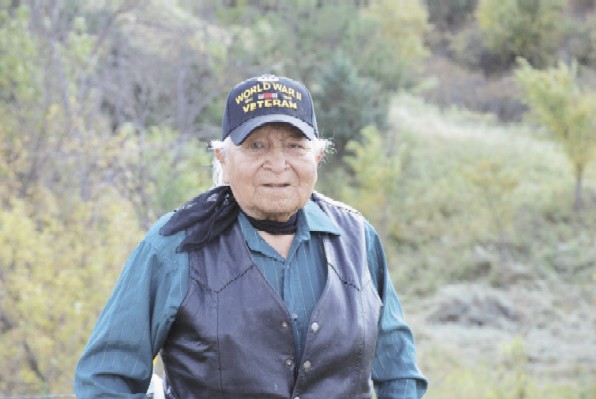 Former Rapid City Journal reporter Steve Miller shares stories of people and places that make the western South Dakota region unique.
The little Lakota boy sat on his sheepskin bed in the log cabin and listened to the two old men talk as they ate fry bread and sipped peppermint tea.
The boy's grandfathers, White Bull and White Feather, would pray before they spoke that he would remember their stories about the old days. Chief White Bull would tell about fighting at the Battle of the Little Bighorn about 50 years earlier.
The little boy, David Beautiful Bald Eagle, would grow up to fight in another famous American battle, at Normandy, and would become a traditional chief of the Minnicoujou tribe as well as First Chief of the United Indigenous Nations.
Along the way, he would rodeo with Casey Tibbs, drive race cars, play semi-pro baseball, act in movies, raise horses and marry a beautiful Belgian actress.
Now 92, Bald Eagle still rides horses.
He led the South Dakota Centennial wagon train in 1989 on horseback.
He has ridden in the Days of '76 Parade at Deadwood for more than 70 years. He is a regular attendee at the Oldtimers Breakfast during the Black Hills Stock Show & Rodeo.
He still appears occasionally in films, most recently in "Into the West" and "Imprint."
Born in a tipi in 1919, Dave lived with his grandfather, White Feather, and spoke only Lakota until he went to school when he was 12 years old. His grandfather, White Bull, would ride his horse out from Cherry Creek about every other day, and the two old men would talk.
Though short in stature, young Dave played basketball, football and baseball, and participated in track and boxing when he attended school at the old Cheyenne River Agency.
When World War II broke out, he joined the Army and became a paratrooper with the 82nd Airborne. He and his unit jumped behind the lines at Anzio in January 1944 and fought their way to the beachhead.
Then, in the early morning hours of June 6, 1944, the 82nd Airborne jumped inland at Normandy. But many of the 82nd's paratroopers, including Dave, were mistakenly dropped right over German lines.
"We were just like clay pigeons, coming down," Dave recalls. "Most of my outfit was wiped out."
Before he even hit the ground, Bald Eagle was riddled with enemy bullets. Unconscious, he lay in a pool of blood.
The first medics to reach him left him for dead. But some British commandos came along and found he still had a pulse. They rushed him to a field hospital. He survived but he was so badly shot up that the Army refused to let him re-enlist. He still isn't happy about that.
Still, he says, he was luckier than a lot of his buddies.
"I came back with all my limbs," he said.
During the war, he met an English woman who was a dance instructor. After the war, they married, returned to South Dakota and became ballroom dancing champions for a district encompassing Minnesota, Nebraska, Iowa, South Dakota, North Dakota, Montana and Wyoming.
But tragedy struck. His young, pregnant wife was killed in a car accident in 1946.
Afterward, Dave said, "I was suicidal. I didn't care whether I lived or not."
He sought out dangerous pursuits.
He became a race car driver.
"Instead of me getting killed, my buddies got killed," he said.
He played semi-pro baseball in Minneapolis-St. Paul.
A rodeo rider before the war, Dave went into pro rodeo, riding bareback broncs and bulls.
"Anything to maybe get killed," he said.
Bald Eagle also acted in several movies in the late 1940s and early 1950s, and remembers particularly working in "River of No Return" with Marilyn Monroe. He said he and Monroe went out dancing during one break in filming.
Later he traveled to Europe to rodeo with Casey Tibbs' Wild West Show. On Tibbs' advice, he used the name Chips. On his last rodeo trip over there, in 1958, he met a young Belgian actress, Josee Kesteman, in Brussels during the world's fair.
"When she came into my life, my life changed again," Dave says. "She was the one who kept me alive."
They married, moved back to the reservation, acquired a ranch and started raising horses and children.
He and Josee still live on their ranch near Takini on the western edge of the Cheyenne River Indian Reservation, not far from where Dave grew up near Cherry Creek.
Although his hair is white, Dave Bald Eagle stands straight, and hears and sees just fine. And he remembers the stories his grandfathers told him.
He is often sought after by reporters and writers from big cities who want to hear his history.
About 15 years ago, at a meeting in Puerto Rico, he was made First Chief of the United Indigenous Nations, a society of chiefs from various reservations.
In that role, he is often called upon to speak at functions, and he has visited indigenous people all over the world. Two years ago, Bald Eagle spoke at the Little Bighorn Battlefield about the role his grandfather, White Bull, played there.
Dave has an interesting perspective on relations between Natives and non-Natives. He says he saw less prejudice in the 1920s and '30s.
"White men and Indians got along real good. They all shook hands. When Indians were going by some farm, they were welcome to stop and water their horses and have lunch, have coffee," he says.
He says World War II changed things for the worse.
But, he says, "I get along with everybody, Indians and non-Indians alike. I treat them all alike. They treat me the same."
His friend, Mel Anderson of Elm Springs, said Dave is highly respected and has always tried to create harmony between the races.
"He's so open minded," Anderson said.
Bald Eagle listened intently and spoke carefully as we visited in the ranch house he and Josee built on Bull Creek. He spoke about his early upbringing listening to his grandfathers.
After his own war experience, he began to realize the importance of his grandfathers' history.
"I kept going back to it. Now I remember word by word what they used to tell me," he said. "I tell kids about it."
Young people could learn a lot about Lakota history from listening to him.
They could also learn a lot by observing his dignity and humility.
Dave's old outfit, the 82nd Airborne, had a motto: "All the Way."
He has met that standard.