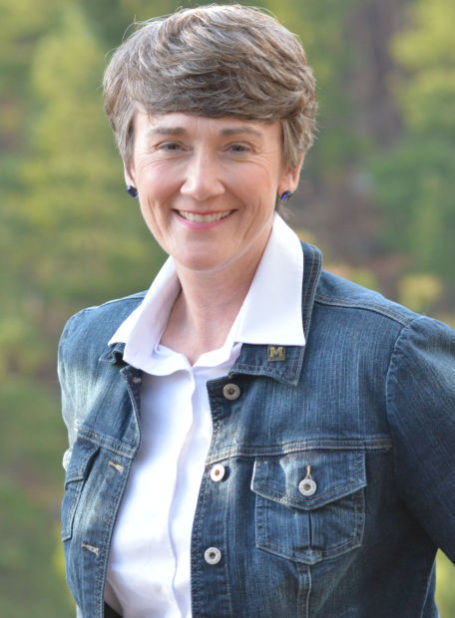 Modernization was the buzzword during a brief address Monday by Air Force Secretary Heather Wilson.
Speaking to a packed room at the Western Governors' Association's annual convention at the Holiday Inn Rapid City - Rushmore Plaza, Wilson framed the bulk of her 15-minute speech on the shift the Air Force has pursued under her leadership and the policies the seven western governors in attendance could pursue to help the Air Force in its "across the board modernization."
Noting the strategic importance of western America to the Air Force, Wilson said that after 27 continuous years of combat operations against violent extremism in the Middle East, the Air Force is now tasked with following "a national defense strategy that explicitly recognizes the return to great power competition."
"That is a major change in the Air Force," added Wilson, who served as president of the South Dakota School of Mines & Technology from 2013 to 2017. A big challenge, she said, is modernizing the force's aging fighter jets, bombers, helicopters and space assets while simultaneously modernizing its soldiers, too.
"We are flying bombers that came into service in the 1950s," she said, explaining that at Ellsworth Air Force base, 17 percent of the personnel are currently deployed, further complicating matters. "We have to make sure that we are keeping the Air Force strong for the fights that may come. If we are ready for fights that may come, then it's much less likely that those fights will come."
To help those efforts, Wilson mentioned partnership programs between state National Guard units and foreign militaries that foster relationships and deepen alliances. Currently, Wilson said, there are more than 70 such partnerships between states and foreign nations.
"Nations with allies and partners win, and nations without them will not," Wilson said. "Those networks of alliances are more important now than they ever have been in the past."
Later, Wilson said that one of the biggest complaints among airmen was the difficulty their spouses have obtaining professional licenses once they moved to a new state. As a result, Wilson, Secretary of the Navy Richard Spencer, and Secretary of the Army Mark Esper sent a letter to the National Governors Association in February noting that the quality of local schools and whether a state has laws in place respecting the reciprocity of professional licenses will be additional factors under consideration when decisions about bases are made moving forward.
"Reciprocity for licensure for the families of active duty military stationed in your states matters," Wilson said. She then applauded Utah for providing a pathway for licensed out-of-state workers to gain licensure there if they have at least one year of experience in the field of their license or if it's determined that the state where the license was procured has similar requirements as Utah.