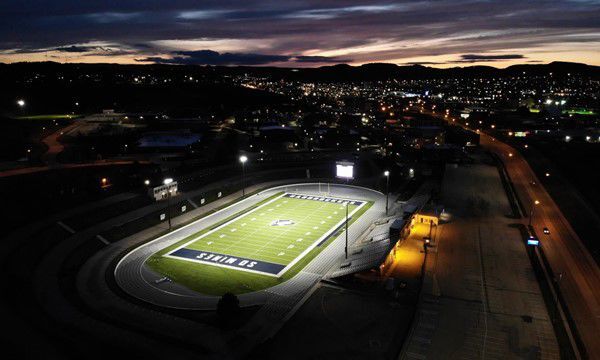 As you drive into downtown Rapid City along Highway 79 and veer onto St. Joseph Street, one of the first local landmarks you come across is the blue and white facade of O'Harra Stadium, behind it Dunham Field, and the sprawling campus of South Dakota School of Mines and Technology that sits beyond it.
The stadium serves as the venue for weekly college and high school football games in the fall, and several track and field meets in the spring, among several other events.
It's essentially the premier site in the City of Presidents for the respective sports it hosts, and it needs a facelift.
"We feel South Dakota Mines' campus is essentially the gateway to downtown Rapid City from the east corridor," SD Mines athletic director Joel Lueken said. "Having a new and modernized stadium benefits anyone who participates, and it benefits anyone who partakes in an athletic event."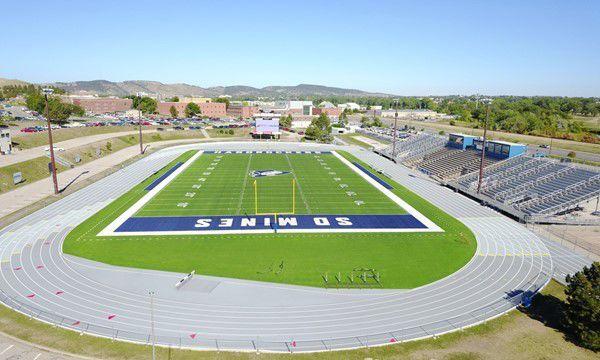 South Dakota Mines has submitted a $5.75 million proposal to The City of Rapid City's vision funds program for renovations to O'Harra Stadium. The Vision Fund Citizens Committee, which has $26 million available for distribution, received 28 proposals over the summer and will make recommendations on projects to the Rapid City Council in December following public hearings this month.
Lueken, along with school president Dr. James Rankin and facilities staff, first applied for vision funds in 2017 and received capital for a new track surface, new football turf, new scoreboard and fencing. This time around their proposal is more involved, centering around issues outside the playing field.
Among immediate concerns, the plan contains the construction of a women's locker room, which does not exist at O'Harra and would address a potential Title IX issue, Lueken said.
The stadium would also contain an away locker room for high school football teams that travel to the stadium to take on Rapid City Central and Rapid City Stevens. Teams currently used a shed tucked away in the southeast corner that has a single bathroom.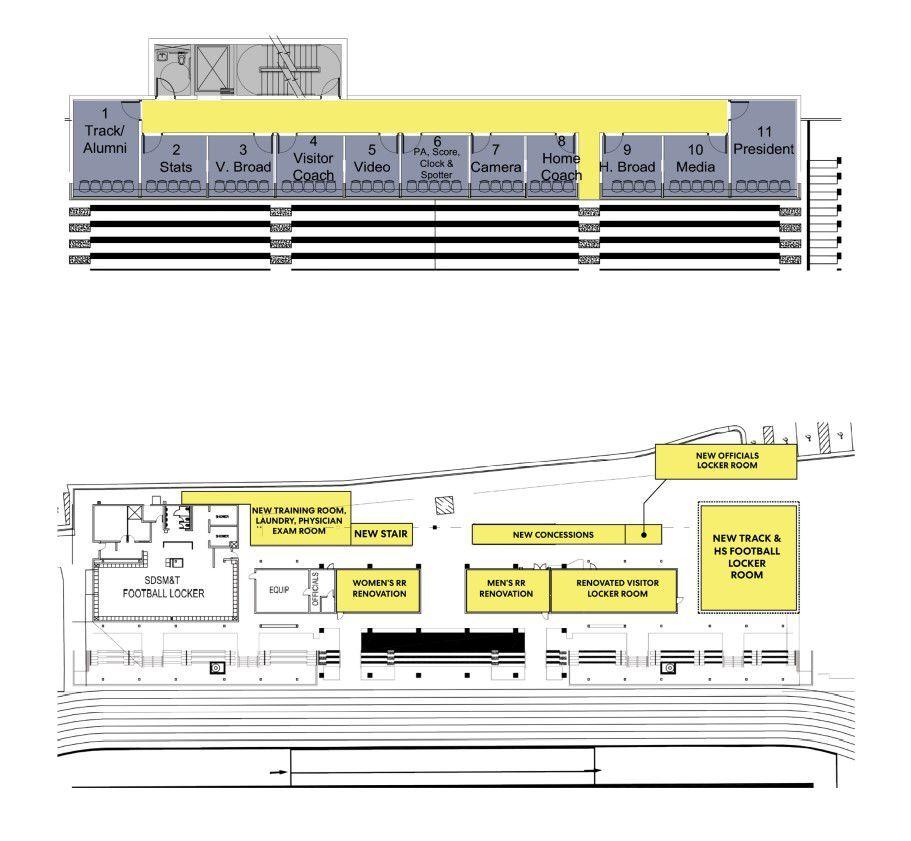 "It's really not user-friendly," Lueken said. "And we'd like to modernize that and add the locker room so that the incoming high school football teams have a place to use."
Other facilities included a physician's exam room and a locker room for officials, who currently get dressed at the King Center up the hill, or at their hotel, and walk down, and spend halftimes at a facility more than 100 yards away from the field. 
More press box space, where game day staff and coaches aren't separated by setting up on opposite ends of the field, is also in the plan.
"Some of (the renovations) will not be as apparent to the public," Rankin said. "But it's going to make the facility much more usable for the athletes."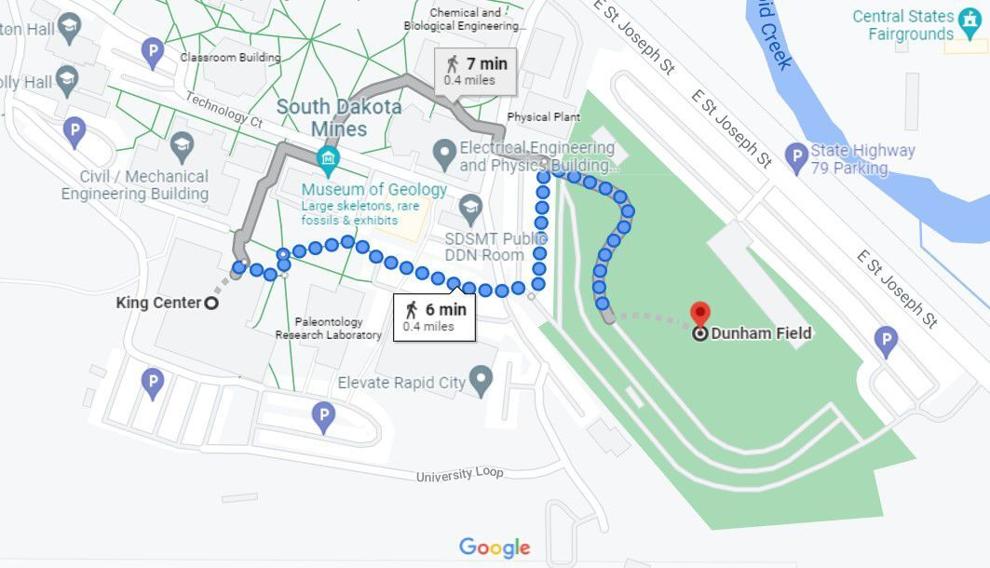 The addition of an elevator is in the proposal, which would be used to carry spectators to and from the stadium's skyboxes at the top of the stands and be more ADA compliant.
"A couple of our individuals who have their name on it aren't able to get up there," Lueken said. 
For aesthetic improvement, construction is proposed that would cut a hole through where concessions are now, opening up the stadium's entrances. Concessions would thus be moved behind the ticket booth.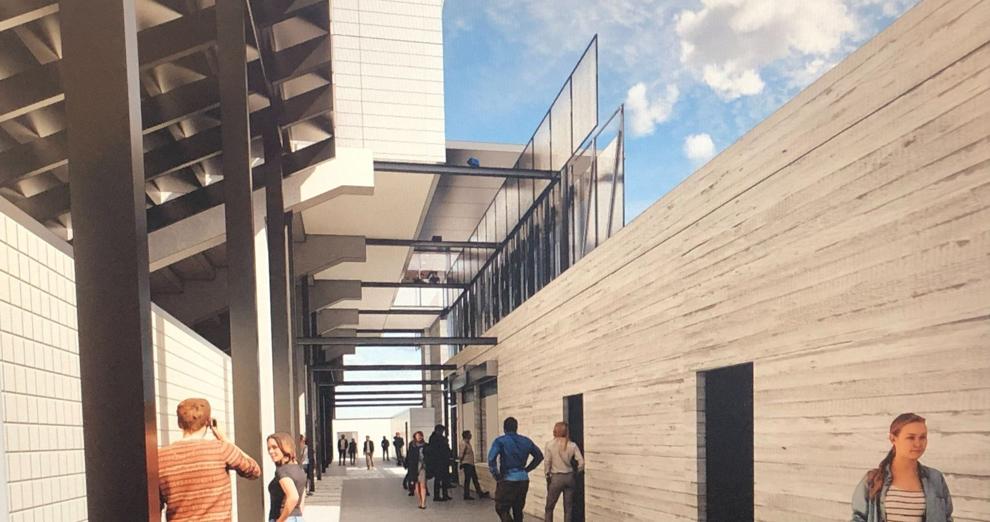 "(It's) not the most ideal," Lueken said of where concessions currently are. "It's very dated, very narrow, very dark in there. There's really no way to open it up unless you're going to demolish it."
Rankin said O'Harra Stadium has a significant economic impact on the city, especially when it hosts the high school state track meet, which will return to conducting all three classes at the same venue over three days following this past season where it was split up among three locations due to COVID-19 concerns.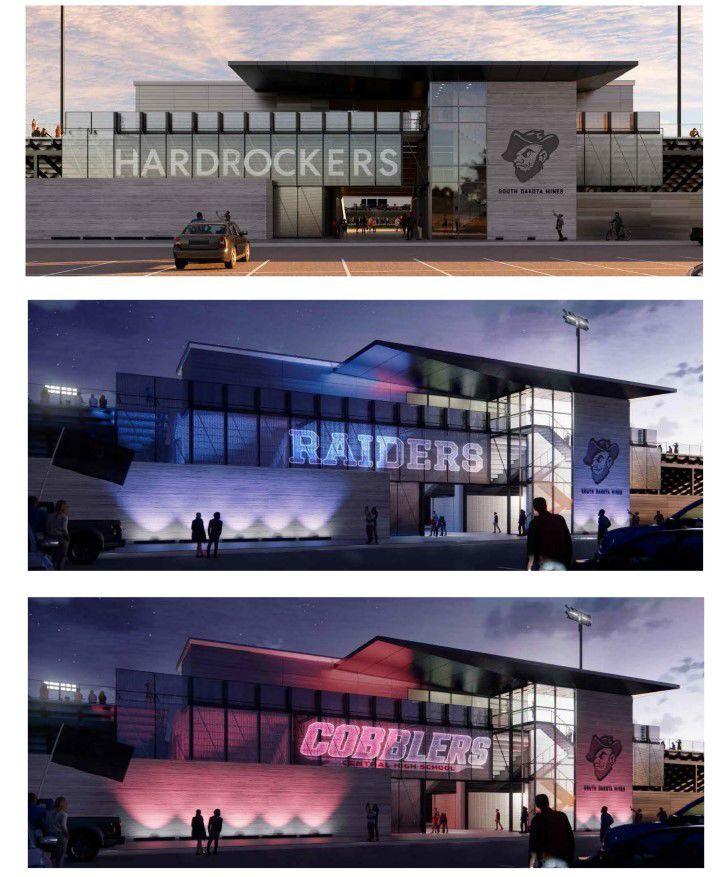 The state track meet generates $3 million in economic impact, according to a 2016 study by the South Dakota Board of Regents, and attracts 12,000 visitors over the three-day period. The event, which was held at O'Harra for Class B in May, is scheduled to return in 2024 following a standard two-year stint in Sioux Falls.
Rankin said the renovations will help keep the state track meet in Rapid City.
"We always like to see these events come to West River occasionally," Rankin said. "We're really proud to hold them here in Rapid City, and it really gives an opportunity for our businesses, like hotels and restaurants, to be part of this experience as well."