Where can I go to say goodbye to Keith Wintersteen?
The dam is a pretty good place, I think. The "secret" dam.
Keith "took" me there one last time last week, not in person this time but by text, cell-phone pictures and finally by a story, featuring a fish. A big fish.
There was always a big-fish story with Keith Wintersteen, a widely known and loved naturalist at the Outdoor Campus West in Rapid City. But Keith's last fish story comes in second this week to the incredibly sad story of his own sudden passing Friday night, at 60, apparently of a heart attack.
It was a devastating loss for his family, of course, but also one that will have profound-and-lasting effects on the state's outdoor community. Keith left an enduring mark throughout a 35-year Game, Fish & Parks Department career that included creative management work at two state fish hatcheries and his more recent naturalist's job at the Outdoor Campus West.
A welcoming, effervescent teacher, he was equally effective in front of classes, small groups or individuals, inspiring a greater understanding of wild things and wild places in all he encountered. As word of his death spread, shock and sorrow followed.
"I can't believe it," said Aubree Rypkema, 26, of Rapid City, who was mentored in archery hunting by Keith and scheduled to hunt with him this week. "In the time I've known Keith, he made me feel like I've known him forever. He taught me so much about archery, hunting and life in general. This breaks my heart."
Rapid City dentist and former Game, Fish & Parks Commission Chairman Jeff Olson said he was "deeply saddened by the loss of such a great outdoorsman and educator" who built a lasting legacy.
"There is a huge void at the Rapid City Outdoor Campus," Olson said. "While we hear lots of talk and plans about getting people involved in outdoor recreation, Keith got it done."
GF&P HuntSAFE Coordinator Pat Klotzbach watched Keith work effectively on beginner-hunter, gun-safety programs.
"Keith had a way to make people feel comfortable learning new skills," Klotzbach said. "He touched countless lives, started many traditions for families and, most of all, he was a friend to many."
Thea Miller Ryan ran the Outdoor Campus in Sioux Falls for most of her 25-year Game, Fish and Parks career. She and Keith collaborated on outdoor programming.
"And I can't tell you how many times he would enthusiastically slide into a chair across from me, put his hands down on the table and say 'I have an idea!'" Ryan said. "His ideas turned into amazing programs, laughter and ways to get kids outdoors. I cannot imagine the Outdoor Campus without Keith."
I can't, either. When a member of Keith's family called to say he was gone, it didn't compute. I had just spoken to him by phone Friday afternoon, as he told what turned out to be his last big-fish story.
It was a 14-plus-pound channel catfish, caught on a light spinning outfit with 6-pound-test line. That's a big cat in any water, but especially in this particular water — the "secret dam," or "our favorite bass pond," as Keith also called it.
I knew exactly where he was headed three days earlier, when a text from Keith arrived along with a smiling, winking emoji on my iPhone at 7:11 a.m.
It read: "Kayak loaded. Headed to our favorite bass pond."
A few hours later, Keith sent another text: "You will not believe it! Photo coming to your email."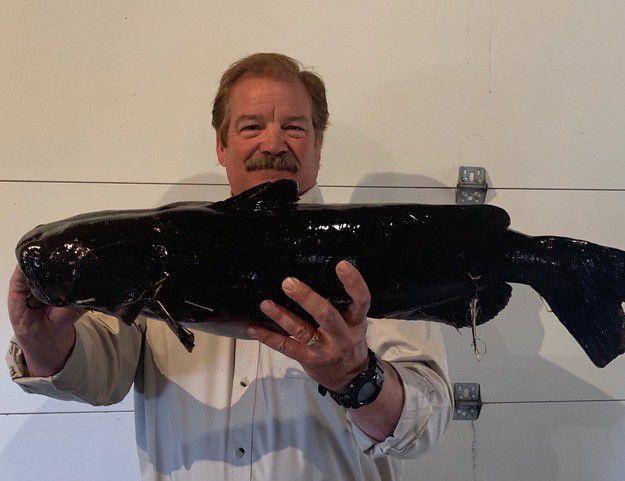 The photo came. The fish was big. The story was bigger.
"It pulled my kayak into the wind, with the wind, across the wind and around the pond," Wintersteen wrote. "I thought for a while that I had snagged a rare, aquatic black Angus."
The fish looked like a cross between a catfish and a bullhead on steroids. And for a couple of days, Keith contended that it might indeed be a world-record bullhead.
By the time we spoke by phone on Friday, he was ready to admit that it was a channel cat, one with a bowling ball of a head and a tail like a charred canoe paddle. It's the kind of fish a fellow who knows how to tell a story can turn into a classic.
And that's what the story of this fish will become: a classic.
Just like the man who caught it.
Be the first to know
Get local news delivered to your inbox!