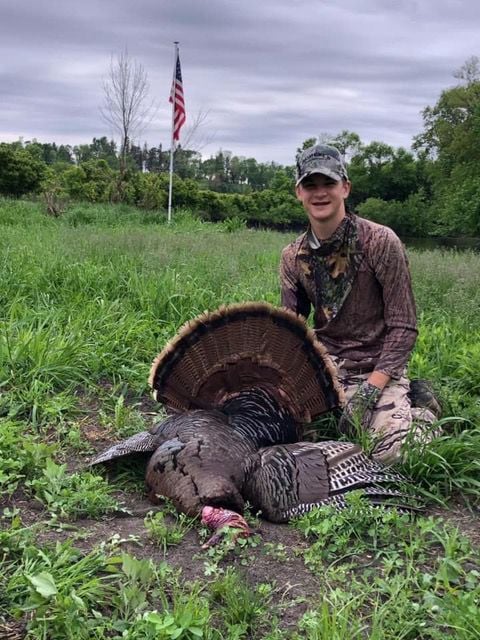 Spencer Skjonsberg's turkey hunt on May 31 was just the kind of thing Tony Leif had in mind 25 years ago when he took me for a stroll in the James River breaks north of Yankton.
I was working for the Sioux Falls Argus Leader then. And Leif, a former conservation officer destined to work his way up to Wildlife Division director for the state Game, Fish & Parks Department, was a GF&P biologist in Huron.
There he was overseeing the introduction of the eastern subspecies of the North American wild turkey into the James River Valley. He was also looking to the future and what eastern turkeys, which are known for skittish behavior, could mean to hunting opportunities in the state.
"We're optimistic we can get them to distribute up and down the James River system," Leif said in a story I wrote for the Argus early in 1995. " The goal, eventually, is to have a new hunting season there. It would add a new dimension to the outdoor picture."
Fast forward a quarter century to a perfect example of that "new dimension." Hunting with his dad, Rob, 15-year-old Spencer Skjonsberg of Pierre bagged his first eastern wild turkey on the last day of the 2020 spring wild turkey season in South Dakota.
"It was the only gobbler we saw," says Spencer. "It was a beautiful bird, kind of different than the Merriam's. It had kind of a reddish color. It was an awesome hunt."
Spencer and his dad were guests of former state senator and current Game, Fish & Parks Commissioner Russell Olson. He owns land along the Big Sioux River near Egan that includes lots of wildlife and an old chicken coop remodeled inside into a comfortable hunting shack.
Olson's land is at a point where natural wildlife habitat narrows into sort of "pinch point," along the river. So turkeys tend to cross his property.
"All the birds that go up and down the river looking for love at one point or another go through that pinch point," Olson said. "It was one of the reasons I bought the place, but I had no idea how good it would turn out to be."
Olson loves to hunt, of course. But what he enjoys even more is helping others learn the wild ways of the eastern wild turkey and giving newcomers a chance to bag a gobbler.
"To me, turkey hunting is a poor man's elk hunt," Olson said. "And I love taking other people, especially kids, who have never shot one."
Sometimes that means someone who has never shot any turkey. And sometimes it means someone who has shot a Merriam's turkey, which are more common in South Dakota and also more inclined to become fond of farmyard living.
That's part of the reason Leif and other GF&P wildlife pros wanted to try the eastern subspecies. It is considered a bit wilder and less likely than the Merriam's to become infatuated with feedlots and farmsteads, where they sometimes congregate to nuisance levels.
That's not true of all Merriam's in all areas of South Dakota. Some are extremely sporty and difficult to bag. But it happens to plenty. Olson hasn't seen it at all with the eastern variety.
"These turkeys want nothing to do with people," he said. "Some of those turkeys out in the hills, they'll be in there eating out of bird feeders. These big old easterns want nothing of that."
Spencer Skjonsberg, who was 4 years old when he started hunting with his dad and 10 when he started carrying a gun, had in previous years shot two Merriam's gobblers and one younger "jake." So he was excited when he pulled the trigger of his Benelli 20-gauge pump and watched the big eastern gobbler tip over.
When asked to compare the eastern to the Merriam's, he said: "It was just different. Just to be able to shoot one of those birds was really awesome."
Awesome was what Tony Leif was aiming for back in 1995.
"To be part of projects like that one, it's something you feel good about," says Leif, who now works as executive director of the South Dakota Agricultural Lands Trust. "We were putting those birds into some areas that didn't have turkeys at all.
"And that's all new hunting opportunity," he said. "That was the really neat thing, taking those areas like Sanborn, Davidson, Hutchinson and northern Yankton counties and adding that recreational opportunity, that quality of life."
Thanks to that wildlife management work, a generous landowner and some accurate aim, Spencer Skjonsberg got to celebrate that improved quality of life, with a bang.
Which was another thing Tony Leif had in mind.
Be the first to know
Get local news delivered to your inbox!