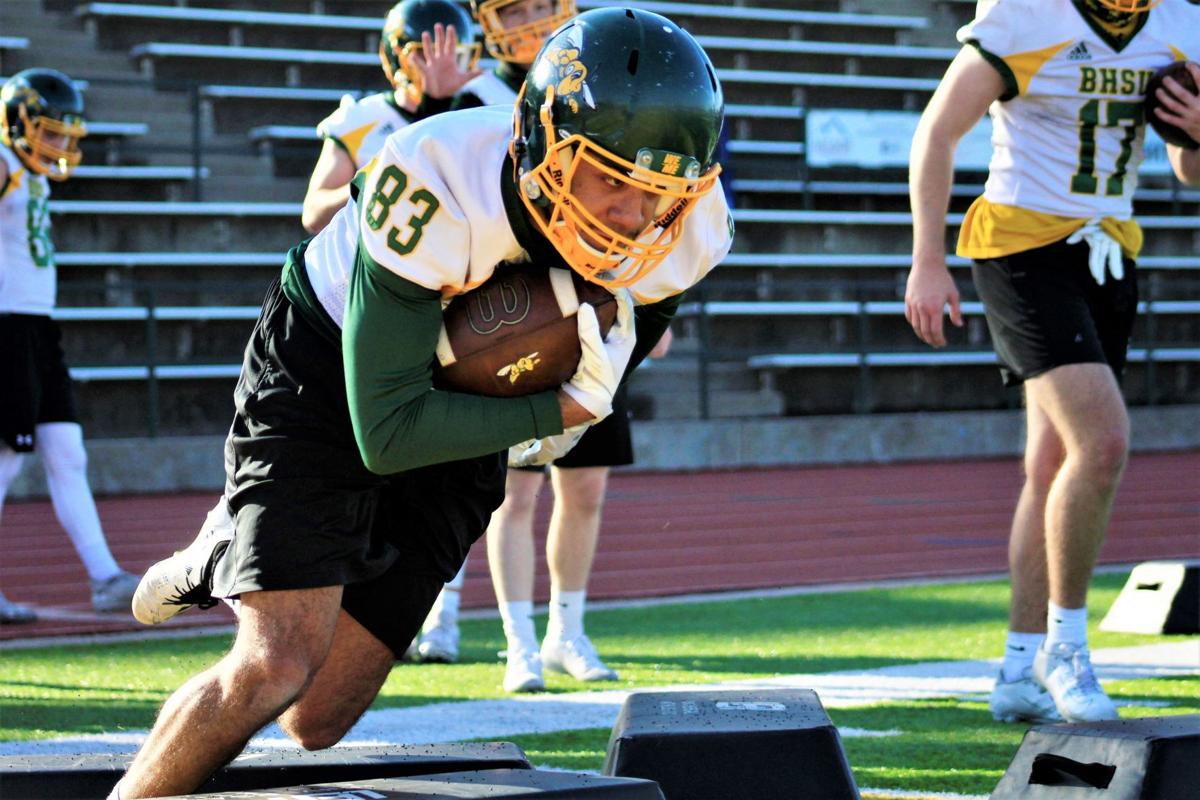 Josh Breske and his staff didn't have a lot to go on last fall as the Black Hills State University football team played just two games coming off no spring practices in 2020.
One thing they did notice — in the two fall losses and early this spring — is the Yellow Jackets needed to be more physical.
Through 10 of 15 spring practices, Breske said they are working on the physicality of the game as much as they can.
 "The only way I've seen a team improve on physicality is you have to do physical things more often," he said. "We're putting guys in those situations, those drills, but we're still being more cognizant and responsible where we are not endangering their health."
One way to do that, the second-year head coach said, is to teach the small parts of tackling and breaking that down. He said they are seeing his players put that into play.
The biggest thing from their scrimmage two practices ago was "seeing our guys playing with their hair on fire, not be afraid to be physical,'" Breske said.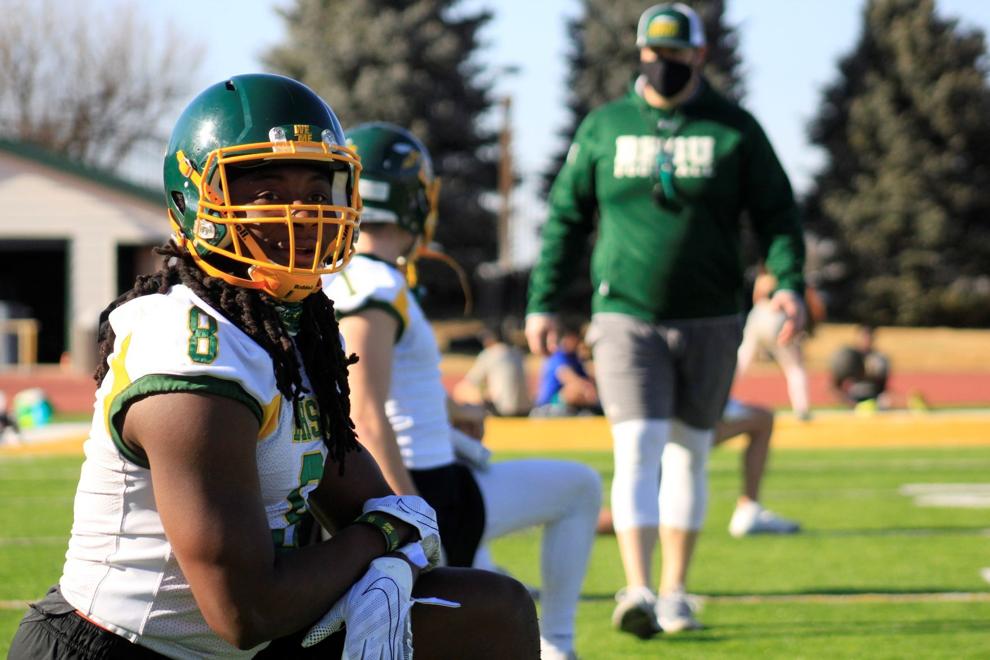 He said they had linebackers tackling, the wide receivers are blocking and cutting on the edge, the offensive and defensive lines are battling and the quarterbacks have been progressing in the way they need them to.
 "The spring is proving to be extremely helpful," he said. "We knew it was going to be essentially our first spring ball that we've had with our guys since our staff landed here in January 2020. The reps are very important for the guys competing at a high level. I'm extremely pleased with what we are getting out of spring ball so far."
Going into spring ball, the Yellow Jacket coaches knew the offensive and defensive lines would be thin, and they still are. But they are working around that with trying to build some depth and using different schemes.
Breske said that defensive coordinator JB Brown is doing a good job adjusting so they can have a functioning spring ball. He said they are getting into a couple of different packages that aren't their "bread and butter," but it is something they can use in the fall.
On the offensive line, the jackets are thin there as well, but Breske said they have been fortunate to stay healthy there and they are picking up experience.
"They were young last fall, and even in the two games that we played, those reps served them so well, giving them that experience and confidence to roll into spring ball to give them a little attitude," he said.
Junior Chance Eben is No. 1 at quarterback this spring. Eben started the two fall games and in his career he is 113-of-228 passing for 1,289 yards and seven touchdowns.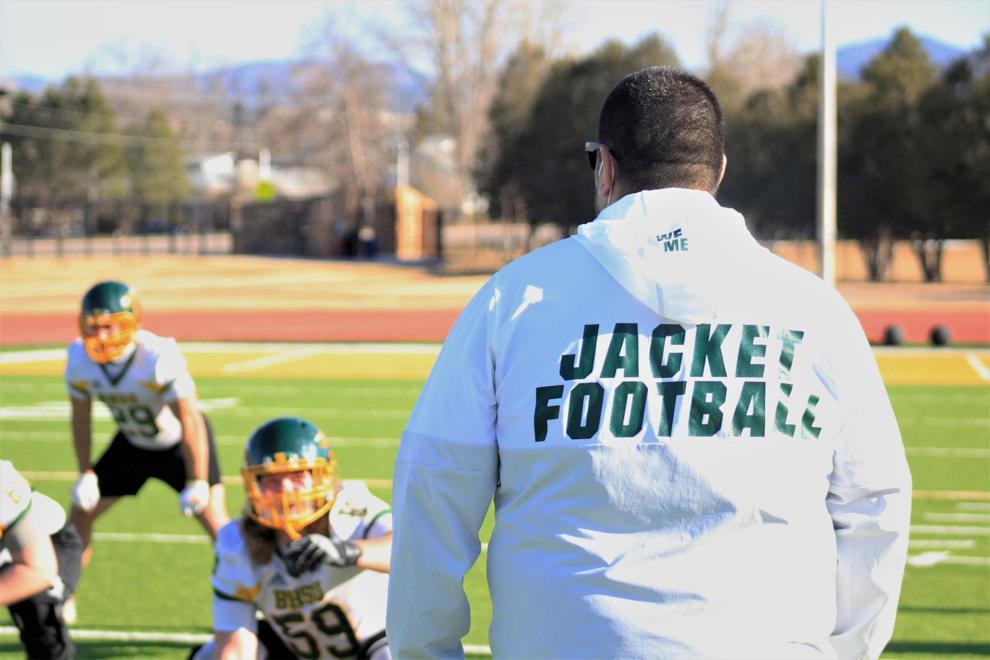 Despite just the two fall games, Breske said those reps served him well. Now 10 pounds heavier, he is having a good spring.
"We're seeing him operate quicker, he's demanding more from the people around him. He understands tempo and the plays are coming into him easier," he said. "He's been doing a great job of being a leader. Most impressed with his impression of confidence and throwing the ball."
Senior Tyler Hammons, who is 114-of-230 passing in his career for 1,210 yards and 10 TDs, is No. 2 and sophomore Josh Rowe is the other quarterback in camp.
"I can see how our strength and conditioning and having these reps are starting to contribute to the success they are having this spring," Breske said of the QBs.
The final five practices will end with Junior Day and the Spring Game Saturday, April 17 at 6 p.m.
For the Spring Game, Breske said they are not deep enough to draft two separate offenses and defenses, but they will have an offensive and defensive system and keep score and have a winner and a loser.
"That is really important," he said. "We need to learn how to win and understand how to win. We have to declare a winner and a loser and say, "I lost, where do I go from here?" I think it is a mistake to shy away from that too often."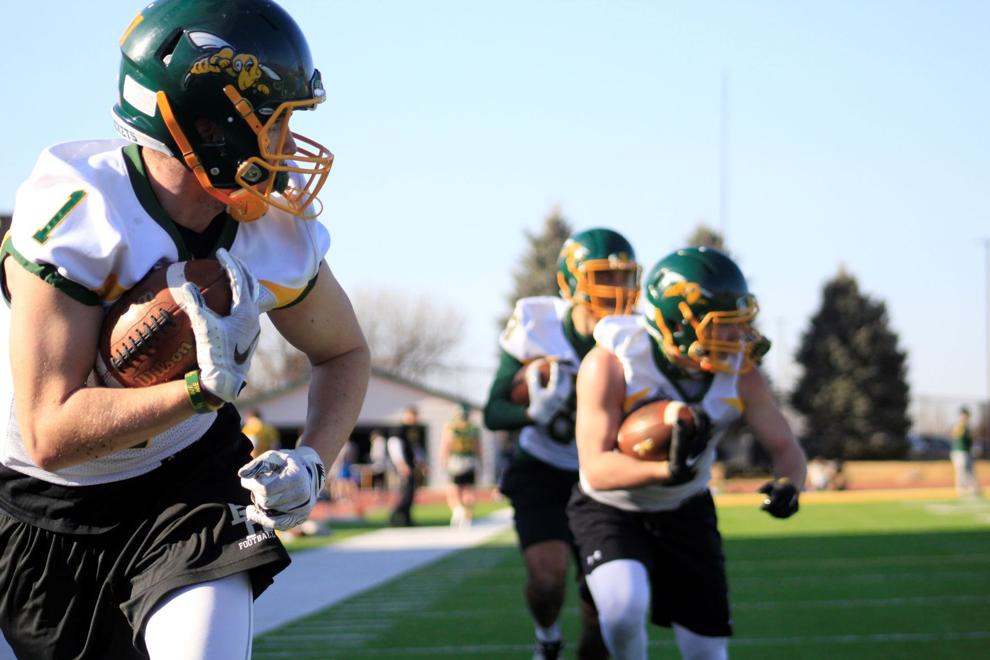 Although graduate student and defensive lineman Jarrell Ganaway is out this spring with an injury, Breske said the Jackets have had a good spring health-wise, which not only includes physical injuries but COVID protocol.
He said their COVID cases have been drastically lower since their return after Christmas break.
"We have been very fortunate to have a small number of cases and our athletic training staff and administration have done a wonderful job with responding with the correct protocols, and our guys understand how important it is to distance and mask themselves," he said.
"It feels like we are getting closer back to normal."