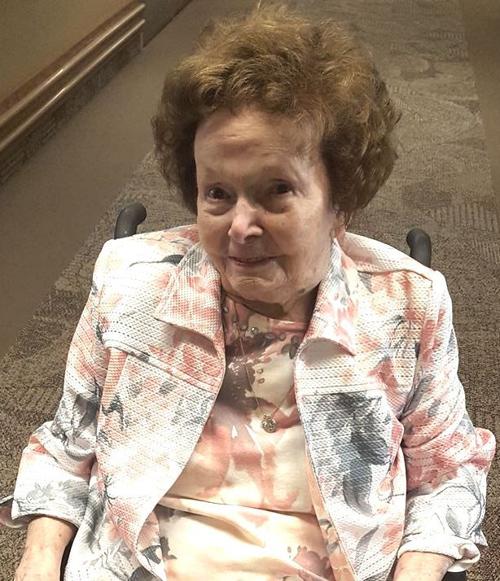 RAPID CITY | Jeanette Volz Blomstrom, 104, died Monday, July 3, 2017, at the Westhills Village Health Care Center.
Frances Jeanette Marie Bowen was born Jan. 14, 1913, in Bridgewater, SD, the sixth of seven children born to James and Ellen (Steele) Bowen. She attended Bridgewater High School and graduated at the head of her class in 1930.
She went to work in the Law Office of Vern Ballou. In 1933, she moved to Pierre, where she worked at the State Capitol and there met Harold Volz. They were married in January of 1939 and moved to Winner. They had five sons: James, Thomas, Michael, Patrick, and Stephen. In 1956, the family moved from Winner to Santa Monica, CA. Jeanette worked for five years as Executive Assistant to Lawrence Welk. Later she did administrative work for the Los Angeles Unified School District. Her husband, Harold Volz died in 1972.
In 1975, Jeanette married Lloyd Blomstrom and moved back to Winner. In 1995, they moved to the Westhills Retirement Village in Rapid City. Her second husband, Lloyd Blomstrom died in February 1997.
Jeanette was a member of Catholic Daughters of America in Winner, and the Cathedral of Our Lady of Perpetual Help Catholic Church in Rapid City. She was a beautiful, saintly person who touched everyone she came in contact with. She was deeply religious, eternally optimistic and forever grateful. Her faith, love of life and witty personality helped her through the trials and tribulations that life brings.
Jeanette was extremely proud of her Irish heritage and this extended to her being an avid fan of Notre Dame football. Her favorite entertainer was Irish tenor Daniel O'Donnell. She attended his concert in Rapid City last month and was so excited when Daniel greeted her with a hug and a kiss during the concert. It was indeed an Irish blessing, her dream come true. She was a blessing to all that knew her and she will be deeply missed as we celebrate her wonderful life.
The family of Jeanette would like to thank the staff at Westhills Village for their dedicated and special care for Jeanette during her stay there.
Jeanette is survived by three sons, Michael Volz of Encino, CA, Patrick Volz (Dolly) of San Diego, CA, and Stephen Volz of North Hollywood, CA; three stepchildren, Sally Blomstrom (Bill) of New Smyrna Beach, FL, Jack Blomstrom (Sue) of Casper, WY, and Bob Blomstrom (Brooke) of South Lake, TX; eight grandchildren; four great-grandchildren; numerous step-grandchildren; two nephews, Tom (Monica) Ackerman, and Bob Ackerman of Rapid City; and a very special niece, Christine McKinney of Rapid City.
She was preceded in death by her parents; both husbands; two sons, James Volz and Thomas Volz; a step-daughter, Peg Schneller; four brothers, Harold, Raymond, James, John; and two sisters, Vera and Mary.
Funeral Memorial Mass will be offered at 10 a.m. Monday, July 10, at Blessed Sacrament Catholic Church.
Inurnment will be held at noon PDT on Tuesday, July 18, at San Fernando Mission Cemetery in Mission Hills, CA, beside her husband Harold Volz.
Arrangements are under the direction of Osheim & Schmidt Funeral Home.