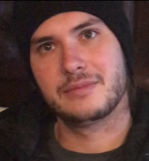 RAPID CITY | Cody Erdman passed away July 27, 2019.
He graduated from Rapid City Christian. He played football, enjoyed music, shooting and was in a heavy metal band, which he loved! He was blessed with wonderful parents and three amazing siblings, which there was never a dull moment.
Cody was definitely one of a kind. Many who knew Cody referred to him as the gentle giant. Cody was a full six foot seven, dark featured with the most beautiful long dark hair. The first-time meeting Cody, you might be slightly intimidated by his appearance, but within seconds of meeting him you couldn't help but be intrigued and fascinated by his gentle and fun demeanor. One of the traits people respected most about him was what you saw is what you got. He was very kind, nonjudgmental, and would give you the shirt off his back. Cody was famous for his big warm hugs and he wasn't afraid to tell you he loved you. If he knew you were upset, he was there for you.
Cody will be remembered and cherished for many things: his funny voices, his unique brand of humor, unrelenting loyalty, and true friendship. If you were lucky enough to be loved and friended by him, it was a great honor. Cody would be the first to admit that he was a mama's boy. Not only was he one of Lanny's cherished children, but also one of her best friends. Her heart, like many others', will never be the same.
Cody is survived by and will be beyond greatly missed by his mother, Lanny Erdman; dads, Fred Erdman and Mike Easton; siblings, Zach (Madison) Erdman, Ashleigh (Zach) Johnson and Alex Erdman; grandparents, aunts, uncles, many cousins, and countless friends. There is no question Cody...you made a dynamic mark on this world and in so many lives. Son, you will forever be cherished in our hearts and so greatly missed.
A Celebration of Life will be held at 2 p.m. on Aug. 17, at the Fork Real Community Cafe in Rapid City.
In lieu of flowers, a memorial may be directed to the family via Black Hills FCU–Cody Erdman Memorial or to the family's address, P.O. Box 314, Rapid City, SD 57709.
To plant a tree in memory of Cody Erdman as a living tribute, please visit Tribute Store.