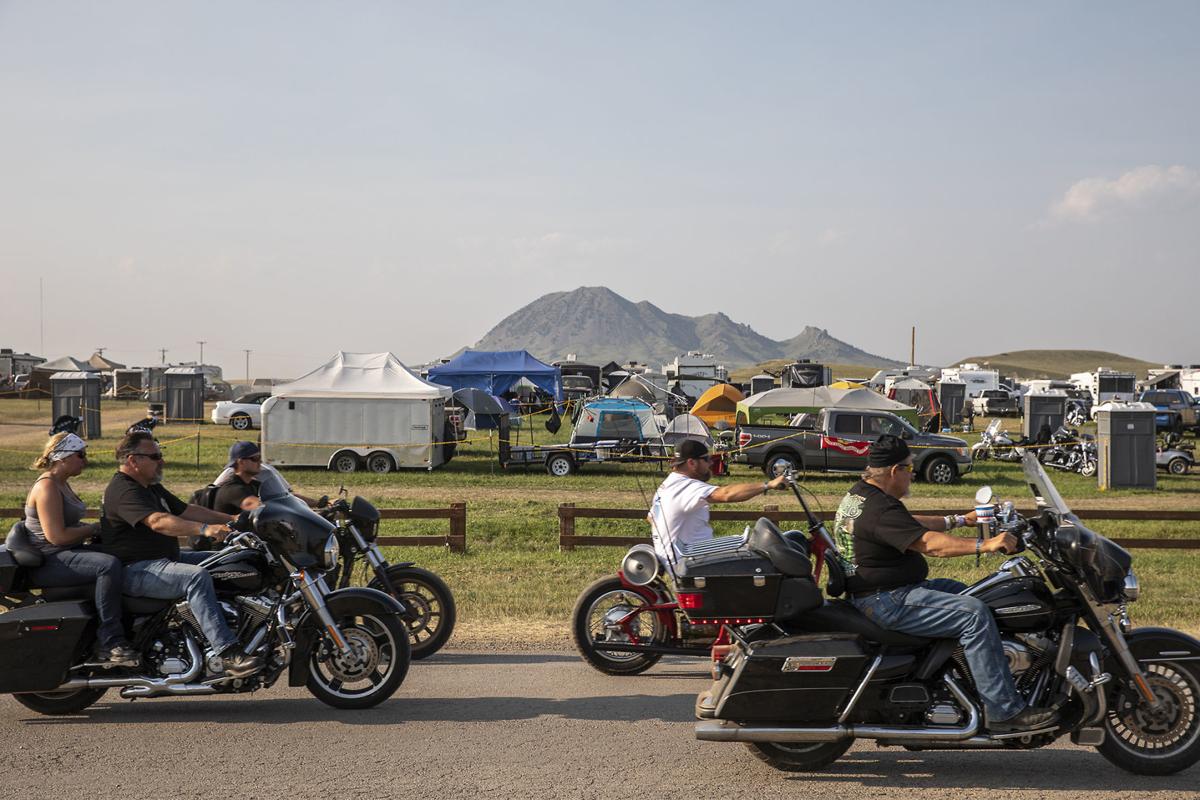 In a few days, hundreds of thousands of visitors will begin roaring into the Black Hills with the ultimate destination being the Sturgis motorcycle rally — an event that puts this area on the world stage.
These motorcyclists will pump millions of dollars into South Dakota's economy and one of the biggest beneficiaries is state and local governments. Last year, the state reported collecting $1.3 million in sales tax alone from temporary vendors.
As state Revenue Supervisor Lori Haupt so aptly said after the 2018 rally, "The Sturgis motorcycle rally is an important event for South Dakota."
The vendor figure, however, represents just a small portion of the tax bounty collected when 400,000 or 500,000 mostly well-heeled baby boomers visit the area over a 10-day period.
Convenience stores, hotels, restaurants, bars, campgrounds, mechanics, retailers, motorcycle dealerships, tourist attractions and others all collect sales tax from them while they enjoy the ride and the Black Hills.
In return, the state should do all it can to be good hosts and help provide essential services to our visitors. It is, as we like to say, the South Dakota way.
This year, however, a problem exists that could cast a cloud over South Dakota's premiere event if revenue is the deciding factor. There's a real possibility that ambulance service will not be available to many of our visitors.
The city-run Sturgis Ambulance Service, like similar operations across the nation, is running a deficit — in this case $85,000 — and is on the verge of reducing its coverage area to slow the bleeding. At this very moment, the Sturgis City Council is trying to find a solution to what has become a complicated local problem.
It will again try to find a workable solution at its next meeting, which is Monday. If none is arrived at, it's a real possibility that no ambulance service will be available for thousands and thousands of visitors, people who will be pouring money into the economy.
The clock is ticking. The rally officially starts on Aug. 2, but motorcyclists as well as vendors will be showing up before then.
It's time for the state to step in and do something.
One of the reasons the Sturgis Ambulance Service is running a deficit is the rally. This relatively small operation faces a daunting challenge every year, one that would test any ambulance service. The state certainly recognizes that challenge in other areas. For example, it provides additional law enforcement resources during the rally.
Why can't the state do the same thing for the ambulance service this year?
If the state is worried about a return on a public health investment, it should stop and think about the costs of someone dying that it is attributed to the lack of an ambulance service. The ensuing publicity would not be good, but it likely would go viral.
It's just not visitors who could be affected by this. Many Black Hills residents and their loved ones stay at or go to concerts and other events at the many campgrounds that would lose ambulance service if some entity doesn't step up and at least provide a short-term solution.
Then one must consider that the majority of these visitors are baby boomers, who are far more likely to need medical attention for a number of serious ailments. Every year clinics and hospitals are strained by the large influx of patients during the rally.
It would be a wise move for a state that has received millions of dollars in tax revenue over the years and seen its tourism profile boosted immeasurably by the rally to spend a little money to guarantee ambulance service during this year's rally and give Sturgis more time to solve a problem that is in part due to the rally.
No one wants the state to get involved in every county ambulance dispute, but this one is too important to let ride as is.
A one-time emergency has presented itself and the state needs to act before it is too late.
Catch the latest in Opinion
Get opinion pieces, letters and editorials sent directly to your inbox weekly!