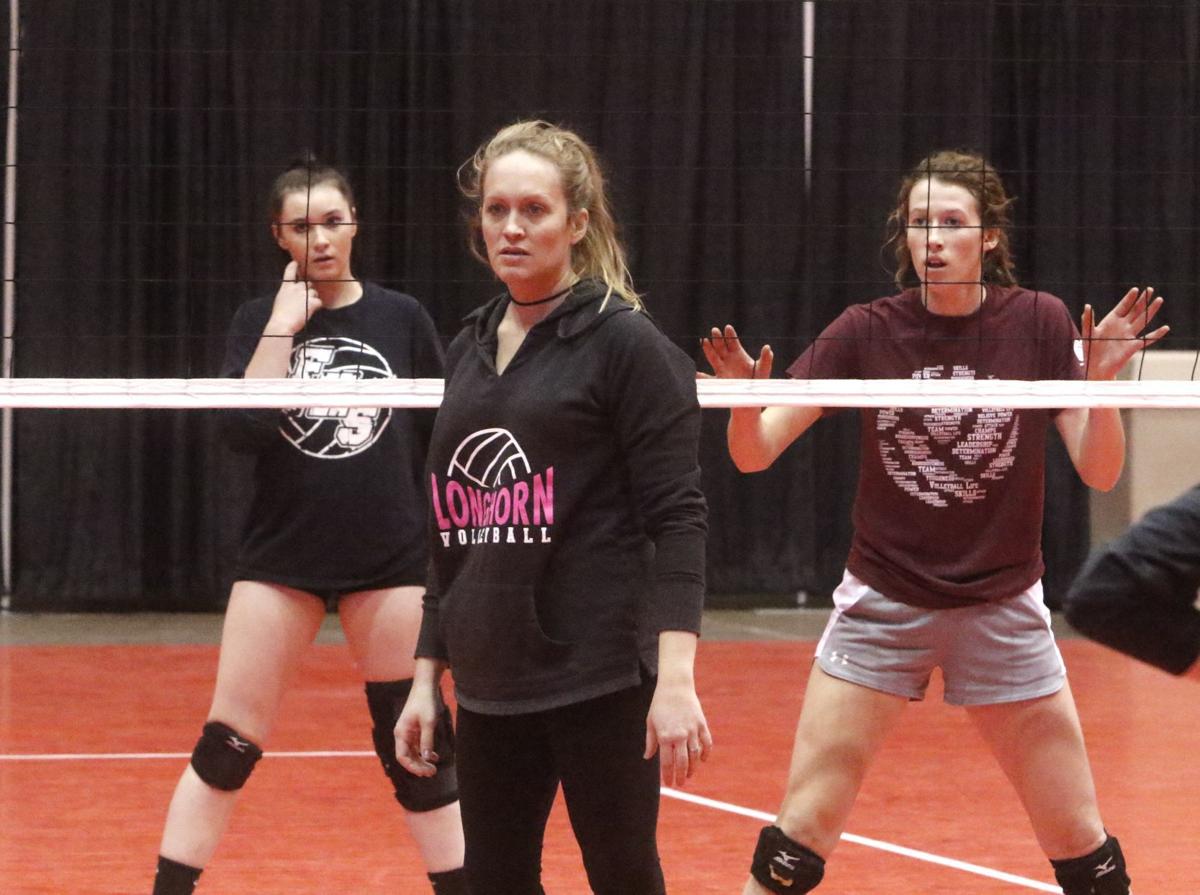 For the third straight year, the Faith Lady Longhorns are competing in the state tournament. After just being glad to be there in 2017, they finished third in last year's state tournament.
Faith is hoping that progression continues on the state's biggest volleyball stage.
The Longhorns open the tournament Thursday against fifth-seed Warner, the state's defending state champions, at 2:45 p.m. at the Barnett Arena in the Rushmore Plaza Civic Center.
At 30-3 and the tournament's fourth seed, Faith coach Mandy Lemmel said it has been a good season, especially considering they lost four solid seniors from last year's team.
"Summer rolls around and you kind of never know what you are going to get," she said. "But we have had kids totally step up into those leadership roles and have done a phenomenal job."
Faith's go-to hitters this season include junior middle hitter Aiyana Byrd and Ariah Engel, a junior outside hitter. Byrd has 441 kills on the season. hitting .319 while Engel has 161 kills.
"They both had great summers and put in tons of time in the off-season," Lemmel said. "They are doing good things."
Senior setter Sydnie Schauer is back as a four-year starter, running the Faith offensive attack.
"She's just all-around great," Lemmel said. "She leads us, she knows everything I want and expect. She just runs the show out there.
"We've had a lot of success with those three, but our backrow has been absolutely phenomenal, more than I could expect. They are really passing the ball well."
Senior defensive specialist Cassidy Schuelke has 344 digs, while Engel has 318 digs. Senior defensive specialist Allix Vance has 241 digs.
In her fifth season, Lemmel is happy with the direction of the program, especially not missing a beat when they lost players due to graduation.
"The girls are really buying in. The numbers in the off-season have gotten better," she said. "We have fans coming to the gym who haven't missed a game this season who didn't watch a game last season. It's good."
You have free articles remaining.
Lemmel points to team chemistry and  mental toughness as a key for their solid start and solid season.
She said that in years' past they would get down in match or a set, and would struggle to come back. Or they would get down two games to one and would struggle to get back.
"They really are students of the game, and I've felt like we've grown in that area in the last few years," she said.
The Lady Longhorns only losses this season came to Class A Rapid City Christian and St. Thomas More, and to Kadoka Area, a strong area team Faith bounced back to beat later in the season.
Lemmel said they have beaten the teams that they should have beaten, and she appreciates that from her team.
"The girls kind of know how to take care of business, and that has been good for us. I hope we can carry that over here," she said.
The Longhorns know the tournament won't be easy, especially the opener against perennial power Warner, which is 27-9 on the season.
"They are a very, very well coached team," Lemmel said. "They are young, that's what everybody talks about, but the youngness has grown into a pretty solid team here in the postseason.
"We certainly can't have an off day and expect to beat Warner. I think we have a good game plan going in, and I think we might be able to get one."
The key Thursday and in the tournament for Faith is passing. Lemmel said Warner is probably the best serving team in the tournament, at least from the film she said she has studied.
"They can put that ball everywhere they want, and they do it very intentionally and very smartly," she said. "In serve receive, we're going to have to pass the ball well. They've got some solid hitters, so if we can block well, get them out of their game, and set up our strong offense, that will be good. And we have to serve well again to get them out of their flow."
"Looking at the eight there, I don't know if I can predict what will happen," Lemmel said. "Obviously Northwestern is the team to beat; they are so solid and have been for many years.
"Even the 2-7 and 3-6 matchups, I don't know? I really don't. They are going  to be great games to watch. Those lower seeds, they are very solid teams. I'm anxious. I think it is going to be a very talent-filled state tournament."
The Faith-Warner winner faces the Bridgewater-Emery and Northwestern winner Friday.