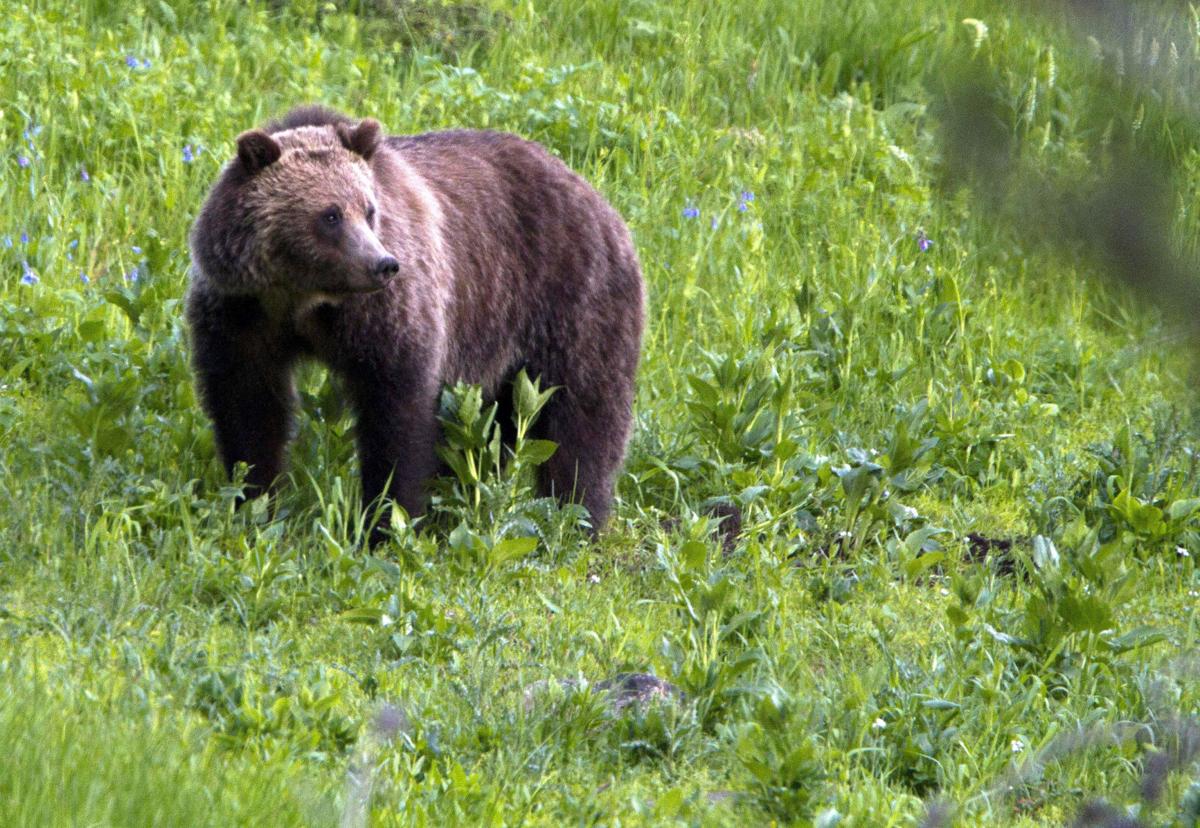 A new animal attack response team will rescue people attacked by grizzly bears in the northwestern Wyoming backcountry.
The Teton County Sheriff's Office, Teton County Search and Rescue, Wyoming Game and Fish Department and Grand Teton National Park are behind the effort.
Grizzly attacks in Wyoming often involve elk hunters. Officials hope to have the team ready to go when hunting season begins in September.
It's becoming more common for several different agencies to get called to attacks, Wyoming Game and Fish large carnivore biologist Mike Boyce told the Jackson Hole News & Guide.
"We have had a couple fatalities in the last five years or so where both our agency and search and rescue have been involved. Their expertise is in the search and rescue and medical response, and we are more focused on evidence collection and that part of the investigation," Boyce said July 27.
With both more people and bears in the backcountry, grizzly attacks have been increasing. They included a hunting guide killed on a mountain two years ago.
The attack, which left the guide's client in need of rescue with the bear nearby, led to the idea for the response team, Teton County Sheriff Matt Carr said.
Sheriff's officials considered hiking in to the attack scene that night but it was a dangerous situation. Instead, a helicopter dropped off two Game and Fish employees nearby the following morning.
"We made those decisions on the fly," Carr said. "And we were kind of forced into this situation we hadn't dealt with before."
Teams in Alaska and British Columbia provided a model for the new Wyoming team. Candidates for the squad have been taking part in fitness trials.
They will also take handgun and rifle proficiency tests.
"The last thing we want to do is shoot a bear," Carr said. "But we have to be proficient if we are in danger or attacked or if the patient is in danger."
Zebra mussels confirmed in Lake Cochrane
The South Dakota Department of Game, Fish and Parks has confirmed the presence of adult zebra mussels in Lake Cochrane in Deuel County.
"A suspected adult zebra mussel was found along a lake shore residence shoreline this weekend," SDGFP regional fisheries manager Mark Ermer said. "After sending GFP staff to the location, the mussel was confirmed to be an adult zebra mussel. The crew took a hard look around the lake at about nine different locations searching for the presence of other mussels. They found one additional adult mussel on the opposite side of the lake from the original mussel. The presence of two sexually mature adult mussels is enough to now consider the lake infested. The size of both mussels indicate they have been in the lake since at least last summer.
Lake Cochrane is now considered infested with zebra mussels.
The GFP Commission can designate waters infested with zebra mussels as containment waters. Specific decontamination requirements exist for boats kept in these waters continuously for three or more days, or that cannot have all water drained from them.
"We are asking lake users to be extra vigilant and make sure their boats and associated equipment is cleaned, drained and dried after every use," Ermer said.
Clean watercraft and trailers of all aquatic plants and mud
Drain all water by removing all drains, plugs, bailers or valves that retain water. Be sure to completely drain your lower unit of any water by lowering completely.
Dispose of unwanted bait in trash or fish cleaning stations when leaving the water
Completely draining a boat is the first step in making sure invasive species are not transferred to other waters.
For more information on zebra mussels, other aquatic invasive species, and how to properly decontaminate your watercraft, visit sdleastwanted.com.
Pet owners should be aware of blue-green algae
As the dog days of summer roll on, South Dakota Game, Fish and Parks officials want to warn pet owners of blue-green algae blooms that are appearing in ponds and lakes across the state.
"Blue-green algae blooms happen every year when summer really gets hot," GFP regional fisheries manager Mark Ermer said. "It's nearly impossible to tell if algae in a pond or lake is poisonous or not, so we recommend not letting dogs swim in a body of water that has a visible, thick layer of algae floating on the surface. Even one drink of water that has a blue-green algae bloom can be fatal for dogs."
Blue-green algae are most often blue-green in color, but can also be blue, green, reddish-purple, or brown. Blue-green algae generally grow in protected areas of lakes, ponds, and slow-moving streams when the water is warm and enriched with nutrients like phosphorus or nitrogen.
"Blue-green algae blooms are caused by cyanobacteria, which grow particularly well in slow-moving or stagnant water with high phosphorus or nitrogen content," South Dakota Assistant State Veterinarian Mendel Miller said.
"Some of these cyanobacteria may produce dangerous toxins which, if ingested, can lead to liver or nervous system damage in animals," Miller continued. "These toxins cause serious damage quickly, so prompt medical care is critical following potential exposures. Because it is not easy to tell if an algae bloom is producing toxins, it is best to avoid all water where cyanobacteria appear to be present."
Symptoms of blue-green algae poisoning include, lethargy, the inability to walk, hypersalivating, weakness, vomiting, diarrhea, pale gums, shock, seizures, loss of appetite, tremors and difficulty breathing.
Fish consumption from lakes experiencing a high algae bloom should be limited. While the toxins can be present in fish caught during a bloom, research has shown the concentrations of toxins are higher in the organs of fish than in the muscle tissue or fillets. Toxin levels decrease after an algae bloom has ended.
Anyone observing what they believe is a harmful algae bloom should contact their local GFP office or the Department of Energy and Natural Resources.