So-called "bucket biology" has long made fisheries biologists flinch. But the early results of a careful, cautionary and science-based effort at moving isolated west slope cutthroat trout among streams to improve their genetic diversity appears to be successful.
Researchers and scientists at the University of Montana; Montana Fish, Wildlife and Parks; and the U.S. Geological Survey have been working together for the past two years to identify genetically pure cutthroats in three pairs of streams. Once that was confirmed, they took three males and three females from each stream and moved them among the streams where genetically pure cutthroats also were documented.
"It's a pretty significant paradigm shift in how we manage the fish," said Ryan Kovach, an FWP biologist who previously worked for the USGS. "In the early 1900s, when we moved fish, we didn't appreciate the native biodiversity. Now we're known for rainbows and brown trout, which are non-native species. The reaction to that is we've been hesitant to move fish around.
"So we consider this to be an experimental project, with incredibly careful monitoring and an abundance of cautious measures that we think are making this work."
The research effort involves two streams in Belt Creek near Neihart; the Upper Missouri River near Townsend; and the Big Hole River near Wisdom. The fish in those streams all are isolated by natural barriers, and are losing their genetic diversity.
Researchers used a tool to remove a sample about the size of a pencil eraser from a fin and tagged the fish with identifying labels. After confirming the fishes' genetic purity, the researchers returned to the stream, captured the six fish and put them in an aerated cooler. They drove rapidly — without spilling any water, Kovach added — and got them to the other stream.
"It was pretty exciting," he said. "We've been following up, and have documented the transplanted fish reproducing."
This type of "genetic rescue" also has been done on wolves on Isle Royale National Park in Michigan, on Australia's mouse-sized alpine mountain pygmy possum, and on Eastern brook trout in Virginia.
Donovan Bell and Zachary Robinson are co-authors of a peer-reviewed opinion article published recently in the scientific publication Trends in Ecology and Evolution. They note that genetic rescue has helped prevent the extinction of several populations, but that "augmented gene flow is rarely used as a conservation strategy."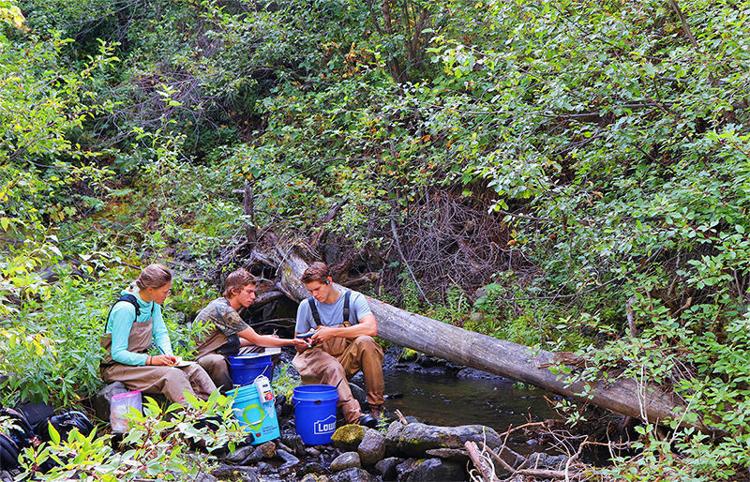 You have free articles remaining.
"Inbreeding can cause genetic defects that lower survival," Bell said in a recent press release. He's a doctoral candidate in UM's W.A. Franke College of Forestry and Conservation. "In small populations, every individual becomes closely related, and the resulting genetic problems put these populations at a higher risk of extinction. With genetic rescue, introducing unrelated individuals from another population can alleviate these genetic problems."
Robinson, who also is a doctoral candidate in the forestry college, added that their work should increase the amount of beneficial genetic material, which in turn should increase individual survival and lifetime reproductive success. That should result in increases in the population's size and health.
"Even if fragmentation was to stop today, there are already millions of populations that are limited to small habitats," Robinson said in a press release. "In order to address issues with small, fragmented populations and maintain biodiversity, we're going to have to find ways to mitigate the impacts of inbreeding and the genetic problems it brings."
A few research groups are strongly advocating for more widespread genetic rescues to address issues with habitat fragmentation. But Bell, Robinson and Kovach want to be cautious as they move forward.
"We think that genetic rescue is very valuable, but there is a lot left to understand about genetic rescue," Bell said.
Some questions they're hoping to resolve with this research are how long the effects of genetic rescue will last; under what conditions potential negative consequences could occur, including genetic swamping, which involves the loss of unique local adaptations; and outbreeding depression, which is the reduced fitness of offspring with evolutionarily divergent parents. They're also curious about how populations and individuals should be selected for genetic rescue attempts, and how advances in genomics, which is the study of chromosomes, fits into the big picture.
"Genetic rescue is unlikely to be a conservation silver bullet on its own, but instead needs to be attempted as part of a broader conservation strategy that includes habitat improvements," Bell said in the press release.
Robinson added that genetics and ecology are fundamentally intertwined.
"There's a complex relationship between the genetic composition of a population and extinction," he said in the release. "We need to understand this better in order to mitigate the part of extinction risk that's associated with the genetic composition of a population."
The project includes funding from the National Science Foundation.
Other co-authors of the study include UM professors Fred Allendorf and Andrew Whiteley, and UM alumni Chris Funk and David Tallmon. Other co-authors also include researchers from Colorado State University and Michigan State University.