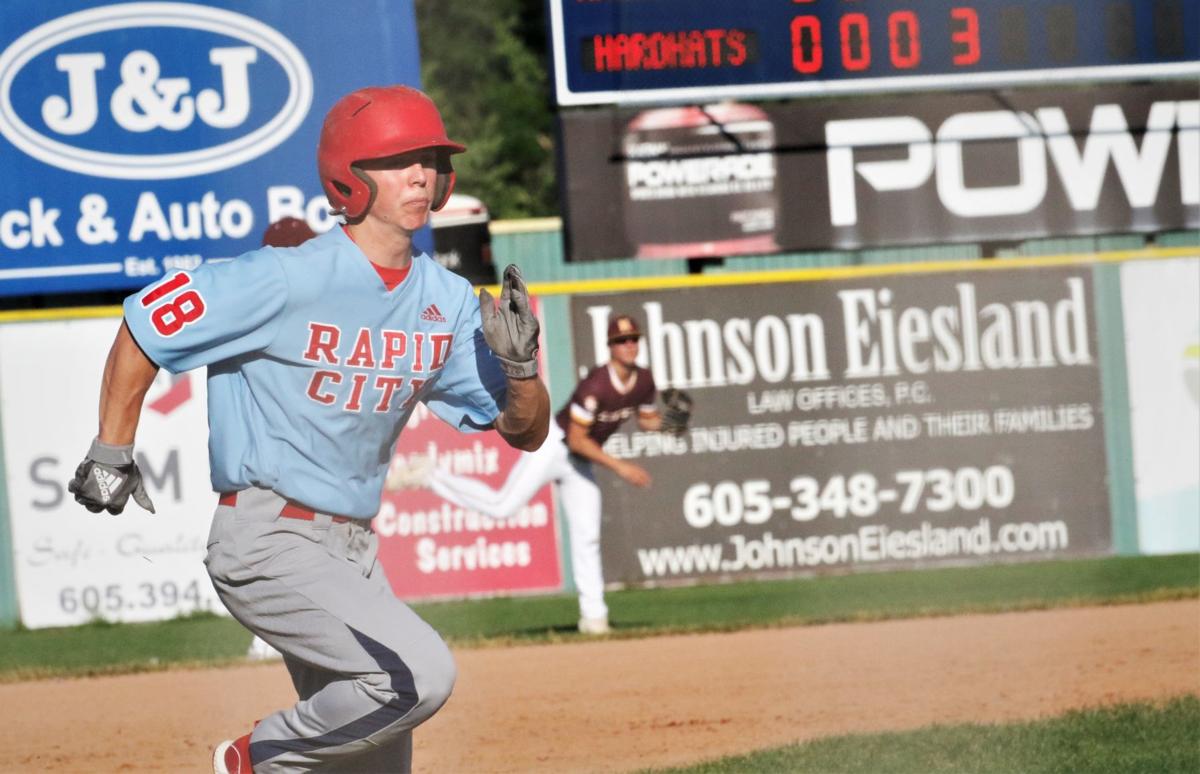 Although the COVID-19 pandemic has made the annual Firecracker Tournament a bit smaller than normal, there will be plenty of baseball at Fitzgerald Stadium to help celebrate the nation's birthday.
Eden Prairie, Minn., and Terre Haute, Ind., both dropped out of the tournament, which begins Wednesday at 2:30 p.m., making it a six-team field with 18 games in the five-day tournament.
Rapid City Post 22 head coach Kelvin Torve said that despite seeing the field drop from eight to six teams, it is going to be a competitive field, and it will be a fun tournament.
"The Firecracker is always fun," he said. "We'll get great crowds. There is baseball out there all day long."
The Hardhats, 14-5, open Wednesday night at 7:30 p.m. against the Rocky Mountain Lobos of Ft. Collins, Colo.
The other teams competing will be Gillette, Wyo., the Missoula, Mont., Mavericks and two other Colorado teams from Sterling and Premier West (Denver area).
"It is going to be a good tournament," Torve said. "I think Rocky Mountain, just from my uneducated opinion, will be the favorite. They are bringing their seniors this year, so they will be loaded. Missoula is always good, and then there is Premier West, Sterling, Colo., and Gillette, which has beaten us twice this year."
The Hardhats go into the tournament winners of nine of their last 12 games, but go in banged up with three of their top hitters — centerfielder Bransen Kuehl (.439), third baseman Dylan Richey (.500) and right fielder Blake Weaver (.268) — all likely out with injuries. Richey (3-1, 3.20 earned run average), Kuehl (1-1, 4.45) and Isaac Arnold (1-0, 1.75), who is also out, are also big parts of their pitching staff.
Torve said there is a slight chance that Kuehl could go on the mound Friday, but they don't know if they will push it.
"We're banged up, but we have a bunch of good players," he said. "Injuries are not an excuse, it is an opportunity for the next guy to prove himself. We have good players, and I expect us to play well and compete well."
Among the younger players who have stepped in this season include Hunter Tillery, Eli Oxner, Jed Jenson and Peyton Tipton.
Without some big bats in the lineup, Torve said they are going to need to work hard to manufacture runs.
"They are all younger, but like in the Harrisburg games, everybody contributed, whether it was a sacrifice fly, sacrifice bunt or stolen base. That is the key to us winning," Torve said. "Even though our pitching is banged up, we have three excellent starters. When you have good pitching, you are going to be in every game, so it comes down to execution. Against Harrisburg, we executed and I expect us to continue to do that."
The Hardhats still have their biggest power bat in second and third baseman Ryan Bachman, who leads the way with five home runs and 24 runs batted in, while hitting .411.
Shortstop Colton Hartford is hitting .361 with 17 RBI, catcher Dalton Klosterman is hitting .321 and first baseman Jake Goble is hitting .315 with one home run and is second on the team with 19 RBI.
On the mound, Tillery is 3-0, 2.37; Goble is 2-2, 2.45 and Zach Whitesell is 2-1, 4.55. In relief, Tad Scherbenske is 2-0 with a 1.54 ERA, Drew Scherbenske hasn't given up an earned run in 7 2/3 innings and Troy Wilhelm has a 3.28 ERA in 10 2/3 innings.
The Hardhats go into the tournament on a six-game win streak, including two victories over a good Harrisburg team Friday, 6-2 and 3-2 in nine innings.
"We played well. We took them head on, especially their second pitcher (Chase Mason), who has a bunch of D-1 offers. It took us nine innings, but eventually we got him," Torve said. "Zach Whitesell threw a no-hitter through five innings, and everybody contributed."
Torve said the Hardhats have played pretty good defense this season with just a couple of games where they lost their focus at times. They have committed 25 errors in 19 games, fielding .954.
"If you pitch and play defense you will be in every game," he said.
One of the tournament highlights each year is the annual fireworks celebration. This year's show will be at approximately 10 p.m. Saturday, following the final game of the night.
With Gillette, Missoula and three Colorado teams, Torve looks for all of those programs to travel well with their fans.
"With three teams from Colorado in which this COVID thing has hit pretty hard, I'm hoping they all bring a lot of fans just because we don't have the restrictions here that they were putting up with," he said. "I think people are ready to get out. Our crowds all year have been 25- to 50-percent bigger than normal. I'm expecting big crowds at the Firecracker this year."
After Wednesday's opener against Rocky Mountain, the Hardhats face Sterling and Premier West Thursday at 5 p.m. and 7:30 p.m. respectively, Missoula Friday at 7:30 p.m. and Gillette Saturday at 7:30 p.m.
The fifth-place game Sunday is at 9 a.m., followed by the third-place game at noon and the championship at 2:30 p.m.
Last year there was about five inches of rain that dumped on the Dave Ploof Field that caused a few backups in the tournament.
"The only game we lost was the championships game," Torve said. "We're preparing for rain if it does rain. I'm just hoping we can avoid it this year."
Be the first to know
Get local news delivered to your inbox!