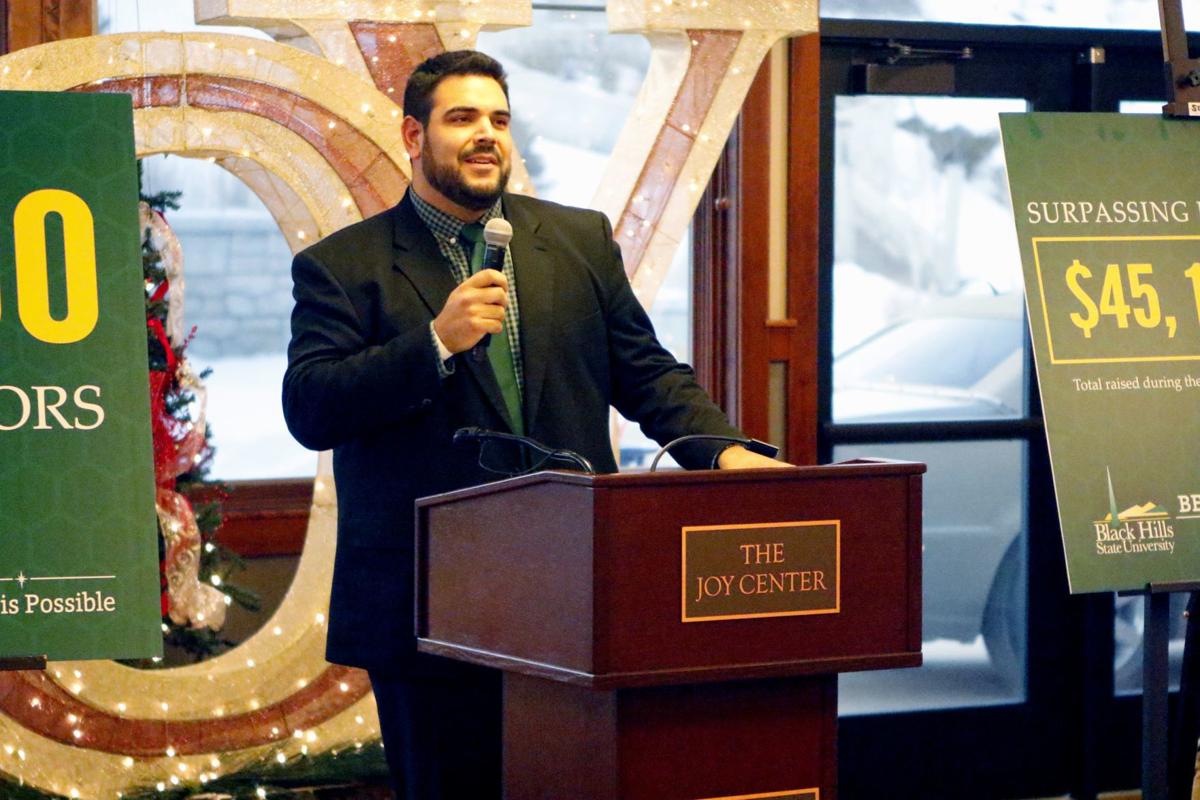 First-year Black Hills State University head football coach Josh Breske has announced 10 freshman additions Wednesday as part of National Signing Day.
They include: Kian Conway (RB, 6-1, 205, Blanding, Utah), Joshua Rowe (QB, 6-3, 180, Pierre), Cameron Reiman (OL, 6-4, 300, Monument, Colo.), Cyrus Varnum (OL, 6-3, 275, San Diego), Trey Witcher (DE, 5-11, 235, San Antonio), Conor McGraw (LB, 5-11, 175, Hanna, Wyo.), Shane McGraw (LB, 6-0, 185, Hanna, Wyo.), Kelby Olson (WR, 6-2, 180, Belle Fourche), Claysen Davis (DE/TE, 6-3, 240, Cody, Neb.), Connor Mendez (WR, 5-8, 165, Rawlins, Wyo.)
Coach Breske: "Primarily plays running back and linebacker in high school but will transition to strictly linebacker in college. Does a good job of accelerating out of his cuts and changing speeds. Is a good open field tackler who likes to put his chest on the ball carrier and does a great job of wrapping up with his arms. Showcases good balance and ball skills when playing running back that will carry over to defense. Has a great upside at linebacker as he gains sizes with his ability to accelerate and physical playing style."
Coach Breske: "Young man with good size and great athletic ability. Showcased his versatility in high school by playing a lot of different positions. Has good hips and ability to change direction and accelerate quickly. Tons of potential when he moves back to Linebacker with his combination of size and speed."
Coach Breske: "Josh is a superb all-around athlete with championship pedigree. He has the ability to hurt defenses with his legs and his arm."
Coach Breske: "Trey is a strong, fast, dynamic defensive lineman who comes to us with the potential to be a dominant force in the RMAC. As a player, he's the perfect blend of power, technique, and the defensive 'attack' mentality whose athletic ability is out shined only by his exceptional maturity, character, and focus."
You have free articles remaining.
Coach Breske: "Cyrus is a multi-sport athlete with only two years of football experience. He has the size and length to become a premiere offensive lineman in the RMAC. Look for him to just get better and better with time in the trenches."
Coach Breske: "Cam is a big man that brings a Colorado state championship with him to Black Hills. He is an athlete that played on the edge at tackle but has the mental capacity and versatility to play multiple spots up front. Look for him to add value right away for the Jackets."
Coach Breske: "Kian is a coach's kid who was an absolute workhorse for San Juan. He is not your typical running back this athlete has the size and strength and run through you and the speed to run by you. He is be a day one contributor with our special teams and look to add tremendous value for us on offense."
Coach Breske: "Kelby is the smooth athlete from just up the road in Belle Fourche. Another multiple sport athlete to add the recruiting class, Kelby, also played multiple positions on offense for the Bronc's as well as both sides of the ball. This kid can dunk a basketball with ease and is just a well rounded player."
Coach Breske: "Clayson is a strong, solid defensive lineman that has a great feel and grasp of the game. The level of tenacity and toughness that he plays with is going to help our defense exponentially. He embodies the values of our culture and we are excited to welcome him to the family"
Coach Breske: "Don't let Connor's size fool you this guy is a lighting in a bottle. His skill set fits what we do on offense very well and will be able to utilize those skills all over the field. I love that he was a two way player because it shows that he can do a lot of different things for us."