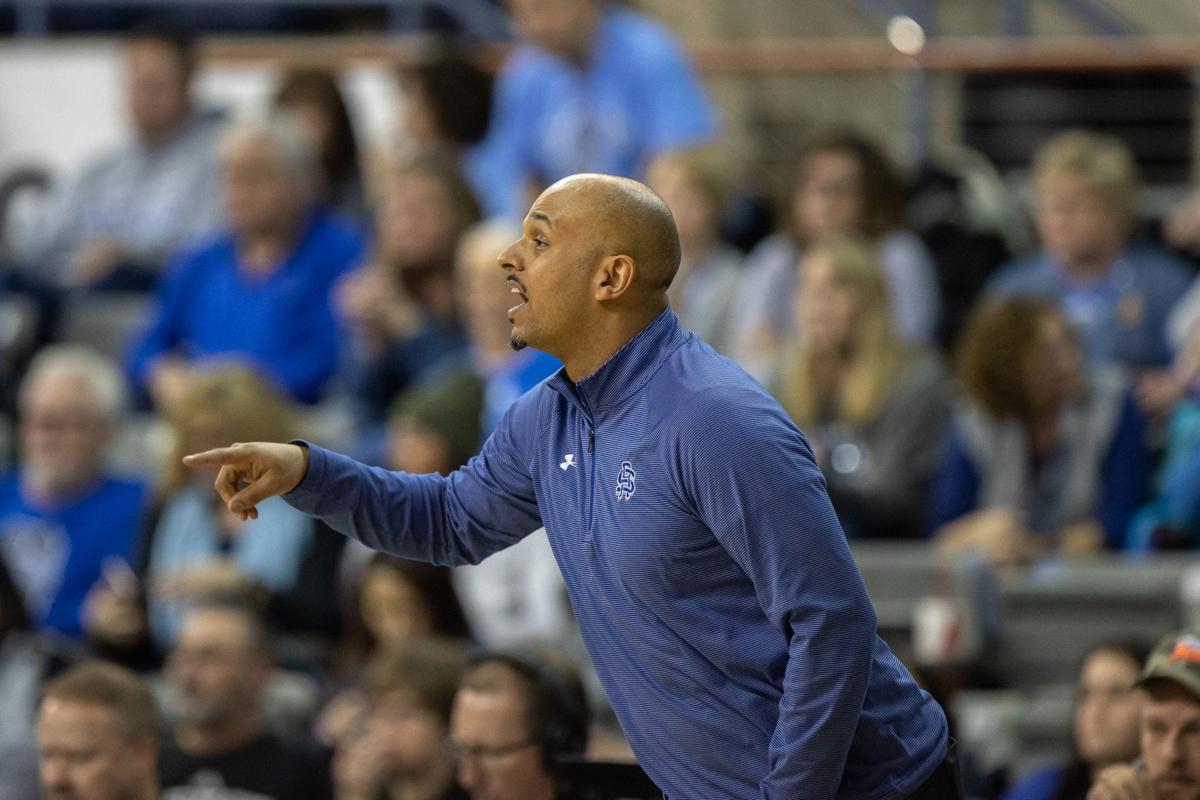 Michael Brooks will return as head coach of the girls basketball program at Rapid City Stevens a year after he stepped down from the position, according to the press release Monday from Stevens activities director Jared Vasquez.
"We are excited to recommend Michael forward and for his return to the role of the leader of the Raider girls basketball program," Vasquez said. "He has proven himself as a Raider head coach, assistant coach and educator. He is a valued asset to our teaching staff, coaching staff and Raider community."
Brooks stepped down as the Raiders girls basketball coach after coaching Stevens to a fifth-place finish at the state Class AA tournament to conclude the 2018-19 season. The Raiders finished with a 17-7 record that season, his third as the school's head girls coach.
Stevens went 19-1 during the 2019-20 season under interim head coach Travis Swartz. The Raiders were ranked near the top of the Class AA girls power polls much of the season with Swartz at the helm.
Stevens' only loss of the 2019-20 season came on Jan. 25 when the Raiders dropped a 58-40 decision to top-ranked Sioux Falls O'Gorman. Leading scorer Kyah Watson sat out that loss after injuring her knee the night before against Sioux Falls Roosevelt.
During his first stint at Stevens, Brooks guided the Raiders to berths in the state Class AA in each of his three years.
In addition to winning the consolation championship in 2019, Stevens finished seventh at state in 2018 and fifth in 2017. He served as an assistant coach at Stevens last season, working for Raider head boys basketball coach Chris Stoebner.
"I am humbled and honored to have the chance to return as the head coach of the Raiders girls basketball team," Brooks said. "I appreciated the chance to serve as an assistant coach under coach Stoebner this past season. The opportunity gave me the chance to grow as a coach and spend more time with my family.
"I enjoyed watching the girls flourish under coach Swartz, and I am thrilled to be able to work with him once again. This is a team of talented and hardworking young athletes, with a true passion for the game, and I look forward to helping propel them in their individual pursuits and, most importantly, as a team that is poised to improve and compete well next year."
Brooks' hire is pending RCAS school board approval.
Be the first to know
Get local news delivered to your inbox!