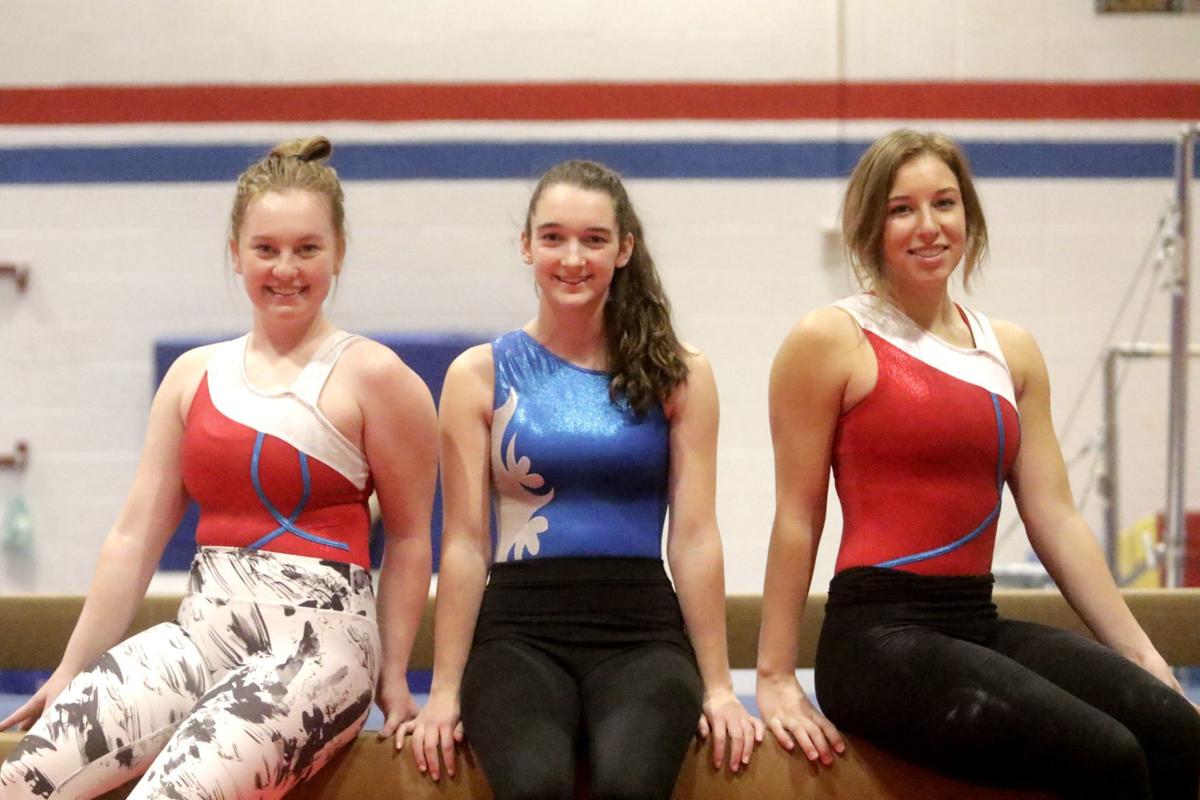 Relatively young but with a bit of experience, the Rapid City Central and Rapid City Stevens gymnastics teams kick off the season Saturday in Sioux Falls at the Lolly Forseth Invitational
The 11-team meet begins at 10 a.m. (MST) at Sioux Falls Lincoln.
Each roster has just a couple of seniors, but in both cases, even though some of those seniors are in their first year on the high school teams, they come with club experience.
Veteran Stevens and Central coach Pam Junek said that combination gives them some optimism for a successful season.
"We're pretty excited about the girls we have going out," Junek said. "We do have a couple of veterans on each side that will be there, so they have some experience. But we have some new girls so that is always exciting too. Our practice season is very short, and here we are getting ready to go to our first meet."
Among the first-time high school senior competitors are Kendall Diehl of Stevens and Izzi Arguello of Central.
Diehl was a club gymnast for about 10 years, but she had to quit because of a back injury. Last year she came to take pictures for the school yearbook, and after seeing some of her old gymnastics friends competing, she decided to give it one more try.
"It was a little hard to start getting back into it, but I am excited for this weekend," Diehl said. "I'm still a little scared, but I hope it goes well, and just keep improving."
"She's doing very well; she brings another level," Junek said of Diehl. "She is very graceful and presents herself in that area. A former competitive club gymnast, so this has been a bit of a change for her, but we're excited to see where that brings her."
Arguello is another senior in her first season with the Cobblers after a few years of club gymnastics. She said she isn't completely sure what to expect early on this season.
"We do have a really good team, so I do expect to see good things to happen from it," she said.
Added Junek of Arguello: "We're happy to have her; she will be a contributor to our team."
Coming out for high school gymnastics — especially with Central and Stevens practicing and competing together — has been a fun team aspect for Diehl and Arguello.
"I really enjoy practicing with both teams because it makes it a bigger group, especially the kids I have practiced with since I was little," Diehl said. "It will be fun to compete as our separate schools, but still be fun to be there cheering each other on."
You have free articles remaining.
The difference between club level and high school can often start in the scoring, Arguello said.
"That is a lot different, so there are a lot more things you have to think about when you are making up routines and what skills you need to get," she said.
Each team also has some veteran senior leadership, with Emirra Returns for the Raiders and Reece Lowe for the Cobblers. Returns comes back with the most success, as she was 13th in the all-around, 14th on the floor and 15th on the balance beam at state last year.
"Emirra had a pretty successful year and she is pretty strong," Junek said. "She has been working out this summer and putting in a lot of hours, so she has set pretty high goals for herself, so we are excited to see how the season goes for her."
Lowe is also a individual state returner and is also excited about the Cobblers having a shot to go to state as a team this season with a fuller roster.
"It will be my third year, so I know more about what the meets are like and what is going into it and stuff," Lowe said. "This year we actually have a team, so that will be exciting. We could have a chance to go to state as a team. It's refreshing to not just have to worry about yourself, and have teammates help you motivate each other."
"Reece Lowe has set some goals for herself as well. We look for big things to happen with her," added Junek.
Also for Stevens, Junek said that sophomore Hannah Wheeler is coming along, as well as sophomore Emily Adams, another competitive gymnast out for the team. The rest of the roster includes sophomores Taralynn Yellow and Leanna Burgess.
For the Cobblers, sophomore Matayah Yellowmule is back, although she missed the end of last season when her family moved out of town. "We're excited to have her back," Junek said. "She will be strong."
Sophomore Ciara Sieveke, another club gymnasts, is someone Junek said they are looking for big things from, while while freshmen Chloe Iron Lightning and Mallory Neal and eighth grader Emily Sherman are also on the roster.
Also new to the program is assistant coach Tracy Locke, who came to Rapid City from Florida. "She has been a huge asset, so we're excited about having her too," Junek said.
Junek said staying on the equipment would be the best thing they could do the first time out.
"It's always rough starting off, because we only had 15 practices before this meet, and then we had some weather issues that stopped some of that," she said. "The first three meets are big meets. This meet is 11 teams, the one next weekend is 14 teams and the next one is nine teams. But we're competing against everybody on the eastern part of the state, so these are the girls we will be competing against at state."
Junek said that defending state champion Watertown will have another strong team, and Mitchell already has scored a 142 (all-around), so the Kernels are strong. Yankton will contend as well.
The key for the Raiders and Cobblers is working together as a team by the end of the season. She said that some of the areas that they have struggled with in the past is to understand that it takes everybody to accumulate that team score.
"A lot of these girls that have been in higher level club gymnastics, they don't have a team because there are fewer and fewer gymnasts willing to put in the sacrifice," she said. "When you pull them in here, and go, 'Okay, we need to work more as a team, and really think about everybody, it is really different for them to do that."