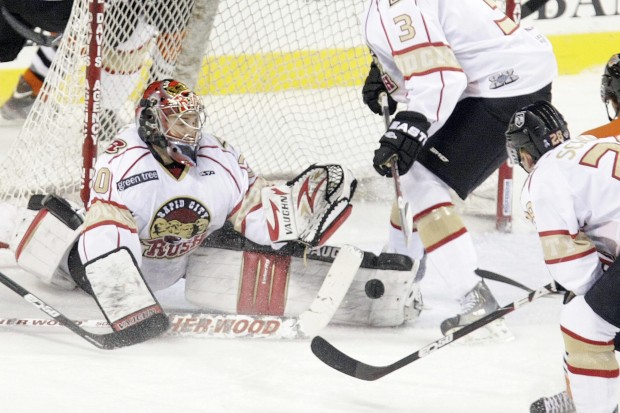 All that practice playing the puck paid off for Rapid City Rush goaltender Danny Battochio.
Just days after NHL netminder Cam Ward of the Carolina Hurricanes accomplished the feat, Battochio tallied the first goal scored by a Rush goaltender to cap a 6-2 victory over the Tulsa Oilers on Saturday night.
With Rush defenseman Riley Weselowski in the penalty box for a late-game hooking call, the Oilers were already up a man on the ice.
Battochio and the Rush penalty killers faced a 6-on-4 man advantage when Oilers coach Bruce
Ramsay pulled goaltender Mike Garman for yet another attacker with 4 minutes left.
As he has done in countless practices, Battochio cleared the puck out of danger with a purely defensive move, lofting it out of the crease toward the neutral zone.
"It was funny. I paused for a second on that play. I saw them pass it and try to get it out to their point guy. I pushed it out and didn't think anything of it," he said.
The puck landed and skittered the length of the rink, just clearing the inside of the right post of the empty Tulsa net.
"I saw it go and I said, 'Go, go, go in,' not thinking it was me," he said. "Then I was thinking, 'Hey, I just made a save there. That should be me.'"
Once Battochio realized the goal was his, he jumped, pumped his fists and was mobbed by teammates.
Goaltender-scored goals are rare, usually happening under similar circumstances, a clearing shot that finds a 6-foot wide target from at least 180 feet away, even if the puck deflects off an opposing player.
Twelve NHL goalies have been credited with goals, including Ward's effort in a 4-2 Carolina win over New Jersey on Monday.
Three of Battochio's nine career assists have come as a backstop for the Rush. There have been four goaltenders to score in CHL history, with the previous one coming from Arizona's Mike Wall in 2007.
"It's good luck if anything," Battochio joked.  "I might go out and buy a lottery ticket."
But luck and his own preparation played a role. Part of his practice regimen involves skating out several feet in front of his own net, then lofting pucks over the crossbar to hone his puckhandling skills.
Ironically, Battochio had donned player gloves and a stick for the game-day warmup on Saturday.
"I just like to go out there and shoot around and get the legs loose," he said. "I didn't want to do too much since I had played the night before.
"Guys were talking about scoring goals and I was joking that I had scored three in the empty net. It was a big goof (Saturday morning) and now it's pretty comical," he said.
Battochio also had a stellar weekend at his regular job, stopping 23-of-25 shots in Friday's 3-2 overtime win over the Oilers, and turning aside 22-of-24 on Saturday.
The netminder brought Saturday's sold-out crowd of 5,119 to its feet withstanding a flurry of point-blank shots late in the second period.
"He was on his back making saves. I was out there for that shift. It was the last 40 seconds and he was just making marvelous saves," Rush captain Scott Wray said.
Now Wray has a scoring threat in one of his goalies.
"Three more (goals) and he's got as many as me," he quipped. "I told him to slow down a little bit."