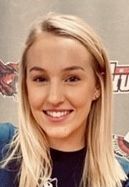 The South Dakota School of Mines women's basketball team may have just started its 2019-20 campaign, but the Hardrockers are already looking to solidify next year's roster with the signing of Bailey Johnson.
Johnson, a 5-foot-7-inch guard from Rapid City, will transfer in as a junior from Casper College, Wyo. She went to high school at Rapid City Central.
"We are thrilled to have Bailey coming back home and joining our Hardrocker family as our first signee. She comes from a fantastic family here in Rapid City and has multiple Hardrocker connections," said Hardrocker women's head coach Jeri Jacobson.
"She is a tireless worker and a person of extremely high character – the epitome of who we want to continue to bring into our program. Bailey also brings a wealth of experience and maturity which will help her make an immediate impact. She has had a very successful career at Casper College the last two years with Coach Dwight Gunnare. They are off to a 7-1 start this season in large part to Bailey's efforts."
At Central, Johnson served as team captain, was an academic all-state member; team MPV, five-year letter winner in track; three-year letter winner in basketball and a two- year letter winner in volleyball.
While attending Mines, Johnson plans to pursue a degree in Industrial Engineering.
"I'm so excited to be able to follow in the footsteps of my dad, grandpa, brother Bryce, and two uncles," Johnson said of attending South Dakota Mines. "I'm so excited to be able to play in my home town for my friends and family again."
Be the first to know
Get local news delivered to your inbox!