Cody O'Neill is a big, strapping young man used to mixing it up in the trenches as a football player and now as an assistant coach for South Dakota Mines. He's spent hours upon hours preparing for the next battle.
But nothing could have prepared him for what he was about to hear.
O'Neill's heart-pumping function, almost out of nowhere, suddenly was down to 25%, 20% and even just 15%.
His battle was not out on the football field, but in life. He needed a new heart.
"I'm usually not a very emotional person," said O'Neill via telephone from Woodstock, Ill., where he recuperated from a heart transplant. "When they told me that I was going to have a heart transplant, I broke down and cried. It took me until they put me on the stretcher to take me to surgery to really buckle down and say, 'This is it. I'm going to be okay.'''
For the most part, O'Neill thought he was a healthy man. He was an offensive lineman at the University of South Dakota and had worked his way to Rapid City as the offensive line coach for the Hardrockers.
But one day in March, everything changed.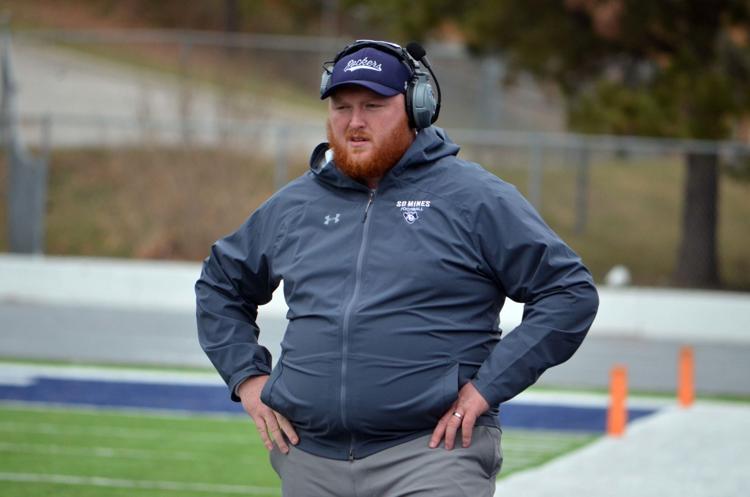 It appeared to be a typical time for a young family — wife Kelsey, 2-year-old daughter Emersyn, and another baby boy on the way. Little Emersyn came home from daycare one day with a cold, and O'Neill believed she had passed it on to him. But after about a week or so, he noticed his breathing was getting a little tough. Still, he didn't think too much of it.
Suddenly for about three nights he would wake up from sleep gasping for air. Still, he thought it was just something like bronchitis.
After a chest x-ray, doctors called him a couple of hours later telling him that his heart was severely dilated and he needed to get an echocardiogram right away.
He still didn't think too much of it, but a little later they called again and told him to get to the emergency room stat. His heart-pumping function was at only about 20% when it should have been over 60%.
"I was like, 'Oh, OK,'" he said.
He checked into Monument Health in Rapid City March 10 and spent just over a week there while some of the fluid was drained from around his heart.
O'Neill left the hospital wearing a LifeVest — a personal defibrillator worn by a patient at risk for sudden cardiac arrest — which he continued to wear for about two and one-half months. The vest was working and the medications were doing their job — or so he thought.
He and Kelsey traveled to Sanford Medical Center in Sioux Falls for another opinion, and it turned out to be an opinion he wasn't expecting.

In July, doctors implanted an ICD (implantable cardioverter defibrillator) in his chest, which doubled as a pacemaker and would shock him if his heart stopped. He said he felt fine for about three weeks but started to become short of breath again. He went back to Sanford and doctors ended up draining an additional four liters of fluid from around his heart.
O'Neill spent a week and a half in the hospital there before returning to Rapid City and going back to work at about the time the Hardrockers started fall camp.
"Obviously it was unexpected with Cody being a college athlete and continuing to stay active," said Kelsey. "Being in our 20s, it was obviously not something that we anticipated. It's been a real roller-coaster since he was first diagnosed."
O'Neill coached in the first three games of the season, with the third game being a long bus trip to Colorado Mesa in Grand Junction, Colo. Kelsey told him she didn't think he should go.
"I thought, 'I can't not go, it's my job,'" he said. "I had been at all of the practices. I'm going to tough this thing out, not thinking that my life was on the line."
After the win against Mesa, he said he could feel his body not responding, with pain in his mid-section and his legs swelling up. It was the first time that the swelling wasn't going away.
Returning home Sunday afternoon, O'Neill walked through the door at his home and immediately said to Kelsey, "One, I should have listened to you, and two, I think we are going to need to go to the hospital."
They went back to Sanford and after more tests he was transferred to Northwestern Memorial Hospital in Chicago Oct. 31.
They talked about the options. One option was a pump being inserted in his heart, which would take over the functions of the heart with wires coming out and battery packs. He wasn't too excited about that because he had a 2-year-old.
A couple days later they talked transplant. He said he could have been waiting there for a match for months or even a year.
"It was pretty tough," he said. "This is the first time I even thought about a transplant and they do 50-some a year. It's incredible. They are known for it and we couldn't have gotten luckier to be able to go to Northwestern and go through this process."
The transplant team of about 25 people (doctors, psychologists, engineers, social workers) met with Cody and Kelsey on a Friday morning and told him Monday he was eligible for a heart transplant.
They inserted a balloon pump in his chest to help the pumping function of his heart which was now below 15%. Things weren't getting better.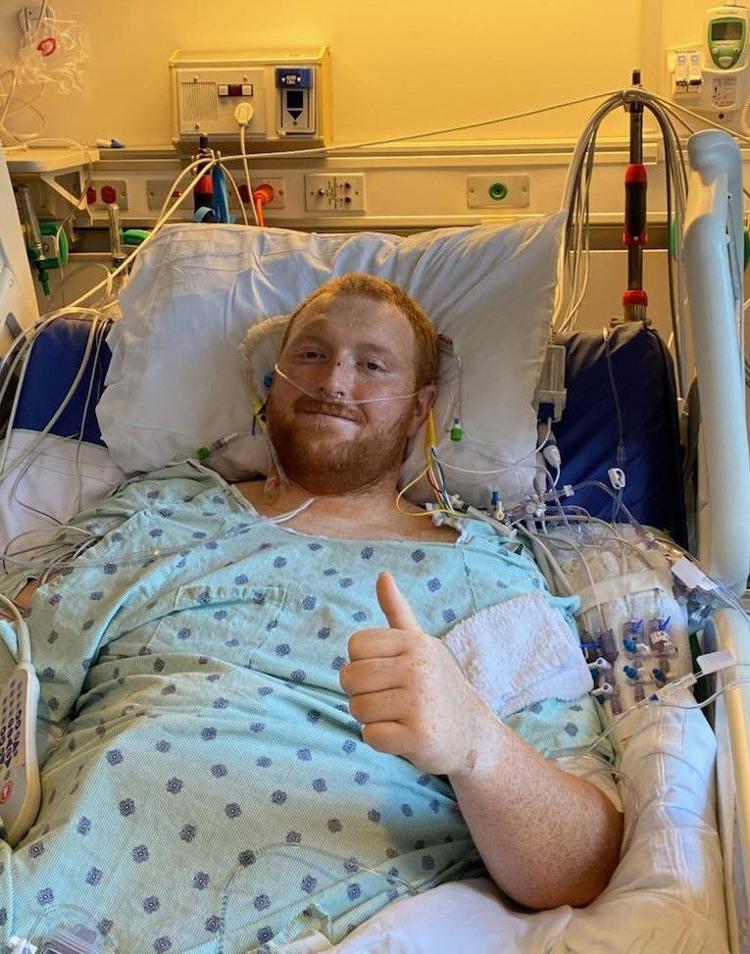 As it turned out, he was only on the transplant list for about a week. O'Neill was put on a transplant list on a Thursday morning and a heart was proposed for him that Saturday. The medical team had found a suitable heart and he had the transplant Nov. 18.
O'Neill said he always thought he was a mentally tough person, but preparing and waiting for a heart transplant was tough on himself and his family.
"Playing football at USD, I had ultrasounds on my heart and never had an issue," he said. "For this to be where I'm at, at 29, 'Oh my goodness.' What did I do to be in this situation? But it is one of those deals that you deal with and just get through it.
"This was a daunting process. We get to Northwestern and the doctors were great but it was a week and a half to two weeks of unnerving waiting to see what happens," Kelsey said. "Finding out he needed a transplant at 29 was definitely nothing that would have been expected."
When O'Neill arrived at Northwestern he weighed 340 pounds. The day before his transplant, he weighed 293. That gave him a little perspective on what was going on.
"Maybe my body and my heart weren't working for a long time," he said. "Even back in March doctors said it was a viral infection and it wasn't COVID."
After the transplant, O'Neill woke up the next day with the breathing tube in but he wasn't in a lot of pain, which was one of his biggest fears, other than not waking up. He was on his feet the next morning.
"I felt so much better waking up, even with the breathing tube in," he said. "All of the pressure on my stomach and legs was gone. I could breathe and I knew my heart was working."
At the age of 29, Cody O'Neill had a new heart. Just understanding that is still hard to process, Kelsey said.
"I don't think the doctors even expected this, which is what makes it still harder to process. It's hard to believe he had a heart transplant," she said.
It's been about eight weeks since the transplant. Initially there was some additional fluid around his heart and his kidney function wasn't where it needed to be. O'Neill went home to spend time with his family for Christmas before going back in the hospital later that day for another week. He's been out since Dec. 31.
"We're just so grateful that the problems he has had were fixable and not major in terms of the heart function or transplant," Kelsey said.
So far he has not rejected the new heart.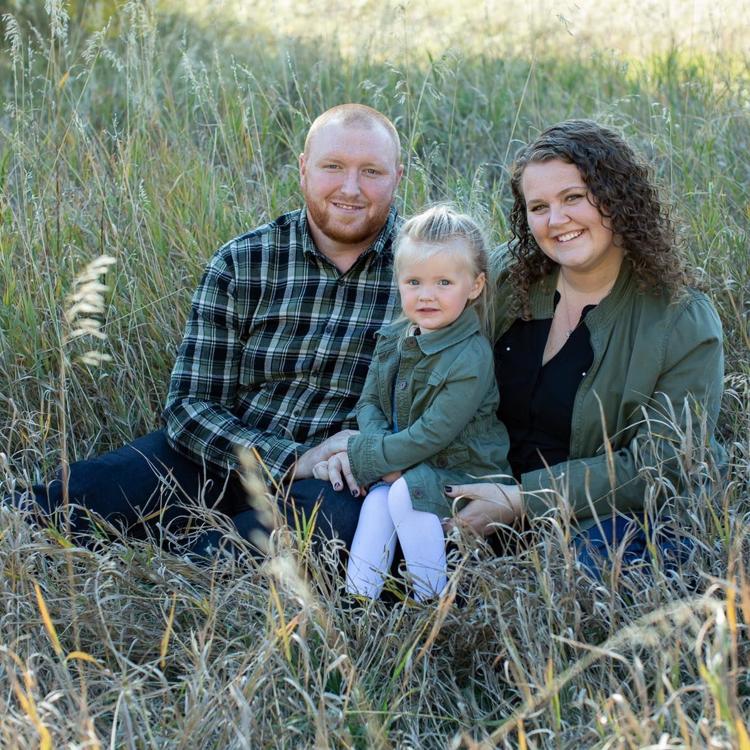 "The biggest thing that scared me was knowing I had a young family, a 2-year-old, a wife, and a baby on the way," he said. "It still does scare me knowing that this heart transplant isn't going to last forever. It is definitely a scary deal."
At this time, O'Neill doesn't know whose heart he has in him and he said he won't be able to find out — if he or the family of the donor want to get together — until six months after the surgery.
"My wife has asked me, and I don't know if I want to find out," he said. "I hadn't even thought about that yet. I'm just enjoying feeling better and spending time with my family. I think at some point I will. I've been given the greatest gift that anybody can be given, and that is life."
O'Neill said before he does anything to get back to work, he has to be 100%. He's not allowed to go back to work for at least six months following surgery.
"Once I get closer to that time I will put more thought into it," he said. "Right now I'm just trying to make sure I do everything that I can to get healthy, get the green light when it is time and go from there. Football has been my life since I was 7 or 8 years old. I don't see football ever leaving. But life, getting healthy, is my number one priority."
O'Neill was retained by Mines head coach Charlie Flohr before this past season and Flohr said he did an outstanding job, even when his health was deteriorating.
"Cody is an outstanding young man,"  Flohr said. "I talked to a lot of people about Cody and what type of coach he was when I took the job. He checked all of the boxes of what I was looking for in an offensive line coach. Cody and I have built a really good relationship, and he did an outstanding job with the line with the circumstances he was going through.
"He's a tough kid and has a real passion about football. I can't say enough great things about him. Our biggest concern is Cody's health. Once he gets healthy and is able to return back to the field with us, we'll take him back with open arms."
Add to the mix that the O'Neills are expecting their second child in about two weeks.
"It was not what we had anticipated for sure, but we're grateful that he is home and will continue to be home," Kelsey said of Cody. "We'll add another kid to the chaos."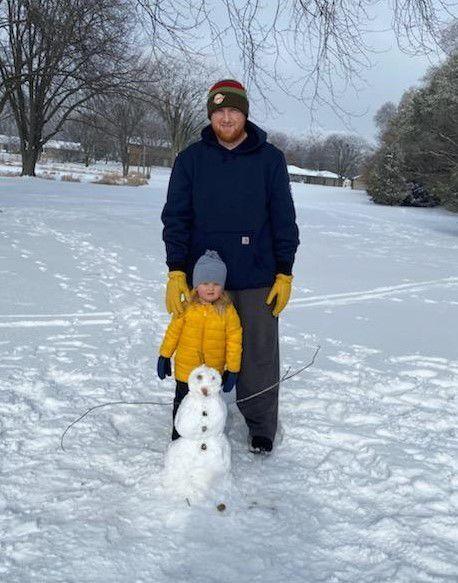 O'Neill has to take it easy these days, and can't even lift Emersyn. But he's home and enjoying his family, enjoying life.
"It's not cool when you are staring down the gun barrel and they tell you they are going to take your heart out of your body, but it was absolutely amazing to wake up and be told you have another chance at life," he said.