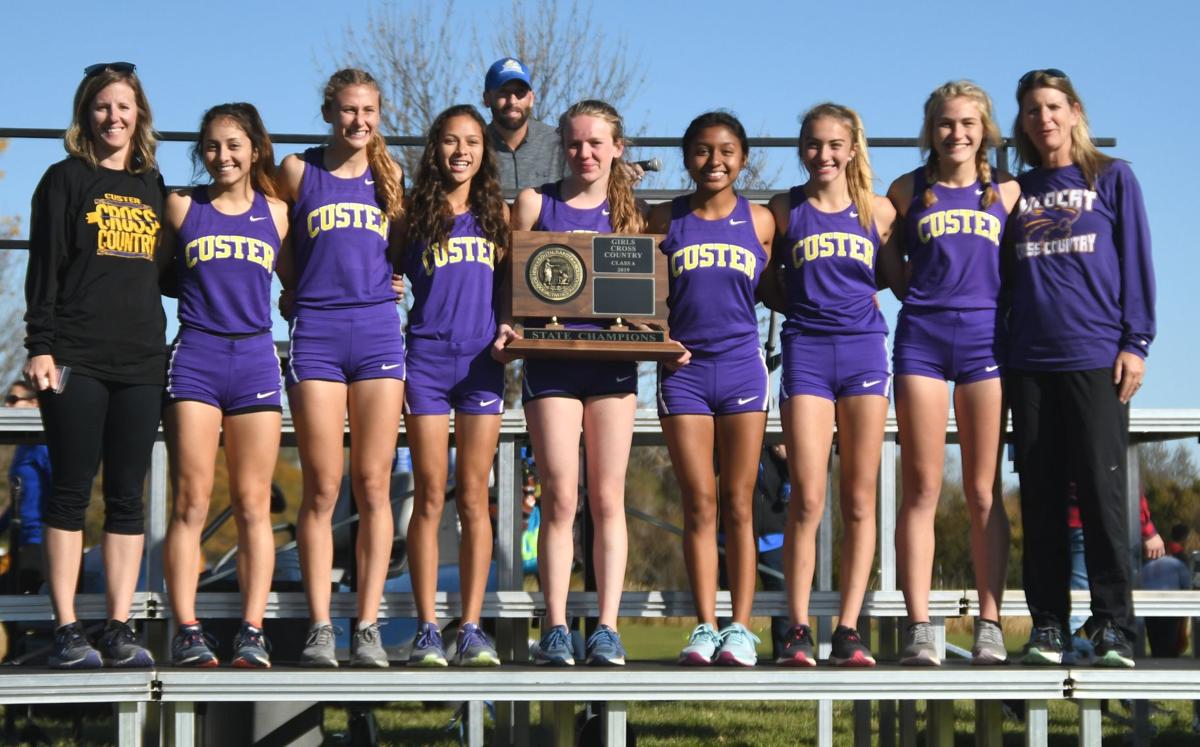 After winning last year's Class A state title, the Custer girls cross country team was poised for a repeat in 2019.
Thanks to some depth and six top 20 finishers, three of which were in the top 10, the Wildcats added another state title to their trophy case Saturday at Broadland Creek Golf Course in Huron.
Not only did Custer run past the rest of the field, it did so in somewhat easy fashion as it finished over 40 points ahead of second-place Hill City.
The Wildcats topped the rest of the field with 28 points, followed by the Rangers with 69 and Chamberlain, which was third with 99. 
Custer coach Karen Karim credited the win to the teamwork, depth and performances by the seniors on the team.
"They had a fantastic day and I was thrilled with the result," she said. "We had six girls in the top 20 and every girl had a great time, faster than the last time we ran here in Huron. They really came through today."
"We had a couple of seniors earn medals (Mallory Delmont and Josie Dvorak). It was really nice to see them go out with the win," she added. "The order of my finishers has been switching all season. They follow each other and pick up the slack for each other. My girls were in a fairly tight group, and from the first time I saw them go by, I was excited to see where they were and they held on to that."
Delmont led the way for her team in the individual standings with a fourth-place finish in 19 minute, 22.4 seconds. Sierra Oesterling took seventh in 19:38.9 and Ramsey Karim rounded out the top 10 in 19:51.6.
Other top 25 medal winners for Custer included Kadense Dooley in 15th place (20:10.06), Dvorak was 16th (20:16.4) and Eva Studt earned the 20th spot in 20:26.7.
"At some point in time, there is a tradition and an expectation, and they would be disappointed if they didn't win again," Karim said. "Girls like Delmont, who is a senior and my leader, she has had a medal every year since seventh grade. For her to do that is pretty amazing. Two back-to-back titles and that partly is thanks to her. Those will be some tough shoes to fill."
Ali Bainbridge of Lennox earned the top spot in the race in 18:54.6, while Abby Cutler of Hill City closed out another solid season in second (19:00.9). Sara Jones of Lead-Deadwood took third in 19:05.6.
One of the aspects Karim pointed to as a reason for her team's success is the competition they face in their region on a week to week basis.
"I have to say, with Hill City as runners-up again, our region had plenty of medal winners," she said. "I think it helps to come from a strong region and have that West River showing. There is some great competition for us and it is exciting."
On the Class a boys' side, the St. Thomas More team earned a third-place finish, but weren't too far out of second.
Sioux Falls Christian topped the team results with 40 points, Vermillion was second with 57 and the Cavs followed closely with 62. Custer was only six points out of a top three finish with 68 and Lennox took fifth with 105.
Individually, Sawyer Clarkson of Belle Fourche finished first in 16:25.1, followed by Adam Consoer of Hot Springs (16:29), Nick Batchelor of Milbank (16:30.1), Jarek Glenn of STM (16:44.7) and Simeon Birnbaum of Rapid City Christian (16:49.5).
In the Class AA ranks, the Rapid City Stevens boys and girls both earned third-place finishes in their respective races.
For the boys, Sioux Falls Lincoln (39) edged Aberdeen Central (44), while the Raiders were third with 111. 
Andrew Lauer of Sioux Falls Lincoln topped the individual ranks in 15:42.6. Aaron Ryan of Aberdeen was second in 15:58.1 and Zeb Mendel of Lincoln placed third in 16:10.9.
Lincoln also took the team title on the girls' side with a score of 35, Sioux Falls Roosevelt was second with 98 and the Raiders took third with 119. 
Alea Hardie of O'Gorman took the individual title in 18:12.2, Mia Wentzy of Brandon Valley was second in 18:36.9 and Caroline Sudbeck of Lincoln earned third in 18:40.2. 
Wall led the West River teams in the Class B ranks with a second-place finish in the girls' race. 
The Eagles were just two points behind top-ranked Dakota Hills, which finished the day with 32 points. Burke rounded out the top three with 49. 
Madison Fairly of Gayville-Volin paced the individual standings in 19:14.2, Jones County's Jolie Dugan was second in 19:59.7 and Hallie Person of Burke closed out the top three in 20:11.5. 
On the boys' side, Burke took the team title with 37 points. Timber Lake was second with 45 and Platte-Geddes finished third with 47. 
Cody Larson of Warner won the individual title in 16:32.8, followed by Jonathan Burkhalter of Bison (16:45.4) and Dylan Mollman of McIntosh (17:14.9).