Freshman Ryder Kirsch's put-back layup at the buzzer lifted the Black Hills State University men's basketball team past Colorado State-Pueblo 77-75 Tuesday night in Pueblo, Colo.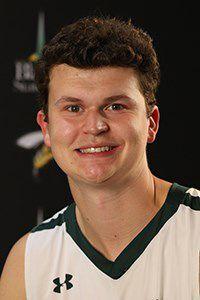 The win was the second in two nights in this four-game week-long Rocky Mountain Athletic Conference road trip before next week's postseason tournament. Black Hills State is now 9-5 in RMAC play and 9-5 overall.
The Jackets overcame a 12-point deficit late in the second half to walk away with its sixth straight victory.
Kirsch, a St. Thomas More graduate, grabbed a career-best 11 rebounds while going 3-of-4 from the field, scoring six points. He put back a missed shot by Sindou Cisse to break the 75-all tie for the game-winner
Joel Scott led the Jackets with 27 points, making 10 from the field to go along with six rebounds.
Adam Moussa continued his success from beyond the arc this season as he shot a career-best 5-of-8 from 3, with 16 points and three assists.
Cisse also scored 16 points to go with six rebounds, a block and a steal.
The Yellow Jackets opened the scoring on a Cisse layup, starting strong as they built a lead from there. Moussa made a 3-pointer to push the lead to 9-4, and then three minutes later, sank back-to-back threes to give BHSU its largest lead of the half, 18-10.
CSU Pueblo began to inch back, drawing even at 27-all before taking its first lead of the game on a pair of free throws to go up 29-27. BHSU took back the lead when Trey Whitley hit a 3-pointer to go up 32-31 with 3:33 left in the half, but it would eventually be the ThunderWolves who would hold the advantage going into halftime, 38-36.
Out of the break, the Yellow Jackets worked to tie things back up at 45-all on a pair of Scott layups, but CSU Pueblo charged back from there to move ahead 60-50 midway through the second half. The ThunderWolves extended their lead to as many as 12 points before BHSU used an 8-0 scoring run, carried by a trio of Scott layups, to cut the CS- Pueblo lead to 68-64 with under five minutes to play.
The Yellow Jackets continued to chip away until Moussa's fourth 3-pointer of the game put them back on top, 71-70 with 1:20 to go. A few plays later, Moussa hit another trey and then sank a free throw to move BHSU ahead 75-72, but Pueblo answered with a three of its own to bring the game to its seventh tie of the game at 75-75 with under a minute to go.
David Simental led all scorers for CSU-Pueblo with 34 points, followed by Tristan Huerdle with 16 points, Lian Ramiro and Alex Reed with 10 each. The ThunderWolves fell to 3-12 and 3-12.
The Yellow Jackets will continue their road trip on Friday night in Lakewood, Colo., against Colorado Christian, before closing the regular season Saturday at MSU-Denver.