Allison Kahler began to cry when she sunk her final putt of the Region 6B Tournament on Monday at Hart Ranch Golf Course.
The tournament proved an emotional one for the Bison senior, as well as teammates and head coach Jeffery Johnson, despite a third straight region team title and third straight individual region championship for Kahler.
It marked the final West River tournament for the defending Class B state champions, comprised of four seniors, which sunk in at the end of their rounds.
"It's sad that it's coming to an end," Kahler said. "All I can do is be thankful that I've had so many beautiful rounds with this team. It's like a family. We're all so close and I'm thankful for the time that we've had together."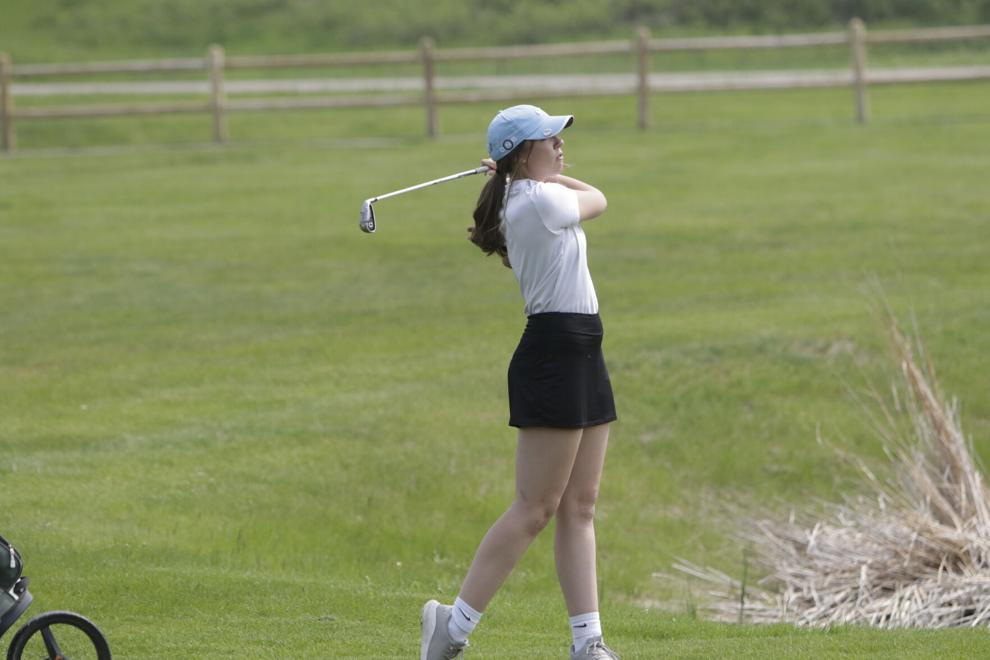 Kahler, defending Class B co-champion Greta Anderson, Mary Carmichael and Ella Anderson have played together for years. At the end of the day, it became clear that their time together was limited.
Johnson also teared up as each one of his seniors walked off the final green and closed their rounds.
"It was pretty emotional to have the last region with these seniors," he said "There was a lot of emotion involved, but it was pretty cool and pretty awesome (to win it)."
Kahler opened the tournament on the 10th hole and struggled for her first nine holes to score a 12-over par. The senior rebounded to par the front nine, three-peating as individual region champ with an 84 and besting teammate Greta Anderson by a single stroke.
"Shooting a 12-over on nine holes is not very characteristic of me," said, Kahler, South Dakota Mines signee said. "But I did the best I can do and that's all you can really do when it comes to golf. At the turn I just thought there was nothing more I could do than my best, so I started playing better and finished off strong."
The Cardinals matched the play of Kahler to reclaim their team title by 54 strokes at 266. The team's top four golfers each finished in the top six of the individual standings.
Greta Anderson finished second (85), Carmichael finished fifth (97) and Ella Anderson finished sixth (99). 
Johnson said it was good to see Kahler and the elder Anderson finish first and second and gain some momentum heading into the state tournament, slated  for June 5-6 at Cattail Crossing Golf Course in Watertown.
"They've done that all year," he said. "Greta has won two tournaments and Allison has won four now. They've battled back and forth all year and it's good to have two No. 1s on the same team."
The top 15 individual golfers and top two teams from the tournament advanced to State.
Jones County finished second with a 320 to make it back to the biggest tournament of the year. Kamri Kittleson led the Coyotes as she finished third with an 85.
Individual Standings & State Qualifiers
1. Allison Kahler, Bison – 84
2. Greta Anderson, Bison – 85
3. Kamri Kittleson, Jones County – 90
4. Kelsi Clements, Newll – 94
5. Mary Carmichael, Bison – 97
6. Ella Anderson, Bison – 99
7. Alexis McCann, Harding County – 100
8. Taylor O'Connell, Philip – 103
9. Megan Jackson, Newell – 104
10. Sophia May, Bennett County – 107
11. Tayah Anderson, Jones County – 113
12. Savannah Hendricks, Jones County – 117
13. Kylee Gress, Harding County – 119
14. Aubrey Peil, Bennett County – 121
15. Megan Begaman, Bennett County – 123