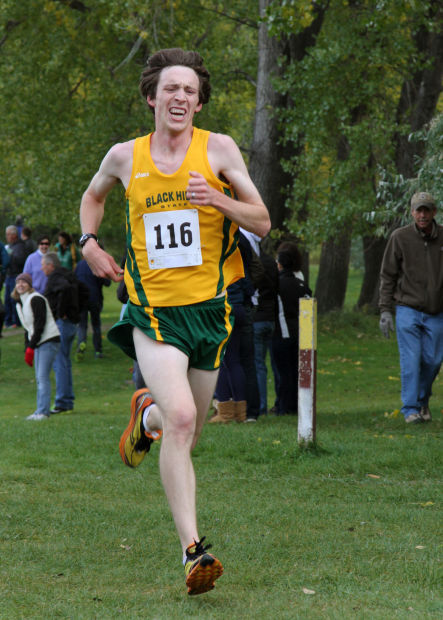 Mitch Kraft admits that for much of the NCAA South Regional cross country race, he ran a little scared.
For a long distance runner, that's not always a bad thing. It got Kraft to the NCAA Division II Cross Country Championships on Saturday in Spokane, Wash. — the first Yellow Jacket to qualify for the race.
Kraft qualified for the national meet after being the first individual runner at the regional (19th place) who was not a part of a qualifying team.
And that was especially impressive considering it was the first time Kraft had competed in a 10K race. Most college races are 8K.
Saturday's race at the Plantes Ferry Athletic Complex will be just his second 10K competition. 
"I'm more of a mile to 3K guy; those are the races I like more," he said. "But in cross country, if you're running five miles, there's no better way to run it than on a golf course or through a park."
During the regional race, Kraft wasn't sure of his actual position until after the race. He said all he could do was not let any runner get past him down the stretch.
"That was a little bit of extra motivation the last 50 yards, to get one more place," said Kraft, a senior from Wessington Springs. "In that first mile everybody kind of packs up. After that you get into the race rhythm and then being scared is not so bad because if somebody passes you, you go with them instead of letting them go."
Regardless of how he races, running is in the Kraft genes. His father, Gerald, ran in high school and his two brothers — twin Drew and younger sibling Jase — are outstanding runners as well. Drew is the No. 5 runner at South Dakota State University and Jase just won the Class B high school state title in Rapid City on Oct. 26 for Wessington Springs.
"We just run all summer together when we are home," he said of his brothers. "One of the favorite things to do when we come home from college is run a 12-miler and just talk about what is happening."
For the record, Kraft said it depends on the day as to who is a better runner — himself or Drew. The last time they were in the same race was in 2012 at the Roy Griak Invitational in Minneapolis. Mitch was faster by just 0.8 seconds.
It wasn't until Kraft was in high school that he knew he would concentrate on running. A four-sport athlete through middle school, he had to decide between football and cross country.
"I looked at how big my arms and muscles were, so I said I better do cross country," he said. "I had success right away. In my first race I was in the top 12. Ever since then I have always loved it. It's just something that we do. It is very relaxing for us."
Kraft would go on to finish runner-up in his last three seasons at the Class B high school state meet. In his first year at BHSU, he was named the Dakota Athletic Conference Freshman of the Year. He was the top Yellow Jacket runner in his final two years.
Kraft might have saved the best for last, placing 15th in the Rocky Mountain Athletic Conference championships (8K -- 25 minutes, 11.8 seconds) and 19th in the South Regional (10K – 31:07.37).
"That helps … it brings out your confidence into the nationals," Kraft said.
What also doesn't hurt is the fact that Kraft and BHSU are part of the RMAC, possibly the top Division II cross country conference in the nation. Adams State and Western State are considered the team favorites heading into Saturday's national meet.
Of the 18 runners who defeated Kraft at the region meet, 17 were from the RMAC.
"You can't beat the competition in the RMAC," he said. "Our region was one of the fastest in the nation and that makes sense if you are running 17 guys close together. Pulling each other along, you're going to run faster."
Although Kraft is the lone Yellow Jacket to earn a bid to the national meet, he said the top returners from last year's team dedicated themselves to this season; they had all stayed in Spearfish over the summer.
"Mark (Wilcox), Seth (Ulvestad), Gage (McSpadden) and I were all thinking nationals. We trained with that in mind," Kraft said.
BHSU head coach Scott Walkinshaw said Kraft is deserving of qualifying for the national meet.
"I know he was disappointed for the rest of the team not qualifying, but at the same time, the rest our team was elated for him after qualifying," Walkinshaw said in a press release.
Kraft's goal for the national meet is to place in the top 40, which would earn him All-America status.
"We think we have a shot at it," he said. "It will take a heck of a run, but we're going to shoot for it."
Regardless of his finish, Kraft said he is happy with his cross country career at Black Hills State. More importantly, he has enjoyed running with his teammates.
"One thing I noticed as I got older; the races were always fun, but you look to the people almost more than the running," he said. "We have created some great friendships here."