SIOUX FALLS — Four-sport athlete Mataya Ward of Belle Fourche had a strong performance in the triple jump on Day 1 of the South Dakota State Track and Field Meet on Thursday at Howard Wood Field in Sioux Falls, finishing runner-up with a top mark of 35 feet after placing third a year ago. West Central's Molly Thornton won the event with a top jump of 35 feet, 4.75 inches.
The Custer girls sprint medley team of of Kylee Ellerton, Maya Tennyson, Jordyn Larsen and Ramey Karim placed third, completing the event in 4 minutes, 17.81 seconds and finishing around 10 seconds after the Sioux Falls Christian team of Brenna Beyke, Ashlee VanDrisen, Katie VanderLeest broke a meet record in the event with a time of 4:07.21. The Lennox squad of Dani Highum, Jayla DeCou, Karlie Bosma and Emily Plucker placed second at 4:16.71.
In the 4x800, the only other relay final of the day, Custer's team of Taylor Busch, Kiran Pesicka, Alice Sedlacek and Brit Wheeler placed seventh with a time of 10:01.79. Sioux Falls Christian's foursome of Corinne Braum, Sadie Pettengill, Natalie Smith and Ellie Maddox won the event with a time of 9:37.47.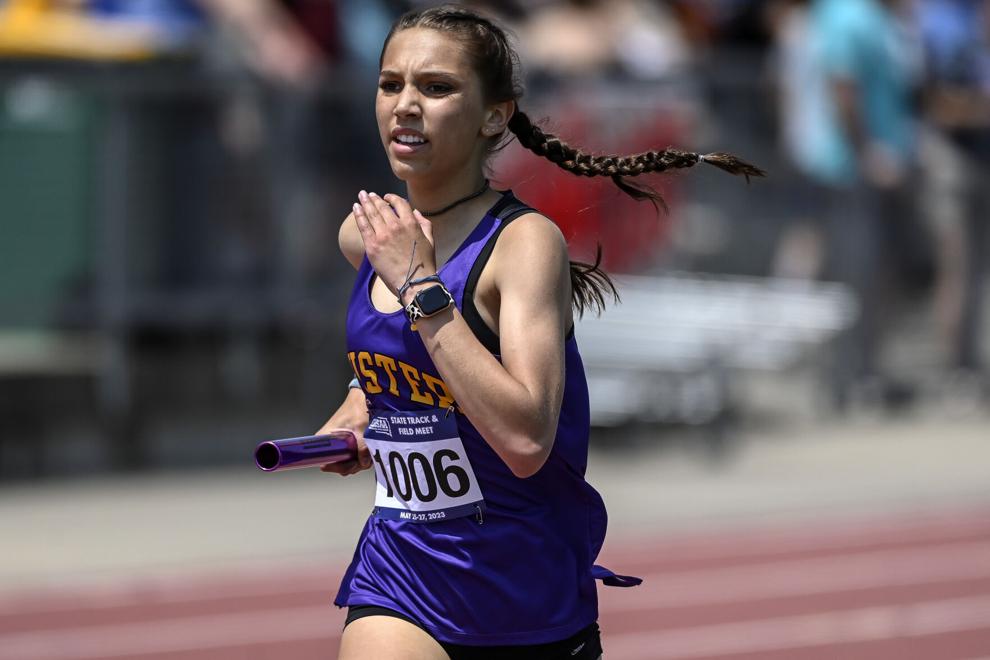 Among other West River performances, Hill City's boys relay team of Devin Buehler, Luke Rupert, Leighton Aves and Brandon Escalante placed fourth in the 4x800 with a time of 8:14.13. Sioux Falls Christian's squad of Bennett Wassenaar, Alex Oberloh, Davis Buck and Isaac Davelaar won the event, breaking a meet record with a time of 7:54.51.
Other Class A state champions crowned on Day 1
Boys Sprint Medley Relay: Sioux Falls Christian - 3:33.75 (meet record)
Boys Discus: Lee Reiser, Platte-Geddes - 177 feet, 5 inches
Boys High Jump: Jeffery Boschee, Sanborn Central/Woonsocket - 6 feet, 7.25 inches