Peter Johncour doesn't think clearing 15 feet is out of the realm of possibility for Ciana Stiefel.
From the moment the Custer pole vault coach met her, saw how tall she was and how she first handled the event, he knew there was potential.
"I was excited right away, because that's a good feature for a pole vaulter," Johncour said of Stiefel's height. "Her first time down the runway spoke for itself. I knew she was different and that she could go very high, and I knew she didn't know how high she could jump."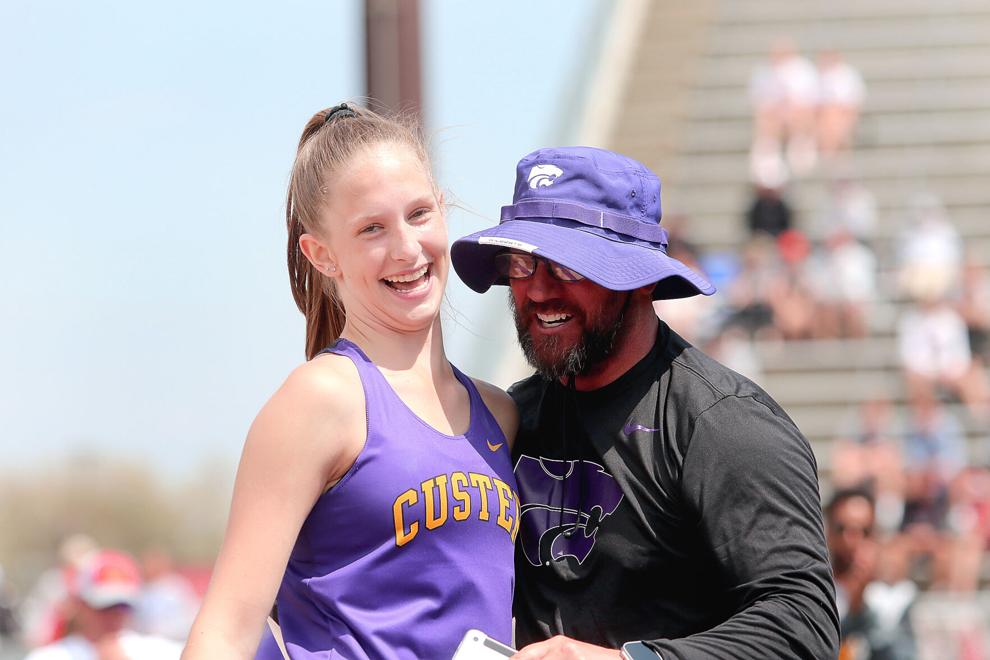 Over the last year since first taking up pole vault, Stiefel has shown significant progress, adding more than 3 feet to her marks since last season while recording some of her best jumps on South Dakota's biggest stages.
And with the state track and field meet ready to kick off this week, the Wildcats sophomore is gearing up to take home some hardware.
"I was like, if I put in enough work I could really go somewhere with it, so it's pretty exciting," Stiefel said. "Just do the things I know to do and not over-push myself, and stay consistent."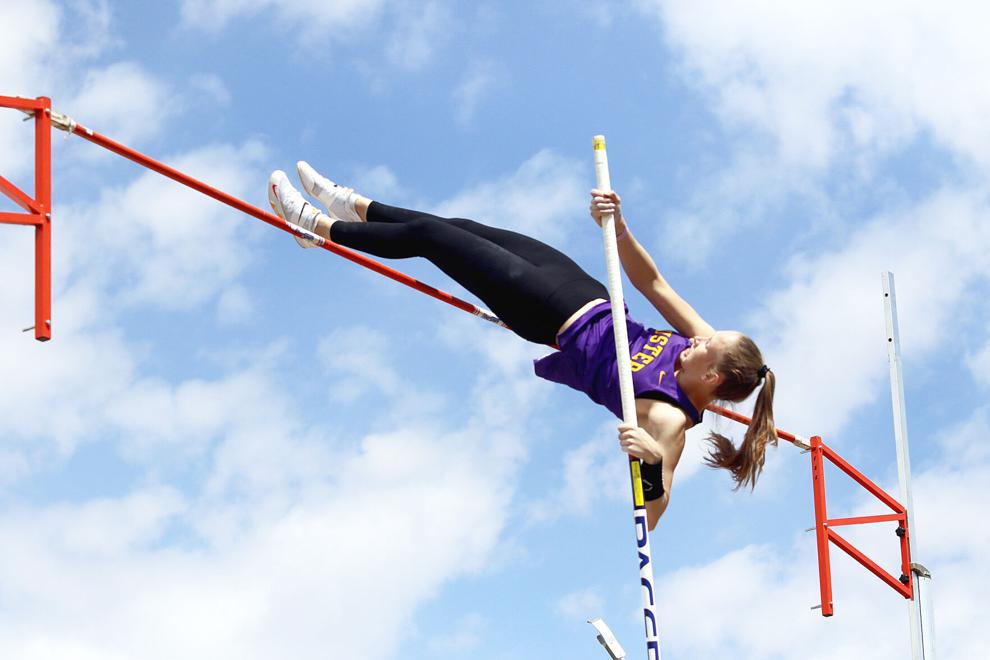 Stiefel competed in gymnastics for 10 years, most of her life, before the concept of pole vaulting reached her. The mother of a fellow gymnast approached her and her parents one day and posed the idea.
Stiefel said she was pretty stuck in gymnastics and was resistant to branching out, but after giving pole vault a chance, she was hooked.
"I was actually really against it at first, and then I tried it and just fell in love with it," she said. "It was definitely helpful having a gymnastics background, with the air awareness and being upside down, so it was definitely very helpful. We say I've been training for pole vault my whole life."
With many similarities between the two sports, she fit into pole vault well, to the elation of Johncour, who said Stiefel was already in pole vault shape, could control her body and embraced coaching.
"There are a lot of things that they do in gymnastics that carry over directly to pole vault," he said. "The motions, teaching your body how to move, being able to control your body to do these motions. Most pole vault coaches are very happy whenever they get career gymnasts on their team. Usually it translates really well."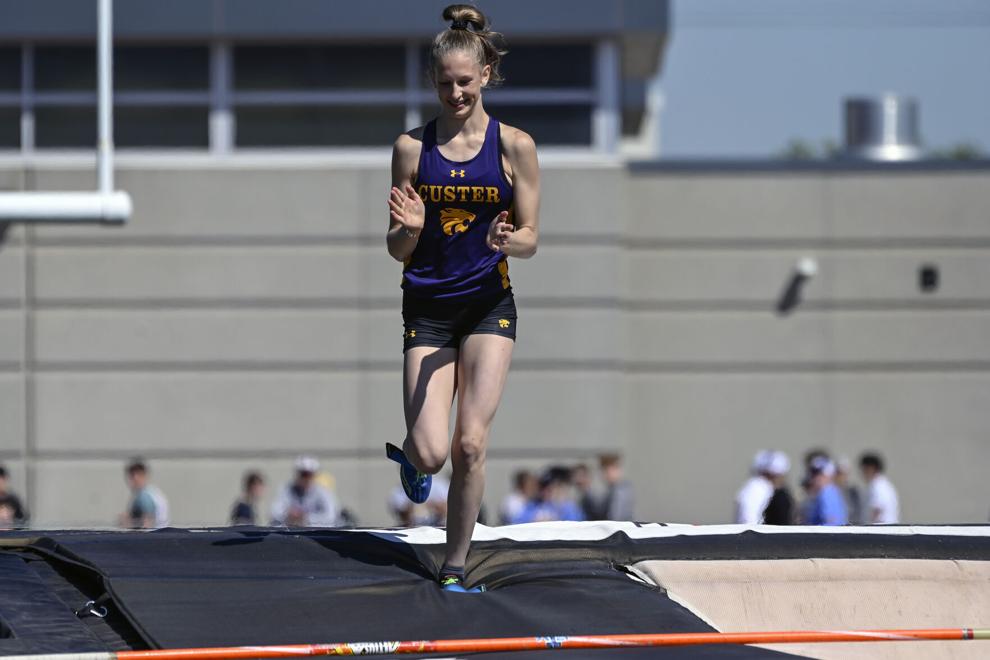 In a matter of months during her rookie campaign in 2022, Stiefel saw her pole vault marks climb at a rapid rate. In her first recorded height, she cleared 7 feet, 6 inches in the Chadron State College High School Open on March 19, placing third. Less than a week later, she was up to 9 feet, finishing runner-up at the Comet Classic Invitational at Hart Ranch.
Less than a month after that, she earned her first individual victory, clearing 9 feet, 3 inches to finish first in her home meet in Custer.
She then performed in an emphatic way by clearing 11 feet even at the state track meet at Howard Wood Field in Sioux Falls, going toe to toe with Sophia Atchison. The Dakota Valley senior also reached 11 feet, but accomplished the mark in fewer attempts to claim the tiebreaker and win the state title.
Despite the second-place finish, Stiefel seemed to thrive on the pressure of competing on the largest stage, something she discovered she loves to do.
"I feel like I jump better with a big crowd," she said. "I actually feel like I have less pressure on myself when it's a bigger crowd. I don't know, it's kind of weird, but I really enjoy performing for everyone, and I'm glad people enjoy watching me."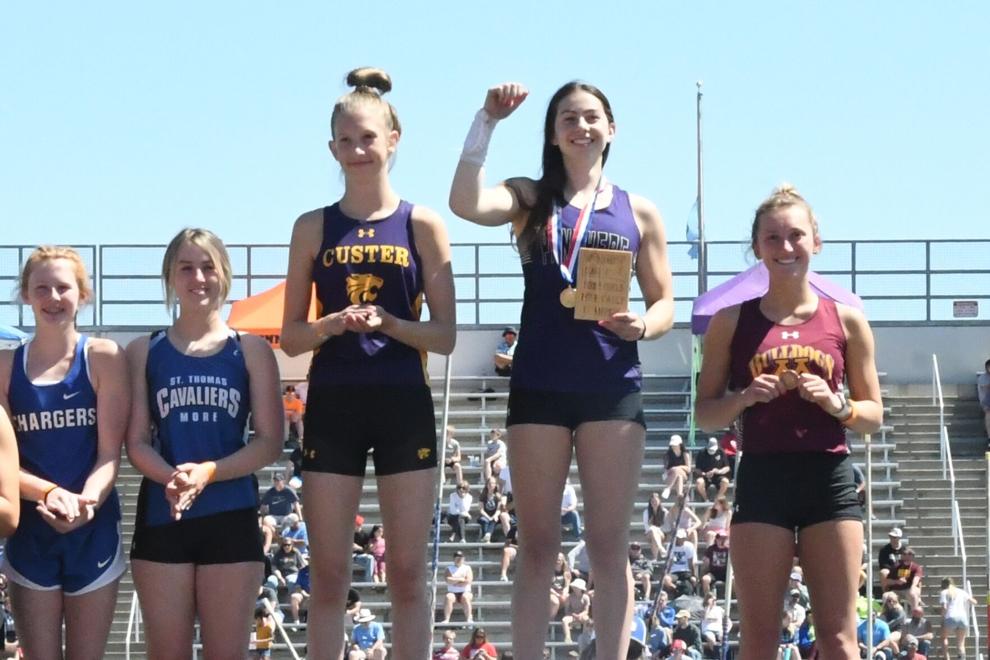 Stiefel has leapt even higher this season, still just her second in the pole vault, and in doing so has won nearly every meet she's competed in. She put the state on notice earlier this month when she topped her previous personal best by 8 inches when she cleared 12 feet, 7 inches at the prestigious Howard Wood Dakota Relays in Sioux Falls.
She topped a field of 37 of the best pole vaulters in South Dakota, winning the event by 7 inches and breaking a 15-year meet record. She now owns the best mark in the state this season.
"It was pretty amazing, because I've been jumping higher heights in practice and it's really nice to finally go out there and do it at a meet," Stiefel said. "That environment's super amazing, I love the whole setup of that meet."
Stiefel bounced off the mat clapping and embraced Johncour with a big smile.
"I'm very excited for her for what she did at Howard Wood, because nothing's going to happen if she doesn't believe in herself," Johncour said. "So when you go out and work hard at something, you achieve the goal that you were trying to get to, it's very motivating for where we're going to go, because there's a lot more in her."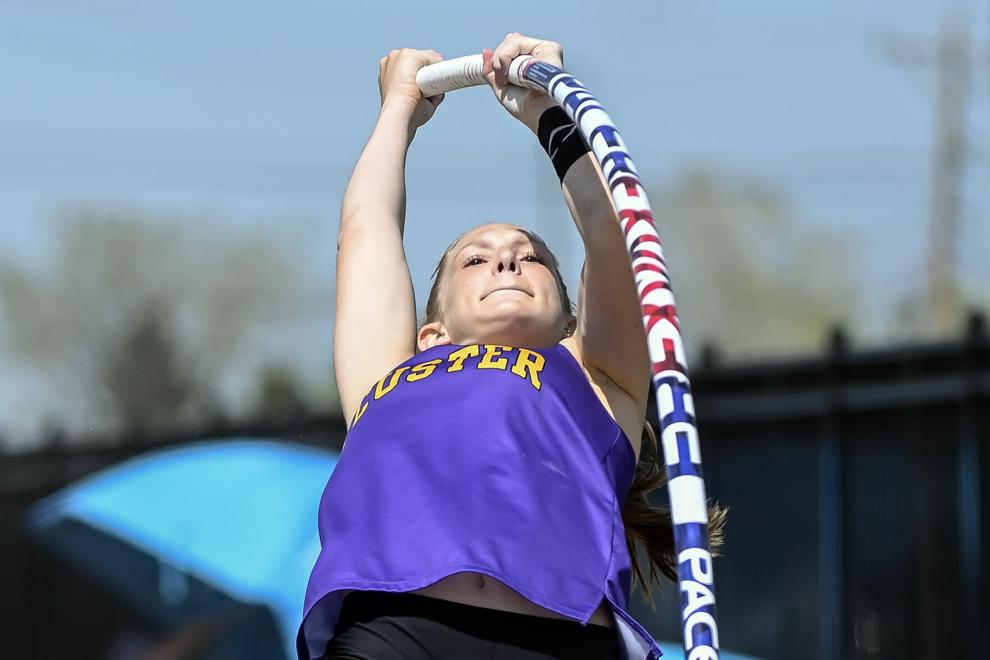 Stiefel said she's hungry to claim her maiden state title this week, carrying a season-high mark more than a foot higher than the second best. The Class A pole vault competition is slated to commence at 8 a.m. MT on Friday.
Johncour thinks she can do even better, still with two years left in her high school career. He said he believes she can break the all-time state record, clear 15 feet and become the top pole vaulter in the country.
"I think all of those goals are achievable," he said. "We're on a great progression, she's peaking at the right time, so I think State is going to go really really well, and it's just a catapult to what she's going to be in the next couple years."