Elijah Hoyt first joined the Rapid City Christian football team last summer as a way to build his physicality for basketball.
In doing so, he not only became quarterback Simon Kieffer's favorite target as a wide receiver, but he himself became enthralled with the sport under first-year head coach Matt McIntosh and started garnering interest from college programs.
On Tuesday afternoon, less than a year since playing organized football for the first time, Hoyt signed his National Letter of Intent to compete for Dakota Wesleyan University in Mitchell.
"I feel like it's very exciting to play (college football)," Hoyt said. "I loved last year, I loved the coaches. Coach McIntosh, all the coaches, really helped me get adjusted, taught me the basics of football and I'm just really excited to play more."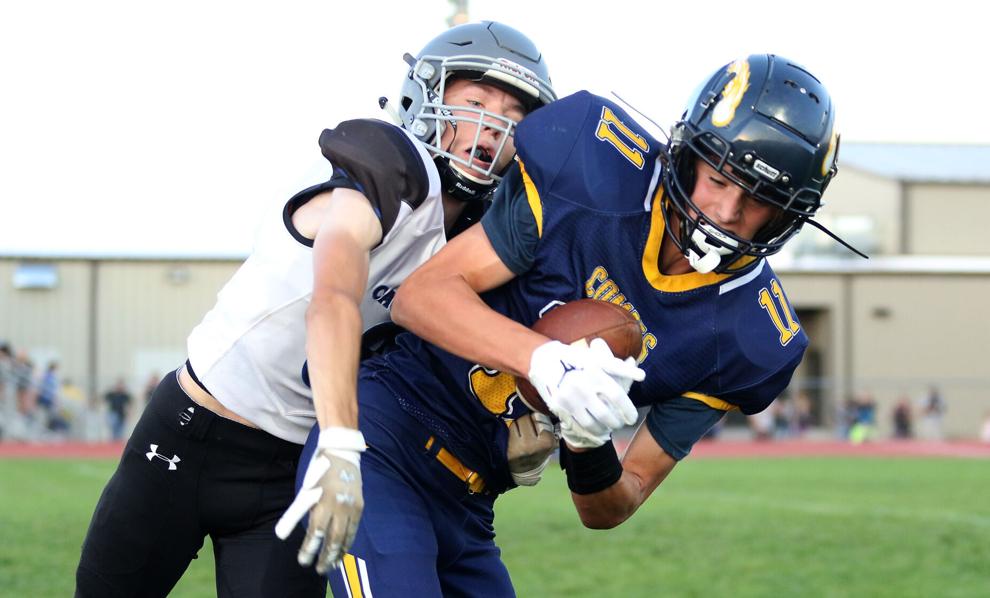 Hoyt, a Best of the West and All-State honorable mention, said he had a late start on his side of the recruiting process, only starting to hammer down plans a couple months ago as he tried to decide between playing football or basketball at the next level.
He eventually chose football, and landed on DWU.
"I didn't start completely figuring out what I wanted to do until after basketball season," he said. "The choices were a lot more limited, but also it seemed like a really good place to go."
A three-sport athlete, also playing baseball, Hoyt elected to play football in college for the fast-paced nature of the game that also allows for rest in between plays. Rapid City Christian activities director Kyle Courtney, who also coached Hoyt in basketball, said he chose it for the sport's electrifying environment. 
"Elijah told me he just really enjoys the atmosphere, football games on Friday nights," Courtney said. "He said it's something he just really fell in love with. He had some interest from some smaller schools in basketball as well, but I think it's just one of those he seemed to have a passion for and to try football at the next level."
Hoyt's 6-foot-5 frame helped him leap over defenders to make stellar catches last season, making one particular reception where he caught a game-winning touchdown pass from Kieffer to help the Comets knock off Lead-Deadwood in triple-overtime in the season opener at Ferguson Field. After inking with DWU, he instantly became the Tigers' tallest receiver.
"I think it's really neat, especially for Elijah just taking up football this last year and being All-State," Courtney said. "I think he just had a great year all the way around, on the football field, basketball court, baseball field, so it's really neat to see."