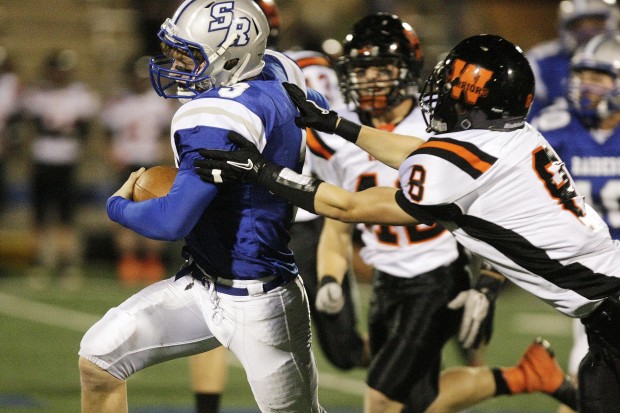 Rapid City Stevens had a prime chance to get an early jump on Sioux Falls Washington, and the outmanned Raiders could have used all the breaks against the potent Warriors.
Jon Hander ran for a touchdown and passed for three more scores to lead Washington in a 42-0 romp over the injury- and illness-plagued Raiders on Friday night at O'Harra Stadium
"A couple of his balls were dropped, but he was on target most of the time," Warrior coach Brian Hermanson said of Hander.
"Our offensive line responded and did a good job of giving him time. He wasn't pressured very often and our kids did a good job on their routes," Hermanson said.
DaVonte Clay-Tate pounded out 182 yards and a touchdown. Keyan Lage caught four passes for 51 yards and three touchdowns for the Warriors.
"DaVonte is an awful tough kid. He ran for 1,300 yards last year and he's averaging more than 100 for us this year," Hermanson said.
Stevens squandered an early opportunity to turn the game in its favor.
The Raiders recovered a Washington fumble on the opening kickoff on the Warriors' 25-yard line and advanced to the 14 on a pair of runs, but then misfired with false start penalties on three of the next four snaps. The Raiders would get no closer than the 21 until the third quarter, when Raider quarterback Brock Atkinson broke free for a 56-yard run to set the Raiders up deep in Washington territory. But that march stalled as well.
"We get a turnover early on and couldn't capitalize. That was huge," Ferdinand said. They just capitalized on our mistakes. "They're a good football team. "
You have free articles remaining.
Washington quickly regrouped, taking over on downs and marching 80 yards on nine plays. Hander's 3-yard plunge giving the Warriors all the scoring they would need.
Hander hooked up with Lage for touchdown passes of 14, 21 and 10 yards. Patrick Fiala caught four passes for 72 yards.
Clay-Tate's 20 yard run put the Warriors in command 35-0 at halftime. Cameron Thomas added a 36-yard run in the fourth quarter.
The Warrior defense held Stevens to 155 total yards, but Brock Atkinson accounted for almost all of the output for the Raiders.
The senior quarterback ran for 114 yards on 13 carries and added 18 yards on 6-of-16 passing attempts.
"He competed hard and he kept his composure the whole game," Ferdinand said.
"I really like their quarterback," Hermanson said of Atkinson. "He's a tough, hard-nosed player."
Tyler Thomas and Tanner Engle caught two passes and Engle added 33 yards on nine carries for the Raiders.
The Raiders, 3-5, 1-4 Greater Dakota Conference, finish the regular season against cross-town rival Rapid City Central next Thursday at O'Harra Stadium. Washington, 6-2, 3-2 GDC, plays Sioux Falls Roosevelt on Thursday.