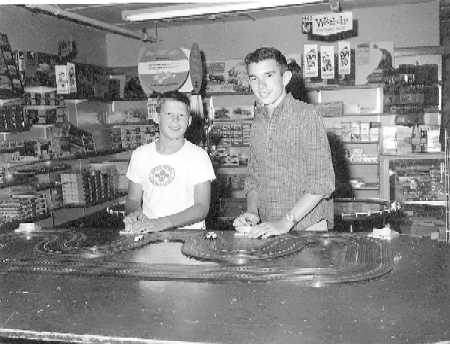 RAPID CITY - An electric slot car set is traditionally a popular toy under the Christmas Tree, but three Rapid City men fondly remember when racing the tiny cars was anything but kid stuff.
Like many of their contemporaries, fifty-somethings Jeff Davis, Ron Colerick and John Seeley were swept up the '60s slot-car fad that swept the nation like Beatle-mania.
Capitalizing on the craze, the Aurora Plastics Corporation of West Hempstead, N.Y., the major player in table-top racing, established a national championship, sort of a Punt, Pass and Kick contest for slot cars.
At stake was a chance to race in organized events at a local hobby shop, with winners advancing to state, regional and national competition, with the top prize being a new car.
Rapid Citians made the finals in three, winning two of the five Ford-Aurora Grand National Model Motoring Championships run from 1962 through 1966.
The local slot racing mecca was the now-closed Toy Hobby Center, then owned by Colerick's father Lloyd and located at 522 St. Joseph St.
"We had races every Friday night and all day Saturday," recalls 1963 champion Colerick, now 53, who won a 1963 Ford Thunderbird Sports Roadster before he was old enough to legally drive.
"I spent hours racing at the store," said 1962 finalist Davis, 55, a 7th Circuit Court judge in Rapid City. "I was there so much that Lloyd gave a job."
As a 14-year old ninth-grader, Seeley, now 53 and living in Harvard, Mass., won a 1966 Ford Mustang for his 1965 national championship.
So how did three Rapid City teenagers manage to do so well against nationwide competition?
Davis said it was a matter of constant "tweaking" of cars and controllers and practice, practice, practice.
"We didn't cheat, but we were making adjustments to the cars that the others guys at the national level weren't even thinking of, " he said.
Davis still prizes his local and state trophies, a regional championship wristwatch and a yellow Ford-Aurora T-shirt "that probably wouldn't fit on my thigh today," he said.
Davis' race was televised live from New York on NBC's Today Show. A case of racing luck left him fourth out of four finalists. His car was nudged off track, and a corner marshal mistakenly replaced the offender's car before returning Davis' car to the slot.
"By then I was a lap down and there was no way to catch up," Davis recalled.
"All I know is I didn't win," he said. "I wasn't driving home the Thunderbird."
"Jeff went in '62, and he learned the ropes for the rest of us," said Colerick, who spent up to five hours a day with Davis honing his racing skills, en route to the 1963 regional championship and his berth in the semifinals.
"Lloyd and Ron asked me to go along (to New York) in '63, and darned if Ron didn't win the T-Bird," Davis said. "I'd like to think it was my expert coaching."
Colerick struggled, but won his last semi-final by a car length-about two inches-to earn the last starting spot in the final race, set for a live NBC broadcast of the Tonight Show with Johnny Carson.
As the slowest qualifier Colerick wound up with the most difficult lane slot, but his long hours of practice with Davis helped overcome the disadvantage.
Recovering from an early spin-out, Colerick never bobbled, and won the 20-lap race by several laps as his competition crashed frequently.
Aurora racing director Bill Silverstein later remarked that Colerick "seemed to be in a world of his own."
"I was in kind of a trance," Colerick agreed. "It was good that I had practiced so much that I was able to just race on reflex.
"My age may have been an advantage," he said. "At 12 years old, I might have been numb to the pressure."
In Thomas Graham's recently-released book Aurora Slot Cars, Colerick is quoted as saying, "Neat, man. I'll let my Dad drive it sometimes," when grand marshal, British Formula One racing legend Stirling Moss, presented the keys to the Thunderbird.
Graham also wrote that a quip from Carson rankled serious-minded Aurora officials.
"You mean he gets a Thunderbird for that?" Carson joked.
While Carson's joke may have minimized the importance of the race, Seeley saw Colerick's win as inspiration.
"Ron's win really motivated me to do as well as I could. That's when I got serious," said Seeley in a telephone interview last week from his home in Massachusetts.
Seeley realized he was a contender after he and three other Rapid City racers pitted their skills against a Ford-Aurora "factory team," including Colerick, 1964 champion Tom Kilduff, 16, and Pennsylvania state runner-up Joe Dumstra, 12, both of Kingston, PA and '62 and '63 national runner-up Phillip Schultz, 18, of Chicago.
Seeley won the day-long races staged at what is now McKie Ford.
"That race was a good first step outside of Rapid City for me, because I wasn't being tested," Seeley said.
Lloyd and Ron Colerick accompanied Seeley for the '65 finals, taped in Philadelphia on Dec. 10 for broadcast on the Mike Douglas Show.
Like Colerick, Seeley shut out distractions and dominated.
"I recall being so focused on that race that I blocked out everything else," he said.
Another finalist, a 39-year-old Californian, didn't fare so well, Seeley remembered..
"He completely lost his composure," he recalled. "I don't know that he made 10 of the 30 laps. His car was on the floor most of the time.
"There wasn't anything magic about the car or my skills," he said. "It was, more than anything, my ability to focus on the day."
Seeley doesn't remember much of his new celebrity status, but he does recall the attention brought on by owning his own car.
"When you're 14 or 15, and you have a brand-new Ford Mustang, that doesn't hurt your appeal," he said.
Seeley later discovered that his triumph also helped his career. He graduated from Grinnell College in Iowa and earned a master's from Dartmouth College's Amos Tuck School of Business Administration.
He spent eight years with Proctor and Gamble's marketing department before moving to Massachusetts in 1983 to join a marketing, management and consulting firm in Boston. He owns the firm today.
"The people I interviewed with at Proctor and Gamble specifically mentioned this one event that signaled that I was someone who could focus and excel and was very competitive early on," he said.
Davis concurred saying the commitment learned from "an intense four or five years," racing slot cars served him well as earned a law degree. Earlier this year, he celebrated his 25th year as 7th Circuit Judge.
"It's almost too bad that Jeff had to go first. If he could have been second or third, he might have been able to win. Jeff helped me and I helped John," Colerick said.
Colerick sold his white Thunderbird to his father, who later traded it for another Thunderbird. A San Diego T-Bird collector eventually purchased and restored the car.
Seeley parted with his Mustang after his first year in college. The candy-apple red car was bought and partially restored by former Rapid Citian Brian Rall, now living in Las Vegas.
In 2001, Connecticut slot car collector Bob "Mr. Aurora" Beers purchased Seeley's car, which he calls the "ultimate collectible." Beers, publisher of "The Complete Color Guide to Aurora HO Scale Slot Cars," also owns Colerick's racing trophies.
Colerick is president of Rapid City's NCS Manufacturing which makes steel doors and frames, and North Central Supply which supplies locks, closers and exit devices for commercial buildings. The businesses employ 40.
The effort that Colerick put into racing has also rubbed off on his career.
"Jeff and John and I set our sights on winning, but none of us had any idea how far we would go," he said.
"I always tell my employees that the competition gets pretty thin after 5:30. Staying a little longer and working a little harder will eventually pay off," he said.
Be the first to know
Get local news delivered to your inbox!